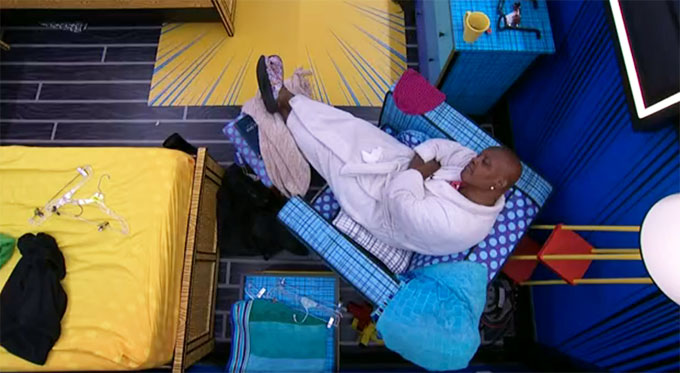 The Big Brother 25 houseguests had a pretty uneventful evening as the week's target seems to be in place and has accepted her fate. But there's still a whole day left before eviction, and if there's one thing this cast is good at, it's flipping and flopping when it comes to who to evict from the house.
Read on to find out if there are any rumblings of flipping the vote and why Felicia is pretty much ready to just head on home at this point.
Try Live Feeds 1 Month Free! Code: BIGBROTHER25 Sign-up now!
Don't forget to sign up for the Big Brother Live Feeds right now so you don't miss anything else this season. Anything you want to watch from our Highlights report is always available using the rewind feature to pick any day, time, and camera to watch it again. Enjoy!
Catch up on Tuesday's Daytime Report before reading the overnight events.
Big Brother 25 Live Feed Highlights – Tuesday, October 3, 2023:
3:23 PM BBT – Cory tells Felicia that she gave him a bucket list moment by yelling at him in a speech. And he tells her that he really respects her and he thinks she loves the same parts of the game that he does. He says he knows this was all gameplay and nothing personal.

3:24 PM BBT – Cory says he just wants things to not be awkward. He says and she might be here come Friday for all the know.

3:25 PM BBT – Felicia says she thinks it's going to be hard for anyone in the house to really align. She says she's found that no one in the house trusts anyone. She says alliances and deals are day to day in that house. Cory says he knows he can trust America, he thinks.

3:27 PM BBT – Cory and Felicia talking about a pretty big argument that went down the day before – separate from the veto meeting.

3:28 PM BBT – Cory asks Felicia why she has such a hard time believing he learned about the Brown Sugar alliance from Jared. Feeds cut before we can hear her response. But she seems to believe that Jared told him about it now.

3:30 PM BBT – Houseguests are called to the storage room where they find some wine and beer for Bowie Jane's birthday.

3:34 PM BBT – America is straightening Cameron's hair in the HOH room.

3:38 PM BBT – Cory tells America and Cameron about his conversation with Felicia. Cory says she apologized to him but was still upset about America arguing with Felicia.

3:45 PM BBT – America retells Felicia asking her how far she thinks she can get in the game riding on Cory's coattails. Cory says Felicia told him she never said that. America says Felicia actually said that two different times.

4:18 PM BBT – Felicia talking to the camera: "I can't do it Mr. B. I want to fight but I don't have to fight over this foolishness. Life is so much bigger than this." Felicia says she still wants Matt and Jag to know that she was serious about protecting them. She says Matt, Jag, Cirie and Mecole were her four.

4:20 PM BBT – Felicia says she loves Cory and America as people, but she does not trust them in this game. She says Bowie Jane has never made an independent decision. She also says Cameron just tries to figure out how to fit and she doesn't resonate with people who don't know how to be themselves. "So in the big scheme of thing, it probably is time for me to go," she says.

4:41 PM BBT – Felicia tells Cirie she just can't do it. She can't play these games with these people any more. Cirie says she can't do it anymore either. Felicia says they sit out there and just play like kids. She says everyone is fake and Cameron just loves attention. She says it's nauseating.

4:42 PM BBT – Felicia says she doesn't know how she made it 63 days with all this foolishness going on in the house.

4:44 PM BBT – Cirie says it's not that she can't do this anymore, it's that she doesn't want to do this anymore. Felicia says that's what she was going to say too. That it's not that she can't do it, it's that she doesn't want to do it.

4:47 PM BBT – Felicia tells Matt and Blue that she was trying to bait America with a girls alliance to try to get her to ask Cameron to put Cory on the block. Felicia says she still thinks Cameron would be happy getting Cory out before jury so America can pay more attention to Cameron.

4:49 PM BBT – Felicia says that she would be willing to go after the big target next week – presumably Cory – so the others won't have to get the blood on their hands. No one is really responding to that.

5:15 PM BBT – Mecole and Jag discuss how much game is still left. Jag says Big Brother needs to speed things up. They agree that the season is dragging along.

5:28 PM BBT – Houseguests are spread out around the house. Some people are snacking in the kitchen, others are chatting in bedrooms.

5:38 PM BBT – Cameron tells America that Blue has become Cirie's new Izzy.

5:49 PM BBT – Everyone is talking about how tired they are. They really wish the backyard wasn't closed.

6:13 PM BBT – Felicia says she really wants to be able to see Zingbot.  Cirie says Zingbot is going to drag her. She says he's going to say she has no veto chips and ask if she came to play or came to just lay around in a robe.

6:54 PM BBT – After all the snacking earlier, now it's time to actually make dinner.

7:52 PM BBT – It's time to eat dinner.

8:15 PM BBT – Cory is pitching to Jag that they could get rid of Mecole this week instead of Felicia and it'd cause chaos by blindsiding the other HGs.

8:45 PM BBT – After more talks with Jag and Matt Cory says they'll probably vote out Felicia but he still wants to discuss it more. Cameron joins the talk in HN room and Cory asks if he can use the HOH room to discuss the vote with Matt.

8:55 PM BBT – Cameron and Jag discussing the voting options this week. Both agree they don't want to see this flip with Mecole going instead of Felicia.

8:55 PM BBT – Cory still pushing that it'd be a better move to take out the better competitor, Mecole. Matt agrees. They're trying to anticipate which pairings would go up as noms next week. Cory wonders if the week would be worse if they blindsided with a vote flip to keeping Felicia or just made it known beforehand.

9:05 PM BBT – Cameron pitching to Jag and Bowie that they put up Cory and America next week then vote out Cory so America would join them. Cameron tells Bowie that Cory must not trust her if he's not sharing information with her like he is with them.

10:10 PM BBT – Felicia and America finally having their talk after the argument on Monday after the Veto meeting. America explains that she has a connection with Cory and so she felt the need to defend Cory after what she said at the meeting. America and Felicia both agree it's not personal. Felicia says she doesn't have the fight in her anymore and is tired. They hug it out.

10:20 PM BBT – Cirie and Felicia checking in on Matt to make sure he's doing okay. Matt says he struggled today with the larger groups that made it hard for him to stay engaged. He says the whispering has made it more difficult for him than he expected. Matt says he's feeling more comfortable with the other HGs now though.

10:55 PM BBT – Cory and America going over the idea of voting out Mecole instead of Felicia. They're thinking of waiting for Thursday morning and then pushing hard with Matt and Jag.

11:15 PM BBT- Cirie advising Felicia on how to campaign. She suggests starting with Matt then Blue and if Felicia can get them to agree to keep her then get Jag to go along. Felicia says Matt is her big plan for surviving the week.

12:30 AM BBT – Jag talking to Matt about Cory wanting to vote out Mecole. They think it's to make the two of them look bad. Cameron joins the talk and agrees that a blindside against Mecole would benefit Cory more than them. Matt says he'd be okay with either Felicia or Mecole staying.

1:05 AM BBT – Cameron still there in HN talking with Jag and Matt. Cameron is pitching for Mecole to be the target next week. The three of them agree their games are very much aligned at this point.

1:25 AM BBT – Cameron tells Matt he was surprised to learn that Matt had won the Power. He says Matt hid it well. Matt was worried that Cameron would be upset since it was on his HOH but Cameron says he wasn't mad.

1:40 AM BBT – Looking ahead to next week, Matt asks what they will do if Mecole is the target and wins the Veto. Cameron says they can BD Blue at that point which would keep Cory and America feeling good.

2:00 AM BBT – Lights out. HGs off to bed.
Cory is trying to complicate the situation with a new idea of switching things around to keep Felicia and while she's right that Matt could be the key to her surviving the vote I don't see Jag being too excited to make this move.
You can watch all of these Big Brother events using the archives Flashback, the DVR-like feature of this year's Live Feeds which means it's always live, even when you missed it! Sign-up now and get the free trial to watch it all live & uncensored.

Gallery: Live Feeds Highlights
Download our Big Brother App, join us on Facebook & Twitter, and get our Email Updates for more!