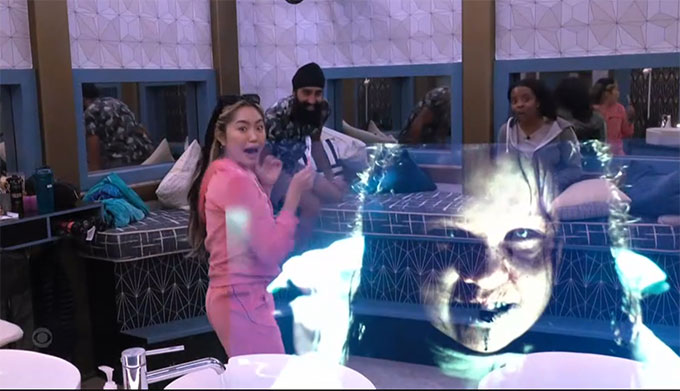 Tuesday night's episode of Big Brother 25 was just one big commercial for The Exorcist: Believer, but we did get to see a little bit of Big Brother mixed in there.
The episode picks up right after the nominations ceremony. Cameron lets us know that Felicia is his No. 1 target this week. He says he can't have her in the jury house because she would sway the jury against him. 
Felicia lets us know that Cameron doesn't know how to connect to people. She says he got where he is by winning competitions. She got where she is by making connections, she adds. 
And then the houseguests start seeing demonic girls in the mirrors. Must mean the veto this week will be Exorcist themed. But nothing will be as scary as Felicia and Cameron's conversation after the nomination ceremony. She is being very blunt with him and he is being very blunt with her. But the person who really needs to be scared is Cory. Felicia sees that she's not getting anywhere with Cameron, so she decides to throw Cory under the bus. She tells Cameron about Cory and America coming to them for a Final 4 deal. 
It's time to pick players for the veto competition. Joining Cameron, Felicia and Mecole are Matt, by way of Cameron's houseguest's choice, Blue as Mecole's houseguest's choice, and America. And then we get right into the competition. 
The houseguests gather in the living room for a trailer of the new Exorcist movie. And Jag reads a message that the veto players will come face to face with the possessed girls. The winner also gets to take some people to see the movie with them. 
For this competition, the players will individually have to maneuver a dark room and find some objects that are written on the walls. It really doesn't make much sense, but the person who does this the fastest wins the Power of Veto. 
Here are the top 3 times:
9:15 – Blue
8:22 – Mecole
7:59 – Cameron
Cameron has won the Power of Veto! 
And now that Cameron holds all the power, it's time for him to start wondering if there's a better plan for this week. Especially after Blue talks with Cory and he tells her that he is targeting Cameron next week. She takes that information directly to Cameron to mull over. Cameron reminds us that Felicia is his target, but he wants to make the most strategic move. So is that move taking Felicia down and putting Cory up for a backdoor eviction? Let's get to that veto ceremony and find out. 
And for the first time in a very long time, we get to hear from the nominees. Mecole's is short and sweet, but Felicia stands up and throws Cory under the bus. But we don't get to find out what happens. They end the episode in a cliffhanger. But guess what, we already know what happened, so if you don't want to wait be sure to check out this week's veto ceremony spoilers.