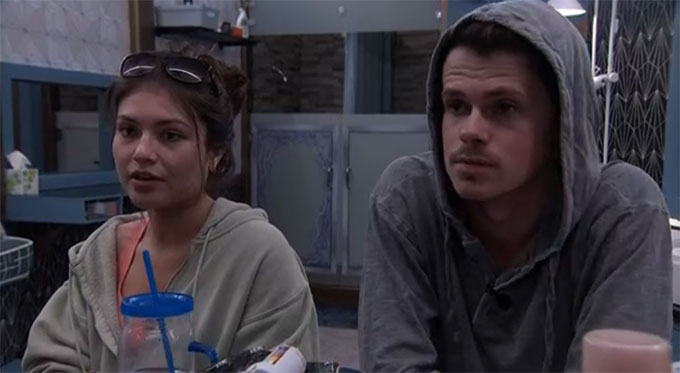 The Big Brother 25 houseguests spent Wednesday night much like they've spent other nights this week: speculating about Thursday night's Zombie revival, rebuilding relationships (or pretending to do so) and trying to deflect.
It was very weird for there to not be a looming eviction on a Wednesday night in the Big Brother house.
Jared or Cameron? Who will return to the game? That was the big question on everyone's mind, but what's really interesting is that regardless of who returns, it isn't sounding like either of them will be the immediate target. Read on to find out who is getting the most mentions of being the first potential target after Thursday night's mini battle back competition.
Try Live Feeds 1 Month Free! Code: BIGBROTHER25 Sign-up now!
Don't forget to sign up for the Big Brother Live Feeds right now so you don't miss anything else this season. Anything you want to watch from our Highlights report is always available using the rewind feature to pick any day, time, and camera to watch it again. Enjoy!
Be sure to read the Wednesday Daytime Report before moving to the overnight below.
Big Brother 25 Live Feed Highlights – Wednesday, September 27, 2023:
3:12 PM BBT – Mecole and Jag are playing chess and she tells Jag that everyone lying and making stuff up is really starting to get to her. She says people just make up random stuff about her and she doesn't know why.

3:48 PM BBT – Cory tells Felicia that if Jared stays, it would feel really harsh targeting him again. He says he's trying to rebuild something with Jared. He says if Jared does come back, things would get really complicated. Cory says if Cameron wins, it makes life much easier.

3:50 PM BBT – Cory thinks Bowie Jane will definitely be on the block next week.

3:55 PM BBT – Bowie Jane tells Cirie that if she wins HOH she will not put her up. She says even if the house is targeting her, she won't put her up. Cirie tells her she won't put her up either. They promise to not put each other up. Cirie says she doesn't know what she'd do but she's been focused on trying to not be anyone's target. Bowie says she hasn't heard Cirie's name.

4:00 PM BBT – Cory tells Felicia it would be silly for anyone to target them right now. She agrees and says there are way bigger problems than them. Cory says but they might be too scared to go after the bigger problems, which could make them easier targets.

4:03 PM BBT – Cory tells America that they need Jared gone before Felicia if he comes back. He says they're going to have to try to push for Matt and Jag to go after Jared before Felicia.  Cory says all the conversations going on are pointless.

4:05 PM BBT – America tells Cory that Blue told her she was feeling nervous about Cory. He says he's talked to Blue today.

4:33 PM BBT – Houseguests are cooking dinner.

4:34 PM BBT – Cirie tells Blue that from what she's been hearing they're both in the clear at the moment. She thinks everyone is focusing on others.

4:35 PM BBT – Blue tells Cirie that her target is Cory and she told Felicia and Mecole that if she wins HOH she won't touch them.

4:44 PM BBT – Blue says to Cirie that America can't be trusted but Cory is the more immediate threat. Cirie says that she hears Cory and Mecole talking a lot at night. Blue says she wonders how much of that is game talk. Cirie says that she thinks Cory sees Mecole as an ally, so watch out if who she shares with that Cory is her target.

5:23 PM BBT – Mecole tells Jag she likes to be chill but here she has to put up with all this foolishness. Jag says he has no idea what foolishness she's dealing with. She says it's probably not that foolish but it seems worse in the BB house. She indicates that Felicia is annoying her. Jag says he makes a point to talk to Mecole by herself and he's trying not to lump her and Felicia as a pair like people have him and Matt.

5:32 PM BBT – Mecole says this week they're going into is super weird because no one knows who they can trust or work with.

5:34 PM BBT – Cirie asks Felicia what makes her think people want Cameron to stay. Felicia says part of it might be that they want to make sure that them and Jared aren't aligned. Cirie says she could be right about that. Felicia says she's just praying on Cameron messing up the competition and Jared re-enters. She says that will mess up the whole house and she'll love it.

5:45 PM BBT – Blue cam-talking about getting Cory out. She says he needs to go because he is her only threat at the moment.

6:10 PM BBT – Houseguests are cooking dinner for real this time. Earlier was apparently just a snack.

7:30 PM BBT – It's dinnertime. Jag and Blue sneak off to add Sriracha sauce to their food. Blue received it in her basket yesterday and she's hiding it from all except Jag.

8:07 PM BBT – Felicia talking to Matt wonders how Cirie managed to no longer be anyone's target. Matt says it might be because people are afraid Jared will come back and don't want to be on his bad side for targeting Cirie.

8:08 PM BBT – Felicia tells Matt she thinks Cameron would put her and Cirie up. Matt says he thinks Cameron would nominate Cory.

8:09 PM BBT – Cory telling Cirie about Cody and Derrick from BB16 and Cirie doesn't know who Derrick is (she knows Cody because they were on The Traitors together).

8:10 PM BBT – Matt tells Felicia that Cameron might play his random nominations game again so they might not know really know who his targets are. Felicia says all you need is four votes to stay this week. She says she feels good either everyone.

8:11 PM BBT – Felicia and Matt agree that the person who comes back would be an easy target (Matt is actually planning on working with Cameron, though).

8:15 PM BBT – Cory and Cirie have been chatting at the dining table. He talks about how great she did on Traitors.

9:00 PM BBT – Cirie tells Felicia and Blue that America has told her she (C) is not a target for America and Cory. Blue says that just last week they were targeting Cirie.

10:10 PM BBT – Jag and Blue discuss trying to work more with Bowie. Jag thinks they could pull in Bowie along with Matt and Jared.

11:20 PM BBT – Cory, America, and Matt comparing notes on Felicia in the bathroom. America mentions how Felicia says Cory is going to put her (F) on the Block. Cory says he has never said that. Matt thinks Felicia is pressed to get Cory out. Matt mentions how Felicia was asking why Cirie isn't more of a target. The group considers telling Cirie that if she (C) gets HOH.

11:30 PM BBT – Blue and Jag have joined the discussion. Blue believes Felicia is throwing out names to everyone to get them to take out her targets for her. Bowie arrives and hears more of the Felicia stories too.

12:25 AM BBT – Blue, Jag, and Matt are meeting in the bathroom. Blue says her top target now is Cory. Meanwhile Matt and Jag want Felicia out. They think Felicia would target them if she got HOH but Cory is in their corner right now.

12:30 AM BBT – Blue persists that Cory is the target for her because he's intentional chaos while Felicia is random chaos. Blue also thinks she can bring in America without Cory. All agree so much depends on the Zombie outcome.

12:35 AM BBT – The group is discussing how things could line up if Jared stays. Blue wants it to be the four of them plus Cirie, if Matt and Jag are good with that. But if Cameron stays then they might need to draw in Bowie for numbers and exclude Cory and America. Blue says that might not work since Bowie is good with America and Cory.

12:45 AM BBT – Blue, Jag, and Matt decide to call it a night. Matt asks to meet in the HN room tomorrow so they can talk normal without whispering since that's giving him trouble tonight.

12:50 AM BBT – Lights out for the HGs.
So much hangs in the balance with this upcoming Zombie comp and it still seems more likely for a Cameron revival than Jared. Blue is trying to make sure she's positioned well either way. The scramble should be interesting after Thursday night.
You can watch all of these Big Brother events using the archives Flashback, the DVR-like feature of this year's Live Feeds which means it's always live, even when you missed it! Sign-up now and get the free trial to watch it all live & uncensored.

Gallery: Live Feeds Highlights
Download our Big Brother App, join us on Facebook & Twitter, and get our Email Updates for more!