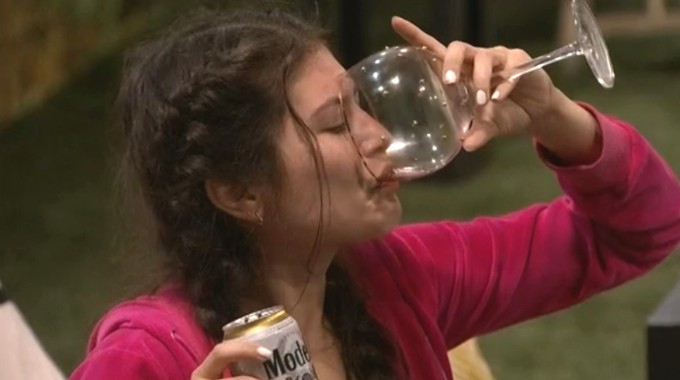 ALERT: Join our NEW Facebook Page for BBN after FB disabled our old one. We need to reconnect with you on Facebook! Please spread the word and share our content on FB so we can quickly rebuild. Thank you!
After a few days of drama the Big Brother 25 HGs got a chance to kick back and enjoy their day with the very first alcohol arrival of the season and it was no slouch either. It was a well earned break from the stress for most of them though the week's target hasn't given up just yet.
Cameron spent his day on the campaign trail offering up his services as a "gun for hire" with anyone who would listen. It was a decent pitch but the Big Brother house seems unswayed. Cameron has a few more days to go before it's settled and I expect he'll continue the good fight in the meantime.
Try Live Feeds 1 Month Free! Code: BIGBROTHER25 Sign-up now!
Don't forget to sign up for the Big Brother Live Feeds right now so you don't miss anything else this season. Anything you want to watch from our Highlights report is always available using the rewind feature to pick any day, time, and camera to watch it again. Enjoy!
Read up on Saturday's Highlights before moving on to Sunday's events.
Big Brother 25 Live Feed Highlights – Sunday, September 17, 2023:
9:25 AM BBT – First HGs are getting up and going for the morning. Felicia and Cirie are the first to the backyard.

9:50 AM BBT – HGs getting a slow start to their day. Few still in bed as Felicia wanders the habitat.

10:20 AM BBT – Blue tells Jared she would nominate Bowie with either Meme or Cory. Blue asks Jared if he'll take her all the way to F2. She mentions Jag is a huge threat for them.

10:25 AM BBT – Jag asking Cirie how her Big Brother experience compares to Survivor. Cirie thinks she should have been more ready and willing to expose the actions of others which she hadn't been doing because they didn't do that sort of thing on Survivor.

10:30 AM BBT – Matt checks in with Cirie. He thinks she's still in a good position in the game. Matt promises not to ever use Cirie as a pawn. She says she trusts Matt completely. Matt shares with Cirie that there's a possible plan for her to be nominated next to Felicia and then BD Jared.

10:45 AM BBT – Matt confirms to Cirie that America and Cory are trying to form an alliance. He says yes, they're trying to get him and Jag to work with them.

10:50 AM BBT – Cirie and Matt discuss Bowie and both agree they're probably in a good spot with her.

11:20 AM BBT – Matt talks with Cirie about how it was growing up deaf and the challenges he faced along with the efforts he and his family put in to improve his situation.

11:30 AM BBT – Blue, Jag, and Jared discuss what they expect from Cameron this week and whether or not he'll be campaigning. They say how close he came to winning the Veto from Jag. Jag says he's still debating who to save with the Veto. He encouraged Cory and America to sort it out so he didn't have to decide but he will probably pick Cory since America has a better chance to stay over Cameron than Cory might.

11:40 AM BBT – Matt hopes he could have a chance to do modeling after Big Brother.

11:50 AM BBT – Blue wants her, Jag, and Matt to set a plan for next week if one of them wins HOH.

12:15 PM BBT – Felicia is going over last week's events and starts to recognize that she really was the target. She notes how Jared was one of the last to come to the HN room where the argument started with Cory. She concludes he arrived to shut down the flip. Meme is confirming this theory to Felicia that Cirie and Jared wanted to keep Izzy over her. Felicia says this affirms her idea that Cirie is the mastermind in the season. Meme encourages Felicia to keep this knowledge to herself.

12:35 PM BBT – Cameron working on Matt about this week's outcome. He's reminding Matt that they've been breaking up duos so here's a duo on the Block right now. When questioned Matt says he'd probably vote out Cory instead of America.

1:40 PM BBT – Cameron campaigning to Blue now. He really needs to get to Jury for the extra income. Cameron also reminds Blue it's a chance to split up that showmance. Blue is asking Cameron about the deal Cameron made with Jag and then by extension the deal he had with Jared.

1:45 PM BBT – Cameron offers Blue safety for her and Jared from him. He admits he can't win the game but wants to stay longer. He'll even give them his HOH room if he wins again.

2:10 PM BBT – Felicia says her read is that this is the upcoming DE and that'll take them into the Jury phase.

2:30 PM BBT – Cameron campaigning to Cirie. He says he doesn't have anyone to trust but he doesn't break a deal. Cameron says he regrets his big move last week which he did thinking they had made Jury. Cameron pitches that if he stays then he can be there to go against Blue, Jag, Jared, and Matt.

3:05 PM BBT – Felicia and Cory going over the vote that got out Red. Cory says he was told it'd be a 6-4 vote with Felicia and Meme on the wrong side of it. That tipped him off that Felicia wasn't being told everything either.

3:25 PM BBT – Blue tells Jag, Jared, and Matt what Cameron told her about his campaigning and how they're all on his target list.

4:05 PM BBT – Bowie checks in with Cirie and shares that Cameron was campaigning to her. She can't imagine he won't get renom'd.

4:15 PM BBT – Matt tells Blue and Jared that he feels badly for Cameron since he knows how much he wants to make Jury. Jared says it's Cameron's fault for turning on Reilly, Hisam, and then him (J).

4:35 PM BBT – Jag asks Cory if it makes more sense for him to save Cory with the Veto since Cory picked him with HG Choice. Cory says it doesn't matter but he and America really want to work with him and Matt. Jag agrees. Cory says he and America are unlikely to come to an agreed decision on who to take down. Jag says this is probably a very safe week to be on the Block since the other person is going to be Cameron. Cory says seeing Cameron campaigning did make him a little nervous today. Jag assures Cory he's going to use the Veto and

4:45 PM BBT – Cory discusses Meme with Jag. Cory wonders if Meme has loyalty to anyone outside Felicia. Cory feels confident if they could get Jared on the Block that even Meme would vote Jared out.

4:45 PM BBT – Felicia tells Meme and America that when she (F) was told to go talk to Cirie about the vote that was her tip off that she was being played.

4:50 PM BBT – Cameron is making his pitch to Jared, Jag, and Matt. Cameron says he knows if that Veto gets used then he's going home. Cameron will offer to fight on their behalf if they would keep him. He points out that as long as he's in the house then others will come after him before they come for anyone else. Cameron says he'll be their hired gun, the party clown, whatever they want if they'll just keep him. Cirie tries to come in but Cameron turns her away.

4:55 PM BBT – While Cirie was upstairs Felicia was pitching to America, Cory, and Meme that they make a 4-person alliance.

6:10 PM BBT – Cory tells America he thinks they can get Felicia to make a big move with them against Jared. America agrees.

6:45 PM BBT – Cirie warns Jared that she thinks Cory and America are coming for him. He says they probably are but they aren't winning anything to do something about it. Cirie warns Jared that Jag and the others will be playing too hard to win HOH themselves.

6:50 PM BBT – Cirie also warns Jared that Cory probably isn't alone and instead is working with America, Jag, and Matt with maybe even also Felicia and Meme. Jared dismisses the idea and says that's giving Cory too much credit. (Jared is a fool. Cirie has a good read here.) Jared says Felicia put him on the spot about why he didn't take her down. Jared says he told her that Cameron said Cirie would go up in her place so he couldn't let Cameron make him choose between the two.

6:55 PM BBT – America tells Blue that she really wants to work with her along with Cory, Matt, Jag, and Jared too if he can be in it. America and Blue agree that they're frustrated how Jag was used against them as the scapegoat.

6:55 PM BBT – Mecole and Felicia talking in Storage about if Red ever really said that Felicia was a liability.

7:10 PM BBT – Cirie laments to Jared that Izzy got voted out over Felicia. Cirie says Izzy was her person and liked her a lot more than Felicia in the game.

7:30 PM BBT – Cory tells Bowie this won't be a Double Eviction week, he's sure of it.

7:40 PM BBT – Blue tells Jag that she wants to see America win HOH to Jared and Cirie can go on the Block. They're both glad to hear that Felicia doesn't trust Cirie anymore.

7:45 PM BBT – HGs just got a lot of alcohol delivered in Storage. Two bottles of wine and six beers. There's just 11 of them there!

7:55 PM BBT – Jared admits he can get passionate in arguments. Cory promises Jared that he's not coming after him. Cory says he's sort of a Cameron and willing to work with anyone.

8:25 PM BBT – HGs having a blast and drinking it up in the backyard.

8:30 PM BBT – Jag jokes that he'll give his glass of wine to whoever he is not saving with the Veto. America grabs the glass and chugs it. She joking states, "see you on Thursday!"

8:55 PM BBT – HGs discussing Survivor and Cirie explains what the experience was like. They're talking about how Cirie kept getting close to the end but not winning.

9:55 PM BBT – Cirie says she and Cory need to meet up tomorrow and talk through things. Cory says he feels more comfortable as the week has gone on but still worries for America.

10:15 PM BBT – HGs lounging in the yard and chatting about entertainment.

11:25 PM BBT – HGs still goofing around and chatting. They're discussing dating preferences.

12:30 AM BBT – Few HGs starting to get ready for bed.

1:30 AM BBT – Mecole, Cory, and Jag hanging out in the bathroom and chatting. They're discussing when Cory was taken to the Nether region and some HGs thought he had received a super power for losing that comp.

1:35 AM BBT – Cory heads to bed. America is already there. She wakes up and they chat. America says her buzz is gone.

1:40 AM BBT – Jag and Mecole are kicking off a long talk about where they are in the game. She says she learned a lot about what's really going on in the game versus what she thought was happening.

2:30 AM BBT – Felicia gets up and wanders into the bathroom where Jag and Mecole are still talking. Jag is talking Felicia through what he learned last week about Seven being leaked. He says when that happened he decided it was important to keep Felicia. Jag also credits Matt with working to keep her too.

2:50 AM BBT – Felicia heads back to bed leaving Jag and Mecole to continue their game talk.

3:00 AM BBT – Jag asks Meme if she has a plan for next week if she gets HOH. She is noncommittal and Jag pushes forward saying there's a "big shot to take." Jag tells Meme that there is support if they took that shot and he thinks Cory and America would do it too.

3:10 AM BBT – Meme considers Jared and Cirie equal threats to her game. Jag says if Meme put up Jared and kept Jag, Cory, Matt, and America off the Block then they'd have the votes they needed to send Jared out.

3:15 AM BBT – Jag says the more they talk about this idea (targeting Jared) the more comfortable everyone can be about it when the time comes.

3:25 AM BBT – Meme and Jag both call it a night and head to bed.
That was a mighty long talk for Jag and Mecole at the end of the night and could set up an important bridge for two groups here with a shared purpose: disrupt the Fields' control on BB25. Talk is good, but HOH is crucial and with a DE on the way this could be a window of opportunity for the HGs to make that move.
You can watch all of these Big Brother events using the archives Flashback, the DVR-like feature of this year's Live Feeds which means it's always live, even when you missed it! Sign-up now and get the free trial to watch it all live & uncensored.
Try Live Feeds 1 Month Free! Code: BIGBROTHER25 Sign-up now!

Gallery: Live Feeds Highlights
Download our Big Brother App, join us on Facebook & Twitter, and get our Email Updates for more!