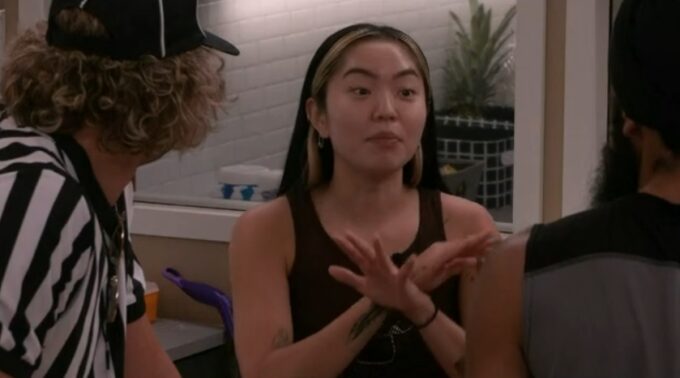 That was a busy Veto Day for the Big Brother 25 Houseguests as they faced off first for the players pick which had its own drama, then we saw Cirie telling Jared to send her home this week, and finally the Power of Veto delivered the opening to finish off a long sought plan this season of Big Brother.
We're still days away from anything being settled, but for now it does look like Cameron would be the one out the door. Nothing is settled until Julie announces it, especially with this bunch of HGs, but the odds look likely for the end of the house's top target.
Try Live Feeds 1 Month Free! Code: BIGBROTHER25 Sign-up now!
Don't forget to sign up for the Big Brother Live Feeds right now so you don't miss anything else this season. Anything you want to watch from our Highlights report is always available using the rewind feature to pick any day, time, and camera to watch it again. Enjoy!
Read up on Friday's Overnight Highlights before moving on to Saturday's events.
Big Brother 25 Live Feed Highlights – Saturday, September 16, 2023:
7:51 AM BBT – Feeds return to Blue, Cirie, Felicia, Jared, and Matt meeting in the HOH room. They're reaffirming their desire to work together.

8:00 AM BBT – HOH group makes up yet another alliance and another ridiculous name like "not a thing" to go with it. They break up to go cover before other HGs see them gathered.

8:15 AM BBT – Cirie is telling Bowie about the Seven alliance and says it's over now. Bowie asks Cirie to keep her updated on what she's hearing.

8:15 AM BBT – Jared talks with Cameron who is promising Jared he'll still be good to work together and his offer still stands, that if Jared keeps him until Jury then he'll vote for him at the end.

8:30 AM BBT – Cory and Cameron talking about the Veto competition. Cameron knows he's a likely target. Cory says he's sorry he has to fight to get off the Block because he knows that'll contribute to Cameron's demise. Cory promises if Cameron is still here next week then he'll fight to get HOH and keep Cameron safe next round.

9:15 AM BBT – Feeds are back from the players pick. Cameron, Jag, and Bowie are all playing. Matt will be hosting.

9:25 AM BBT – Matt and Jag are discussing how Cory pulled HG Choice, picked Jag, and then America pulled Jag's chip so she had to draw again and got Cameron's chip.

9:50 AM BBT – Blue tells Cirie that since Izzy left she's hearing a lot more with people talking about "Jared and Cirie" together. Cirie says how Izzy was the connecting piece between her and Jared and even between Cory.

10:05 AM BBT – Cameron talking with America about Veto scenarios. He knows he'll go up if she wins and uses her Veto. Cameron pushes again that if he wins Veto then there's a chance all three of them could be safe this week.

10:15 AM BBT – Cirie goes to Jared and tells him that he won't like this idea but to hear her out. She wants him to renom her and send her out. Cirie says this will reset the game for him and help him along even though he'd be losing her in the process. She wants him to consider this in case Cameron wins the Veto and isn't going anywhere this week.

10:45 AM BBT – Blue and America discuss Veto renom scenarios. Blue is worried that Cameron might win it and then not use it. America is pretty sure Cameron would save her with it.

10:55 AM BBT – Blue is worried and tells Jag that she can't let Jared find out that she's working closely with Cory and America. She says Jared believes Blue when she told him that she doesn't have a game relationship with America anymore.

11:15 AM BBT – Cory and Jag are working on a strategy to try and knock Cameron out of the Veto comp if it's "Stay or Fold." Cory thinks he'd rather see Cameron win the Veto than Jared. Jag reminds Cory that Jared says he wants to get Cameron out so they don't want Cameron winning Veto today.

11:20 AM BBT – Jared tells Blue that he may decide to renom Cirie and then test the Six with this because then if it's not unanimous he'll know he can't trust them. Now Jared is considering using Matt as a renom, but either way he wants Cory gone. Blue says there's a better chance that Matt would stay over Cory than if he put up Cirie against Cory.

11:25 AM BBT – Feeds have cut for Veto.

3:55 PM BBT – Feeds are back. Jag is wearing the medallion.

4:00 PM BBT – Blue and Jared went upstairs to HOH. Once alone they start dancing and celebrating that Cameron is going home.

4:15 PM BBT – Blue joins Jag and Matt in Storage. They're celebrating and jumping around. Blue says Jared has no idea she's still working with them closely, but she worries he's getting suspicious about other things. Blue mentions that Jared floated the idea of renoming Cirie.

4:30 PM BBT – Felicia tells Mecole she thinks Cirie and Jared have a F2 and she's tempted to call it out. Felicia is frustrated and confused by some of what she hears and sees from Cirie. She doesn't know how Cirie is always involved in everything. Felicia promises to keep Mecole safe if she gets HOH again.

4:45 PM BBT – Felicia worries to Bowie that another power could come along and mess up their plans this week.

5:00 PM BBT – Jag goes to Jared in the HOH room and assures Jared the Veto will be used and Cameron will be going home this week. Jared says he'll explain to Cameron that he can't possibly keep him. They both hope Cameron will keep it cool this week.

5:15 PM BBT – Jared comes to see America and Cory. He says it's going to work out this week like they planned. After Jared goes Cory says his plan for next week would be to nominate Cirie and Felicia then BD Jared.

5:30 PM BBT – Bowie tells Jared that Cameron already commented to her that he's going home this week.

5:35 PM BBT – Cirie expects the Double Eviction this week and discusses with Jared what sort of comps they'll face.

6:00 PM BBT – Bowie and Cirie have been celebrating Jag's Veto win with him. Bowie asks who he will take down. Jag says he doesn't know yet but he'll talk with the both and see.

6:10 PM BBT – Cirie tells Jared they need to get close to Bowie again and lock down her number in their support. She says Mecole is also still loyal to them. Jared is dismissive about Felicia and Mecole, saying they won't win anything.

6:55 PM BBT – Jared says to Cirie that he would never put her on the Block. She thought it would help shake them off.

7:20 PM BBT – Felicia tells Jared she wants to nominate America and Cory. Jared says he wants Cory out so America will come over more to Blue. After Cory goes, Jared wants to target Mecole or Bowie. Jared also tosses Jag in there as a target too but after Jury starts.

7:50 PM BBT – Jared was snoring so much that Big Brother couldn't wake him. Matt has to go upstairs and throw pillows at Jared to wake him.

8:10 PM BBT – Jared tells Matt and Blue that he's expecting the Double Eviction next. He leaves the HOH room.

8:15 PM BBT – Blue discusses with Matt the possibility of throwing the upcoming HOH comp so America and Cory can win it. She says it's scary but they need those two to win (and go after HGs they can't).

8:55 PM BBT – Felicia and Cirie check in and discuss their various plans to stay close to HGs. They don't think anyone suspects their Brown Sugar alliance, not even Blue, according to what Jared has told Cirie.

9:30 PM BBT – HGs discussing being out of clothes after not having the backyard and laundry machines for the past week.

9:50 PM BBT – Cirie telling Bowie about an alliance called Middle Men. Bowie hasn't heard of it. Cirie says Bowie was in it, but Bowie didn't know this.

10:30 PM BBT – Backyard is open again. HGs rejoice and venture outside.

10:55 PM BBT – Cory and America have already settled into their hammock.

11:15 PM BBT – America thinks HGs are taking Cory's side after his argument with Jared. They discuss who Jag will save.

11:35 PM BBT – HGs have made scattered piles of laundry as they await their turn at the laundry machines.

11:45 PM BBT – Few HGs already turning in while others staying up for their laundry.

12:40 AM BBT – Cory and Jag are going over the argument Cory had with Jared. Cory suggests to Jag that he should be the one to come down and America stay on the Block. Jag says either way is okay with him.

1:00 AM BBT – America and Mecole discuss the last vote. Mecole is glad Felicia was staying because that's how she was going to vote anyway.

1:00 AM BBT – Cameron and Cory discuss the expected results for this week. Cory says he can't say for sure, but suggests Cameron keep calm this week. Cameron says it's not like he is going to get shot.

1:20 AM BBT – Cory comes over to talk with Meme and America. Meme says she didn't know the plan had changed to vote out Izzy, she was left in the dark.

1:25 AM BBT – Cory explains the reason the vote flipped on Izzy was because HGs started talking and discovered all the alliances that had been made.

1:40 AM BBT – Matt joins the outdoor group. Matt says he's been struggling today to focus and follow conversations.

2:50 AM BBT – Jag has come outside to talk with America and Matt. They go over their relief that Cameron didn't win Veto. Jag is sure Cameron will be going home.

3:05 AM BBT – America tells Jag to use the Veto on whoever he likes best. He wonders if Cory would be at risk if he stayed up against Cameron. They start going over the votes. America questions if Jag's position in the Seven should dictate how he uses the Veto.

3:30 AM BBT – Matt and Jag discuss the idea that had been floated about throwing HOH so Cory or America could win it. They're nervous because it would eliminate all but Cirie and Felicia against Cory and America.

3:40 AM BBT – Last of the HGs going to bed.
So this *should* be it for ol' Cameron on BB25 but you never know what sort of chaos could crop up between now and Thursday. Of course, it'd have to be pretty incredible to break through the goal of getting out Cameron. Then on Thursday it'll be time for the long awaited Double Eviction and with Jared already on a few radars, well, you never know!
You can watch all of these Big Brother events using the archives Flashback, the DVR-like feature of this year's Live Feeds which means it's always live, even when you missed it! Sign-up now and get the free trial to watch it all live & uncensored.
Try Live Feeds 1 Month Free! Code: BIGBROTHER25 Sign-up now!

Gallery: Live Feeds Highlights
Download our Big Brother App, join us on Facebook & Twitter, and get our Email Updates for more!