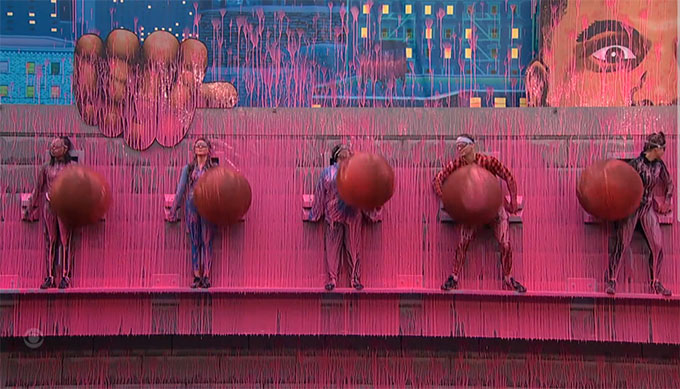 Big Brother 25 Continues tonight at a much later time as the houseguests endure the wall competition and find out which two houseguests will end up on the block this week.
We will be bringing you this Sunday's recap live as we track who drops from the wall comp and who wins that HOH key. And then by the end of the episode we'll know who the new nominees are and which, if either are this week's true target.
Of course this has all played out already, but we know a good number of you don't keep up with the Live Feeds and spoilers, so be sure to follow along for all the HOH results and nominations.
Tonight's episode picks up right after Julie said goodnight to the houseguests as the endurance competition was under way. As you saw last Thursday, the competition this season is themed after BB19 winner Josh Martinez and his whole "meatball" thing. Let's see how they do.
But first, we get a recap of how the Izzy vote flip came out before the eviction episode. We also get to see how the Cory vs. Jared argument went down. Matt made a boo boo and told Felicia he was keeping her. And that spread around the house really fast. So Jared decided to go check with Matt. And Matt started spilling all the things Cory told him about the alliances Matt wasn't in.
Jared goes to get Cory and then they go at it. But at this point there was no saving Izzy. And what really comes out is that Jared lied about too many things.
Big Brother 25 Week 7 Head of Household Competition – Attack of The 50 Foot Meatball
At the start, the 10 houseguests competing  are all secured to the wall and still digesting the big news that jury didn't start this week as the show is retuning to the seven-person jury format.
Cirie is first out after after 9 minutes and 2 seconds.
Felicia drops next after 18 minutes and 51 seconds.
America is the next to fall from the wall at 21:38.
Next out is Mecole after 27 minutes and 58 seconds.
Cory is the fifth person out at the 28:49 mark.
Jag drops after 35 minutes and 3 seconds.
Next out is Matt at 37:51.
Blue falls from the wall at 43:10
Bowie immediately follows Blue off the wall.
Jared is the new Head of Household.
Big Brother 25 Week 7 Nomination Ceremony
Let's find out who the new Head of Household nominates for eviction.
Just as everyone expected, Jared nominates Cory and America for eviction. But Cameron remains the backdoor plan.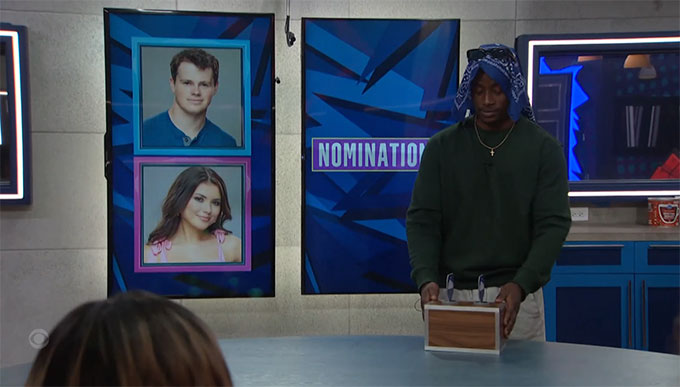 Don't want to wait until Wednesday night to find out who won the veto and if it will effect this week's nominations? Be sure to check out our spoilers to find out!