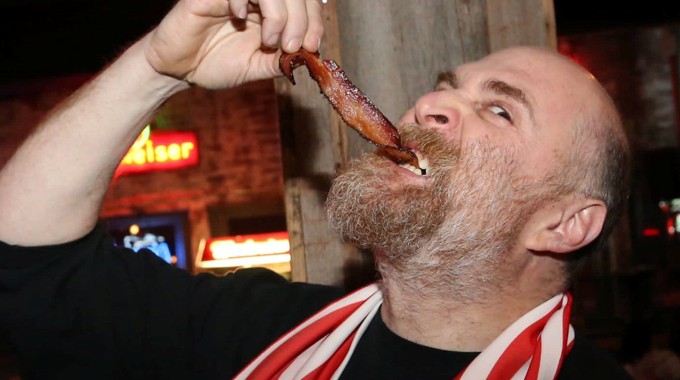 And we're back ladies & gentlemen. Yes, it's been just over 9 months since Xavier walked out of the BB23 house as the winner – and now 16 new Houseguests move in tonight in what looks like another crazy summer. With the cast being released just 1 day before the premiere, we saw a ton of drama including one person getting replaced, one family member "cancelled", and lots of scrambling by the BB detectives to uncover as much dirt as possible. As Julie says… WELCOME TO BIG BROTHER!
We are being treated to another live move-in which is huge for the superfans. We get to see just about everything from the start. Those first few days are so important to see the original bonds, flirtmances, and early alliances form. BUT FIRST…. Here are my first impressions of the cast – and the rankings. For those of you new to this column, BACON is good, TOFU is bad – so let's see how everyone stacks up – and we will re-evaluate this list at the end of the year to see how well I did predicting their games.
Daniel Durston – 4 strips of Bacon (on top of a banana & peanut butter sandwich) – ok, yes, I started off his preview with the Elvis Sandwich reference. Daniel is a true performer – and he will need to funnel that energy into a strong social game. Despite being a big person with a big personality – I think he will be able to contain it and as the bigger players get cut, he will find himself getting close to the end. I won't say he is my pick to win it all – but he could.
Indy Santos – 3 strips of Bacon – there is so much potential for Indy to be a legendary player or at least a polarizing player. She will be the cause of a lot of drama and I guarantee involved in the biggest fight of the season. She will also be in one of the showmances this summer. Somehow players like this end up making it pretty far – so look for Indy to get to jury, possibly F6 – and if some of the bigger threats go home early – could make it to F4.
Taylor Hale – 3 strips of Bacon – despite her being a little too peppy (which could be annoying) – I think Taylor will do pretty well. She's competed in beauty pageants so she is used to being around big egos. If she can tone it down a little, win a few comps early – but not too many, she can get pretty far.
Pooch – 3 strips of Bacon – I always root for the NYC area players – and the fact that his nickname is close to my last name (Pooch vs Poch) – I have to pull for this kid. In other seasons, he may come off a little too strong, but I think he is lucky there are much bigger personalities around him – and he will be able to position himself well. As a coach – he sees the game from a different perspective and that east coast attitude will allow him to fight when he needs to and sit back when he needs to. He will have the attention of at least one of the female contestants and if he uses it right – could catapult him to the end. Final 6 lock – with a chance to get to Final 4.
Michael Bruner – 2 strips of Bacon – I don't usually do this, but I am taking the advice of another alumni (McCrae BB15) that knows Michael – and say he will use his superfan powers and get pretty far. He wants to surround himself with the more strategic players and team up to get out the stronger physical players. It's a great strategy – if it works. Mid jury – possible Final 6.
Joseph Abdin – 2 strips of Bacon – a late addition to the cast, he is in a perfect spot as he is not as big (physically) as some of the guys, and does not have as much of an over the top personality as the others – so he should be able to slide in somewhere in the middle. A very good chance he could end up in a showmance and will get further than his showmance partner. Does he have what it takes to win it all? Not sure but he will be around for a while..
Paloma Aguilar – 1 strip of Bacon – she thinks she is a female Tyler, I think she has potential to be an early game star. She will undoubtedly get into a showmance and will get into it with someone in the first couple of weeks. Unfortunately, that means she will be a target and probably gone early jury unless she has some allies to protect her.
Monte Taylor – 1 strip of Tofu – despite Monte saying he wants to throw challenges so he's not perceived as a threat – but at 6'4 – and a personal trainer, it will be a little difficult for him to hide in the background. He will need to win a Veto or two to save himself – or else he's pre jury.
Ameerah Jones – 1 strip of Tofu – I hate to say this, but I think Ameerah is actually too nice to play a winning game of Big Brother. She also seems to be too honest & straightforward – and we know to go far in Big Brother – usually players need to hold some of their cards close to the vest. She may get manipulated and taken far into the game but will be a casualty as a renom once the numbers start to dwindle.
Alyssa Snider – 2 strips of Tofu – in one of the interviews I read, Alyssa said she talks a lot. But in her video, she was giving short quick answers. She says she wants to play it safe but also wants to get the big players out. She will need to get in with the right group – or at least a showmance where she has some protection – but I see her as an early jury evictee.
Jasmine Davis – 2 strips of Tofu – Jasmine comes into the house saying she is blunt & speaks her mind. She also claims she wants to make big moves and take risks. But she will be (as we say) furniture. People will forget she is there or could end up being the early game pawn. But pawns go home and so will this one, pre-jury.
Nicole Layog – 2 strips of Tofu – if my memory serves me right, the last time we had a female police officer on the show, it was Kathy (BB12) – and she is most famous for getting stuck in the goo during one of the first challenges. This time around we have Nicole and she will not tell her HGs that she was a cop. I think she will not be able to hide it and will be a little too inquisitive and will raise some red flags. Pre-jury boot.
Terrance Higgins – 3 strips of Tofu – older players usually seem to have the stack against them early on. He says he has a big personality – so he will definitely need to keep that in check as he will not want to come out of the blocks too strong. While he may not be the first out – I just do not get the sense he will be a mastermind, comp beast, or stealth assassin – so expect him to go out pre-jury as an "easy week" target.
Kyle Capener – 3 strips of Tofu – Kyle's biggest challenger will be Kyle. He wants to try and be the master manipulator – which usually does not bode well. The best manipulators do not ever say they will manipulate – they just do. He also thinks he is too competitive to throw challenges so he will put a target on himself early. Kyle also claims to not be too serious and tell lots of jokes. Chances are he will be the guy who thinks he is funnier than he really is – and will get under people's skin. Could make it to Jury – but probably not.
Brittany Hoopes – 4 strips of Tofu – Brittany has a 40-page notebook on all of the things she wants to do when she finally gets to play Big Brother. She is going to lie right off the bat and not tell everyone she is a Hypnotherapist – and thinks she will be able to manipulate everyone. Read this as…. she is the female version of Frenchie (BB23). If she comes in with as much energy as we saw in her preseason video – she probably should not unpack.
Turner – 4 strips of Tofu – this kid is pretty out there… we did not even need the bashing from his sister on Twitter to see that. He completely went for shock value naming Rockstar and David (BB21 & BBAS2) as some of his fav players – but this carefree goofy attitude will not translate well in the house. However – if he can win the first HoH – which he is going all in on, then he may be able to get some people under his wing, until he pisses them off, and they cut him week 2.
OK – keep in mind, we still do not know anything about the twists that Big Brother will throw at us & the Houseguests – so all of my predictions could be moot. So as they say – this is why the game is played on the field (in the house) and not on paper. As long as it is a fun & entertaining season – that's all that really matters. I do think this is a great mix of personalities and we should be in for a great season!!
Who are your favs? Who do you think will win it all? Who do you think will be the first out? Please let me know in the comments section below! From outside the Big Brother house – I am Adam Poch. Enjoy the season!!
Catch me here every week during the BB season for my rankings. If you want more of my thoughts during the season. follow me on Twitter @HeavyMetalTeddy – and listen to my Podcast – @BigBrothersPod.