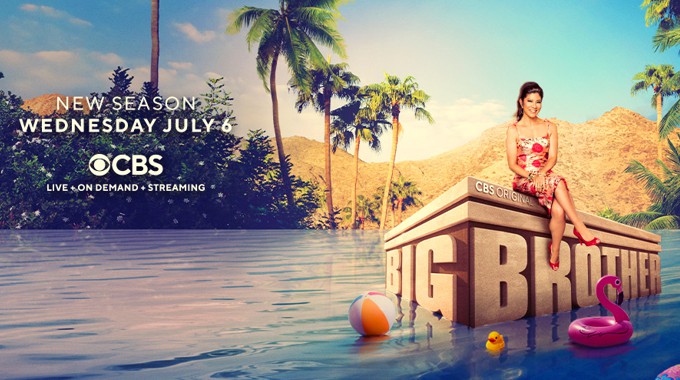 Update: Special schedule notice for Week 2 of BB24. CBS has moved the week's eviction episode from Thursday July 21st to Sunday, July 24th at 8/7c for a two-hour mega episode combining the eviction, HOH, Besties twist, and Noms all into one show. Yikes.
Big Brother 24 kicks off tonight, Wednesday, July 6th at 8PM ET/PT with a 90-minute season premiere and that's just the start of our BB24 summer of fun with CBS. Once again this season we'll be watching the episodes, following the Feeds, and continuing our discussion on our site, Facebook, and Twitter. Here's everything you'll need this season for the Big Brother schedule.
Big Brother 24 Premiere Night:
CBS Premiere: Wednesday, July 6th at 8PM ET/PT – 90-min episode
Live Feeds launch: Wednesday, July 6th at 9:30 PT (12:30 AM ET)
CBS initially said the Feeds wouldn't start until 2AM ET after The Challenge premiere completed out west, but they walked that back so we'll be rolling ahead 90 minutes sooner on premiere day. Phew!
Once we're past the season premiere we'll fall into the regular episodes routine with three nights a week on both CBS and live on Paramount+ with the upgraded tier plan or next day on the regular plan.
Big Brother 24 Schedule – Episodes:
Sundays at 8PM ET/PT
Wednesdays at 8PM ET/PT
Thursdays at 9PM ET/PT – live eviction shows
It seems every year that CBS adjusts the Big Brother episodes schedule once we get things going but hopefully this one sticks and we'll be watching the regular routine of Sunday, Wednesday, and Thursday.
And then after an 82-day run of BB24 the season will wrap up near the end of September. This year the BB24 finale is on a Sunday and will have a two-hour run so it's not splitting the night with Survivor and crunching/cutting content. So that's a nice improvement!
Big Brother 24 Finale:
Season Finale: Sunday, September 25th at 8PM ET/PT – 2-hour event
Join us on Facebook & Twitter and download our Big Brother App for even more BB24 all summer long!