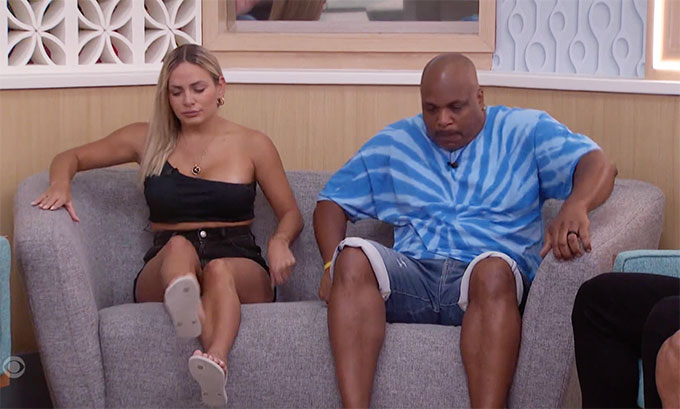 We didn't get to see the Big Brother 24 veto ceremony yet this week, so if you don't want spoiled on that stop reading now. Because I am about to make our eviction prediction for Week 6.
What we haven't seen yet is that despite Alyssa's veto competition blunder, she doesn't find herself on the block this week. Kyle doesn't want to be the one responsible for his girlfriend going out of the house this week. So he didn't use the veto. Terrance and Indy remain on the block ahead of tonight's eviction.
So as we saw in last night's episode, Terrance was Taylor's initial target. But her alliance thought he wouldn't really be worth wasting an HOH on, so they pushed for Indy (before Taylor considered Alyssa). So now that the nominations are the same, Indy is still the target. And she seems to be toast.
Last night on the Live Feeds, Indy made her campaign rounds and couldn't even get a solid answer from her closest allies. So that tells her everything she needs to know right there, but even today she still thinks she has four or five votes and a fighting chance to stay. But she doesn't. In fact she's likely to only get one or two sympathy votes. So our official prediction this week is that Indy will be the first juror of Big Brother 24 and meet Julie tonight.
It looks like our readers also think Indy will be heading out tonight, based on our weekly eviction poll. But it wasn't as big a landslide as usual. 77 percent of those voting in the poll said it will be Indy heading out tonight. Those polls usually end up at around 90 percent. So it looks like the episode cliffhanger might have thrown off some TV-only viewers. But we're here to confirm that it will likely be Indy leaving the house tonight.
Be sure to tune in for our live coverage of tonight's 2-hour episode that will officially kick off the BB24 jury and introduce us to the new twist that will split the game into two for the upcoming week.