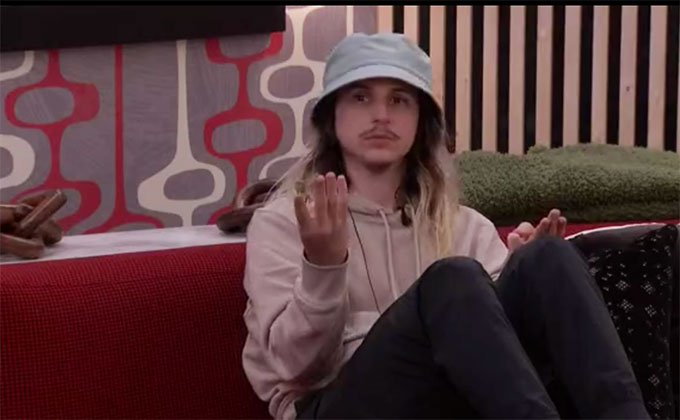 We've got another Big Brother 24 eviction upon us so that means it's time to count up the votes and see who is most likely heading off to the jury house this week.
As we saw on Sunday night's episode, Turner nominated Taylor and Brittany after he decided to roll with the After Party alliance that formed in the back yard during the Dyre Fest week. Turner's goal was to backdoor Michael if the chance arose. But as you'll see on tonight's episode, Michael once again won the Power of Veto, and squashed any backdoor plans. And to further change the trajectory of the week, Michael and Brittany revealed to the house Kyle's concerns over a Cookout-type alliance forming, which lead to an explosive house meeting that set the crosshairs onto Kyle. So you'll also see on tonight's episode that Michael used the veto on Brittany and Turner put Kyle up as the replacement nominee.
So it's Taylor vs. Kyle come Thursday night. And it's not looking too good for Kyle, despite Terrace working hard to keep him over Taylor this week, and Turner also expressing his concerns over Taylor sticking around. Monte, Brittany and Michael, however, haven't wavered, so everyone seems to be on board with Kyle leaving this week. Let's go over the likely scenarios. At this point, it sounds like no one will vote to keep Kyle, but I could see Alyssa deciding to throw him a sympathy vote if she clears it with Taylor.
Votes to Evict Kyle: Brittany, Michael, Monte, Terrance, Alyssa
Votes to Evict Taylor: None (unless Alyssa gives him that sympathy vote)
We don't expect this to change, especially after how things went down this week. It would be all kinds of a mess if they flipped the vote on Taylor this week after everything the house learned Kyle was talking about.
Who do you think will be heading to the Big Brother 24 jury house this week? Let us know in our poll below.