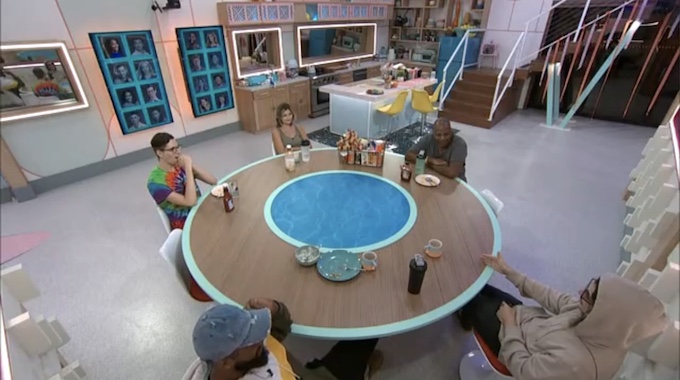 It was a quiet Eviction Eve inside the Big Brother 24 house with the houseguests seemingly relaxing after a stressful few days. There was very little game talk throughout the day since this week's target on Big Brother is already aware that there is no coming back. Read on to find out what the BB24 houseguests chatted about!
If you've got the Live Feeds (Free Trial) then you can watch all of these moments with the Flashback feature to go back and watch those important conversations or funny scenes you may have missed.
Big Brother 24 Live Feed Highlights – Wednesday, August 31, 2022:
10:10 AM BBT – HGs are waking up.

10:30 AM BBT – Everyone is pretty slow to get up. Most HGs changed out their batteries and then went back to lay down.

11:00 AM BBT – Monte is cooking breakfast and chatting with Turner in the kitchen while Terrance is working out in the other room.

12:00 PM BBT – The houseguests have just been hanging out in the kitchen talking about various things that have happened inside the house and things that they enjoy doing back home.

12:40 PM BBT – The houseguests are going around the kitchen table talking about things that they are going to miss about the Big Brother house. Alyssa says she is going to miss not having to go grocery shopping, Michael says he is going to miss not having a daily routine. Turner says that he is going to miss the little things like waking up and seeing Monte cooking in the kitchen and Alyssa eating all the candy.

1:15 PM BBT – Alyssa says there has to be another double this season and Kyle wonders if there is going to be another twist. Alyssa doesn't think so.

1:22 PM BBT – Kyle tells Alyssa that he talked to Monte about how Brittany and Michael were the ones that warned Kyle about Taylor wanting to BD Alyssa and then acted like they wanted her to stay. He says that Monte thought they did that so they could use it as an excuse to target Kyle and Turner when they got to F7.

2:00 PM BBT – Alyssa and Michael are talking about Kyle and how they both hope he learns from this experience.

2:15 PM BBT – The crew in the kitchen are talking about places they have lived and love visiting. Terrance says one of his favorite places to visit is Houston.

2:35 PM BBT – Monte is talking to the cams about what they do in the house when they are bored. He says he is going to work out and reminds us that it's Wednesday, the day before another live show. Which means there isn't much going on and the yard is closed so they can't go out by the pool.

2:45 PM BBT – Brittany asks Alyssa what she plans on doing today and she tells her that she might spend some time with Kyle, but she doesn't know.

2:55 PM BBT – Kyle is talking to Taylor about how he has to go to the Jury house and explain to people who might not have fond feelings of him how he got there. He says that it's going to be another awkward few days when he gets there while they process everything he tells them.

3:00 PM BBT – A few of the houseguests are in the kitchen chatting, but still nothing really going on at all in the house.
Kyle knows that he is on his way out of the Big Brother house and there is no use in campaigning to stay. The houseguests have been spending the day with some much-needed relaxation before tomorrow night's live eviction and Head of Household Competition. Meanwhile, Kyle is just trying to enjoy the time he has left with Alyssa inside the house.
You can watch all of these Big Brother events using the archives Flashback, the DVR-like feature of this year's Live Feeds which means it's always live, even when you missed it! Sign-up now to get the free trial to watch it all live & uncensored.

Gallery: Live Feeds Highlights
Download our Big Brother App, join us on Facebook & Twitter, and get our Email Updates for more!