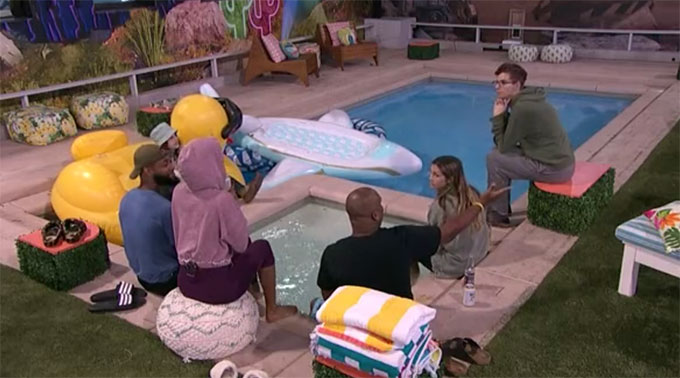 If you were watching the Big Brother 24 Live Feeds Sunday night, then you were probably as frustrated as we were. After Michael and Brittany exposed Kyle's desires to form an all-white alliance a few weeks ago, Kyle went into the Diary Room upset and then feeds cut for several hours. When the feeds finally returned, anytime someone mentioned Kyle or went near Kyle, feeds would cut again.
So we were all left wondering what happened while the Live Feeds were down (and why we weren't allowed to see any of it). We still don't know why we weren't allowed to see it, but based on early morning conversations in the BB24 house, we are starting to piece together some things.
What we've gathered is that while the feeds were down, some of the houseguests got to watch a movie that Michael won during the veto competition this week (that is possibly partially why the feeds were down, but has nothing to do with why everything was blocked the rest of the night anytime Kyle was mentioned). We aren't sure what went on while Michael, Turner, Alyssa and Taylor were seeing the movie, but at one point in the evening, there seems to have been a house meeting called.
And based on the conversations had this morning on the Live Feeds, Kyle exposed everything about his game, including the new After Party alliance and his Final 2 deal with Turner. And according to a Michael and Brittany conversation at 8:51 AM BBT, Terrance seemingly called them out for not revealing earlier that Kyle was having conversations about his fears of a "Cookout 2.0" forming.
"The house is mad at Kyle, but they're also not happy with me and the timing …," Brittany said to Michael during this storage room conversation.
Michael adds "Terrance made the comment that he lumps us in with what Kyle did." Feeds cut before we get to hear any more of that conversation.
Then at 9:48 AM BBT, Turner and Terrance are catching up in the HOH room.
"Obviously yesterday, my game was outed," Turner says to Terrance. He says Kyle was talking to everyone and even threw out the fact that Kyle and Turner has a Final 2 deal. Turner says he has no idea why Kyle chose to throw Turner under the bus like that.
Then Terrance says to Turner that he is sorry "If you felt I was overly aggressive last night." Turner says he didn't feel that way. Terrance says even still, "I just wanted to apologize to everyone …" Feeds then cut to Kyle alone on a spin bike in the back yard.
So details are patchy, but it looks like Kyle got the house together to talk about everything that had come out Sunday morning and afternoon, which led to him exposing all of his alliances and deals, and Terrance calling out Michael and Brittany for sitting on that information until it could be used as a game weapon.
It will be interesting to see how this is all edited for the Wednesday and Thursday episodes this week.
Scenes From Monday Morning Discussions