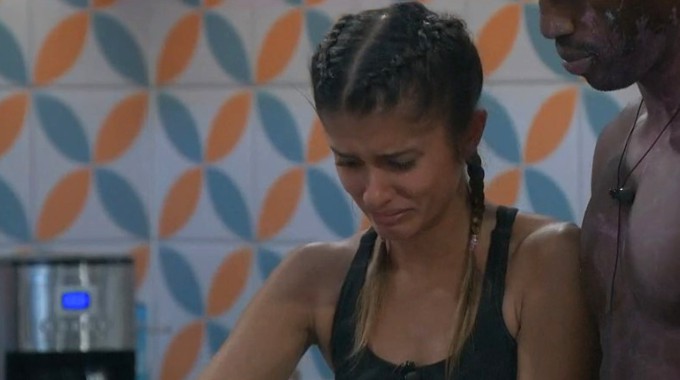 We've got all your Big Brother spoilers since Thursday's BB23 live show ended and the Final 8 Houseguests have been busy inside the house making moves and getting ready for the next eviction. Find out who won HOH, which two HGs hit the Block, and what this weekend's Veto comp results mean for the Cookout's goals. Read on for all the latest BB23 spoilers!
Head of Household Endurance Comp:
The rope swing endurance comp made a return for the latest HOH and there were a few HGs getting sick on this one thanks to all the spinning. Messy. It didn't last long either with two HGs dropping before Thursday's show had even ended which left just the Cookout up for the win in the end. That got messy too.
Read more on who won HOH in Week 9 >>
Nominations:
So Tiffany is back on the throne this week but maybe she shouldn't have done that. Would you have let Kyland win his 3rd HOH instead if you were in her spot? The margin for error is thin here for Tiffany with just one non-CO for her to target without having to turn on her close ally Claire. That means it's back to the Block for Xavier.
Read more on who was nominated in Week 9 >>
Power of Veto Competition:
Zing! He's back with more one-liners for the F8 HGs and he's got a Veto medallion with him in the return of the teeny-tiny Veto. Now as long as Alyssa doesn't win Veto then Tiffany keeps to keep her mask up around Claire without revealing the Cookout… Oh, oops. That didn't go to plan, did it?
Read who won the Veto in Week 9 >>
Power of Veto Meeting:
It's pretty obvious that the Veto is going to be used on Monday and Tiffany will have to make the decision whether to turn on her close ally Claire or turn on her powerful alliance, the Cookout. Tiffany has already told the alliance that she'll stick to the plan, even though it will be tough. There's no easy solution here as Tiffany is either going to upset one HG or five. This wasn't a good week for Tiffany's game!
What do you think of this weekend's Big Brother spoilers? Are you happy with the results or did you want someone else to pull off the wins? If you have our Big Brother App then you received alert notifications as these results arrived. If you don't have it, then be sure to download our app now!