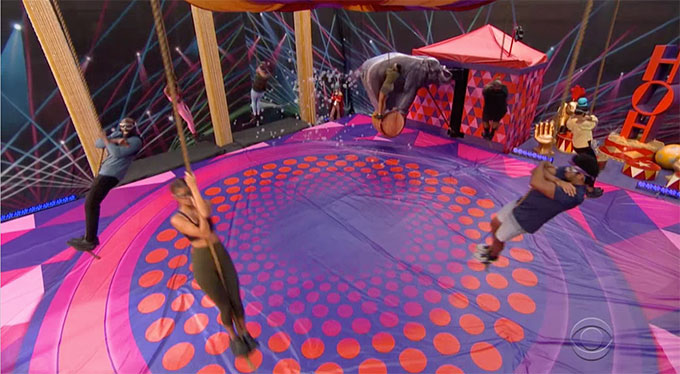 It looks like Big Brother 23's dominance alliance is starting to fracture. We've seen some cracks forming in the Cookout alliance already this season, back when it was Tiffany and Azah having issues, and then Tiffany and Derek F having issues. But this week, it was pretty much everyone but Hannah vs. Tiffany.
And while it might look like the common factor in all the issues with the Cookout have been Tiffany, she's actually been one of the most loyal. The TV edit, just chooses to make her out to be the bad seed. Tiffany just happens to be the most direct member, so she's easier to edit how the show wants to make what they think is good TV. But this isn't an op-ed, so let me get back to the recap. I just like for people who don't watch the Live Feeds to get a better idea of what really happens as opposed to what you see after hours of editing.
So, anyway.
Sunday night's episode picks up during the Head of Household competition. The remaining houseguests are battling it out in endurance. The Cookout had plans to throw the competition to Azah, but as you may have seen in the episode, they decided to only include the part where they decided Tiffany and Xaiver shouldn't win. So keep that in mind.
Derek F is out of the competition first. He dropped on Thursday even before the show returned from the commercial break. Alyssa gets sick and is out second. She dropped during the Thursday show end credits, I think. Claire is out next, because she had to throw it as the outgoing secret HOH. Those three are the have-nots of the week.
We then get a shot of this week's Cookout plan (based on the show editors' ideas), and as a group, they want Claire out next, but Tiffany lets us know that she'd rather Alyssa go this week.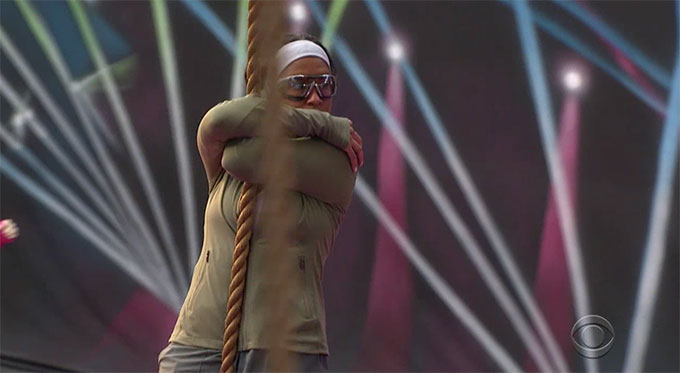 Hannah is the next one out. And then Xavier does his part in throwing it. That leaves Tiffany, Azah and Kyland. And at this point, they're supposed to throw the competition to Azah, but she slips too soon. So it's between Tiffany and Kyland. Tiffany wanted Kyland to drop first, so she could then drop and give it to Azah. Tiffany was OK with that because Azah would've gone for Alyssa as well, and Tiffany does selfishly want Claire around longer. Which makes sense, just like it makes sense that Xavier wants Alyssa around longer.
But Tiffany not dropping is not going over well with members of the Cookout, especially Xavier and Derek F. But Derek F has an issue if Tiffany breathes, so no surprise there.
Kyland finally drops, and Tiffany is the new Head of Household. That's two weeks in a row, which is something that never happens unless there's some kind of reset or at the end game final HOH.
Alyssa is upset that she's a have-not and has a feeling that she could go up on the block. And Xavier is upset that he's going to see the block a third week in a row.
Xavier makes his rounds complaining about Tiffany winning HOH, and then finally has a talk with her. He expresses his frustrations, but doesn't let her have his whole angry side. But in the Diary Room he mentions to us what if he wins the veto and uses it on Alyssa.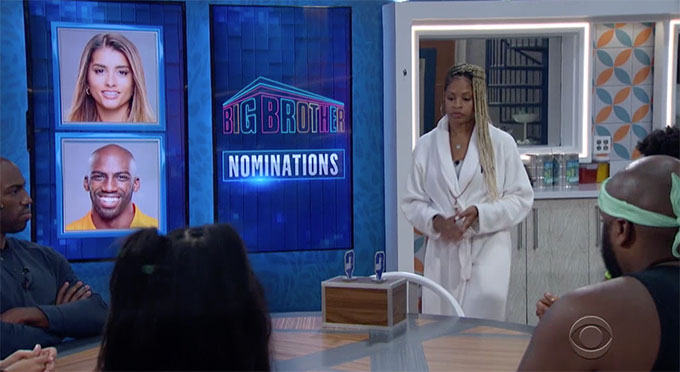 Tiffany meets with Alyssa before nominees, and Alyssa has a pitch. Alyssa says if she looks at jury votes. She runs through who all would have jury votes from whom. It's not as intelligent as Alyssa thinks it is, but it's not the worst pitch. She basically told Tiffany that if she sits next to Alyssa, she could definitely win the game.
But did Alyssa's pitch work? No. At the nomination ceremony, Tiffany goes with the plan and puts Alyssa and Xavier on the block.