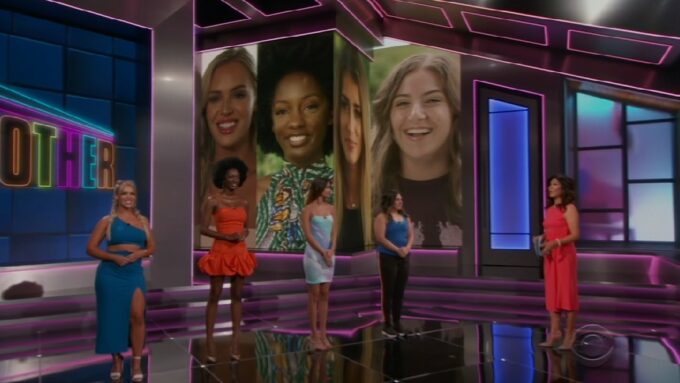 Big Brother 23 kicked off Wednesday nights, and if nothing else will make you feel a sense of normalcy has returned, then BB just might.
First off, I have to say it was refreshing to see the HGs not wearing masks. Sure, they're all likely vaccinated and will be tested weekly, and following all the typical protocols, but it just felt good to see things seeming a little more normal than last time.
Now let's talk about first impressions. I'm going to detail a few different areas, but I have to get this one statement out right now before I go any further. I thought that season premiere was one of the most entertaining ones in years. I'd venture to say since BB14. I'm not claiming that will be any reflection on how the season will go, but I am always one to give credit where credit is do. So now that I've gotten that out, let's get to my Big Brother 23 premiere night first impressions.
The Cast
I already assessed the cast the day it was released, and as we all know, thing have changed since then. Chrisite was replaced with Claire, and we have gotten to know the new HGs a little better. So this is sort of my cast second impressions, but in condensed form.
It's still way too early to really say how I feel about them, but I will say, overall, I like this cast. As I was watching I was thinking to myself that this cast isn't exactly an old-school cast, like BB3 or BB6, BUT it also doesn't feel like totally new school. I was getting BB11-13 era vibes. If that makes sense. I think if you get it, you get it.
And I LOVE the diversity. I mean, if course any cast could always be more diverse. It would have been nice to see even more representation, but CBS made an initiative and it shows with this cast.
Night one players that stuck out to were Hannah, Azah, Kyland and Frenchie. How could Frenchie not stick out in those camo waders and the fact that he won two competitions. As for the others, I just get really good game vibes from them. I would love to see them get to play the game as they have intended to play it. So here's to hoping these twists don't interfere too much with their games.
Again, I know it's early, but I did not get good vibes from Alyssa or Travis. But as a whole, I was pleased with the cast. That will surely change drastically within a few days, I'm sure.
The House
The house is the house, you know. We didn't get a good look at it on the episode, but you can check out our House Tour. I like the theme, but it does feel a little busy. I am still waiting to see the Have-Not room, though. That is always fun to see.
There's just never a lot to say about the house because it's the same house year after year. It has changed a bit more the past few seasons, as they've started utilizing the extra space upstairs and going out of the studio for some competitions.
Oh, but I am a fan of the neon BB logo. That definitely appeals to my aesthetic.
The Format and Twist
I enjoyed the move in format. I like that they sent them in in gourds of four and had them compete that way. And I think the pairings were very fair, so that was nice.
As for teams, it's nothing original as we've seen it all before in BB11 and BB14, but I was a huge fan of how they picked the teams. I loved that while it was a schoolyard pick, there was a twist to that with the slot machine picking two people of the same gender to pick from.
And according to CBS, this teams twist will only last four weeks. But there are sure to be other twists, including the one Julie announced known was the Wildcard Competition. We have had a competition like this for the past several seasons, so we can expect some powers to come out of those comps, some good, some lame.
The Competitions
Let me just say these competitions were 10000000 percent better than last season's. These were competitions anyone had a shot at and not just people with extreme upper body strength. Last season's night one competitions were just so lame and unfair. It was nice to see it was anyone's game tonight.
As for that Double or Nothing competition, that was such a crapshoot. Some people called it a skill, but let's be real, that's only a skill comp if that's something you've practiced before. I'm glad Frenchie didn't gamble, even though he would have won. I wouldn't have made that gamble either.
Overall
I think overall, I'd give the premiere episode an A. I don't think I would be able to say that about any of the past several season premiers. And again, I'm not claiming that this is going to be a great season, because I've made that mistake before. But I am optimistic. Yes, I said it. I am optimistic. FOR NOW. I mean the Live Feeds haven't even kicked in yet. Hahaha. But let's stay hopeful.
What did you think of the Big Brother 23 season premiere?