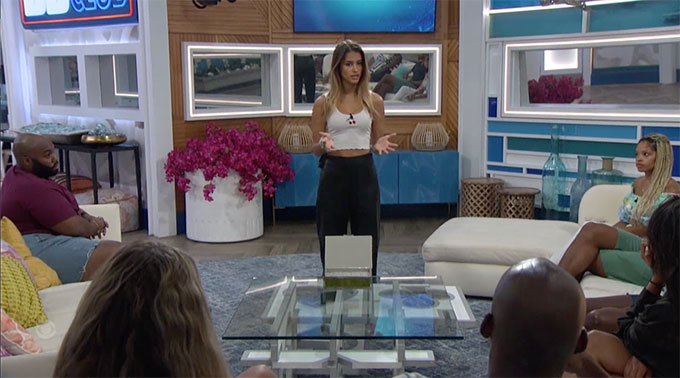 Here we are once again. Another Big Brother 23 Eviction Day. But tonight, we will lose two houseguests because it's a the first of two double evictions.
While the second eviction is going to be impossible to predict, we'll still run some scenarios. But for the first, it's going to be Xavier or Claire. And let's be real, it doesn't take a psychic to predict who is going home between those two. It is going to be Claire. The Cookout has not turned on each other yet. That could happen in the second half the show tonight, however.
But in the first eviction, it will be Claire heading out 3-2 or 4-1 vote. We can expect Hannah and/or Azah to give Claire a vote to stay, but that'll be about it.
And based on the results of our eviction poll this week, our readers agree that it will be Claire heading off to jury. At the time of publication, the poll had Claire in the lead with 88.22 parent of the vote over Xavier.
As for the second eviction of the night, we can't predict because we don't know the final nominees, but let's look at some scenarios.
If Alyssa wins HOH, she will likely nominate Tiffany and Kyland. If the veto isn't used, we can expect Kyland to go because Hannah and Azah would vote Kyland out, while X and Derek would vote Tiffany. That's a tie, and Alyssa should break the tie to send Kyland out. If Kyland wins veto, Alyssa will likely put up Hannah. In that case, I think Tiffany goes. The same would happen if she put Azah up over Hannah.
If Hannah, Azah or Kyland win HOH, they put up Alyssa and Xavier. And if the veto isn't used on Alyssa, she goes home. But if Alyssa wins the veto, Hannah and Azah put up Kyland and he goes. Kyland, I think would put up Azah, and then Xavier could go. Unless the men are really in Kyland's ear and he puts up Tiffany (who he has a final 2 deal with).
If Xavier wins HOH, which he says he's not going to, then I really don't know what he's going to do. I don't think he will be as strong as Tiffany was in putting Claire up. I just don't see him nominating Alyssa. But if he does, it'll be Alyssa and Tiffany. Otherwise, I think he would turn on the Cookout and go with Tiffany and Hannah as nominees and pretend his attempt was to send Alyssa out after the veto.
Again, these are all just scenarios based on Live Feeds conversations I've seen. Things could play out differently in the heat of the moment. It could get very messy, depending on who wins HOH and veto.
Who do you think will be leaving the Big Brother 23 house tonight?