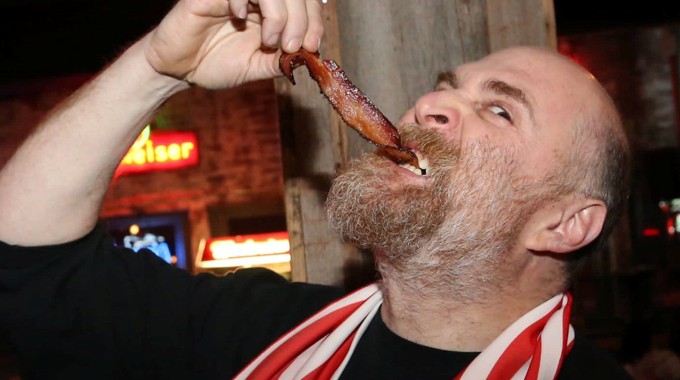 Two of the best words on Big Brother are "DOUBLE EVICTION" – and tonight is the first of 2 consecutive Double Evictions on BB23. Things are going to get messy as we will finally see the Cookout turning their guns on each other. There is so much potential for drama – we can only hope that it comes to fruition. Let's face it, the Cookout has made the game a little, dare I say, boring the last couple of weeks. We knew this day was coming & now it's here – so let's go!
BUT FIRST – let's take a look back at the week that was on Big Brother 23. To my loyal readers – I have been reading your comments all season, and yes – it's true – I have been a little easy on these HGs this season. I've given bacon out for some usual non-bacon-worthy weeks. I just love bacon and love sharing bacon. Well – you will hopefully like this week's rankings!
Alyssa – 5 strips of Bacon – no better feeling (other than winning it all) in the Big Brother house than winning Veto when you are on the block. As the game gets closer to the finish line, every Veto becomes more and more important – and Alyssa's 2nd Veto win of the season could not come at a better time. Her last Veto win was thrown to her – so this was all her – and with the target huge on her back this week – it literally was win or go home. That's what Alyssa is faced with the rest of the season. Will she be able to come through with HoH & Veto wins the rest of the way? She sure does have the determination to do so.
Hannah – 4 strips of Bacon – first of all, I need to say HELLO to Zingbot 9000 – since it's clear from his Zing on Hannah that he is a reader of this column. There have been several weeks this season that I have written here wondering if Hannah was even in the house. That under the radar game is playing out very well – and this week that continued.
I will say Hannah is now my pick to win it all. As the Cookout all griped about each other all week – Hannah's name was not in any of their mouths – instead they all came to her to gripe about the others. With the way this game is playing out – that is EXACTLY the place she needs to be in. This is probably the kiss of death – and watch her go home in the 2nd eviction this week.
Azah & Derek F – 1 strip of Tofu each – let's face it – if either of these 2 win it all – then something really really strange happened – and god forbid they are both in the final 2 seats – then this season will go down in history as one of the worst. These 2 would have been easy HoH targets to avoid starting any drama & they have skated by due to their Cookout inclusion. Derek complains about not being able to win anything (ummmm – the Q/A challenges had nothing to do with physical ability) and Azah just…. well… can anyone tell me what Azah does all day?
Kyland – 2 strips of Tofu – Kyland's ego got in the way during the HoH competition and he really should have thrown it to Azah (then maybe she would have gotten bacon). All his ego did was inflate the target on him amongst some other Cookout members. Add to that he still feels the need to hold one-on-ones when he is not the HoH or Veto holder… as the Zingbot said – SHUT THE **** UP KYLAND!
Tiffany – 3 strips of Tofu – this was not the HoH Tiffany needed to win – and like Kyland, her ego got in the way. She did not want Kyland to win his 3rd HoH even though that would have been the best thing for her game. Instead, she put herself in an awkward position and while she may think she did the best thing by telling Claire the reason she was putting her up – the lie about not being in an alliance with them could come back to cost her a jury vote from someone that was a lock.
Claire – 4 strips of Tofu – cmon Claire… I thought you were way smarter than this. We saw you putting the pieces together the last few weeks – and were convinced that she was going to figure out the Cookout. Then as soon as Tiffany told you that you were going on the block, you were still so naive to think that this was not an alliance decision.
Although she is saying all of the right things – understanding why Tiff did not want to put up 2 black HGs next to each other – she still thought / thinks she can stay this week. There have been (in her eyes) some glimmers of hope during her campaigning – but again, she really should have been able to figure it all out. Maybe not now, maybe not before the end of the season, maybe not for a few months after, but eventually she will sit there and kick herself for how she blew her opportunity to win it all.
All ex-players that do not win it all run the scenarios that led to their demise. For some, like me, we made peace with it… however there are PLENTY of ex-HGs that re-live those crucial moments over and over. When Claire looks back at her secret HoH win and how it benefited others, not herself – she will have an abundance of sleepless nights!
That brings us to the Tofurkey of the Week – and this week that honor goes to Xavier. In addition, I want to give him a box of tissues! Big Brother has produced several cry babies over the years – who can forget all those teary DRs courtesy of Amber (Whamber) from BB8, Michelle (Big Meech) BB18, Bunky BB2, Vanessa BB17 & Josh BB19? Xavier may not have shed as many tears as the other ones I mentioned – but OH MY GOD – the whining and complaining about how the HoH competition went is one for the books.
Xavier was upset because he knew he was going to go on the block for the 3rd week in a row. But this was the first time Xavier was "traditionally" nominated. He was the random roulette nom week 7, self-induced nom from his Veto win week 8, and week 9 – he had to sit next to his +1 as they have been discussing ALL SEASON LONG! This time was a little different as we are getting closer to the end – and he feared Tiffany would not stick to the plan, so he whined & whined and whined. As soon as Claire took her rightful seat on the block next to him, he loosened up a bit – but, the damage was done
There ya have it – another week in the books – another Cookout victim going to jury – and another week of hope and promise we will see some drama to re-spark the fire that was BB23 at the start.
My question of the week – what are some of your favorite Zings over the years? Not an acceptable answer will be mine – "Adam, good call shaving your beard. I don't think your girlfriend realized she was dating… UNCLE FESTER! ZING! ZING!
Let me know what you think of my rankings and the answer to my question of the week in the comments section below. From outside the Big Brother House, this is Adam Poch reminding you, ignorance is temporary, stupid is forever.
Catch me here every week during the BB season for my rankings. If you want more of my thoughts during the season. follow me on Twitter @HeavyMetalTeddy – and listen to my Podcast – @BigBrothersPod.