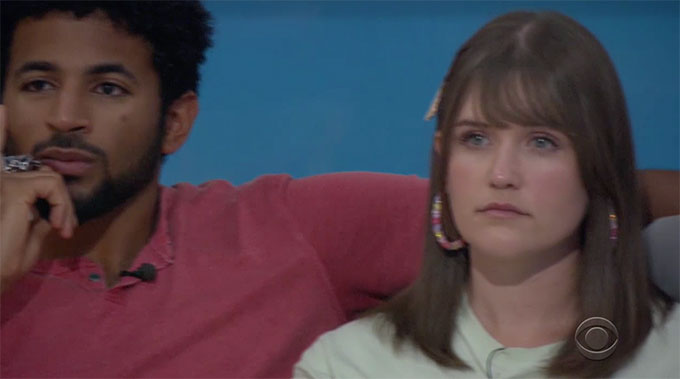 It's Eviction Day in the Big Brother 23 house, and one of the most obvious duos of the season are on the block together. Sarah Beth and Kyland will officially be split up this evening, but which one will it be?
When Tiffany won Head of Household, her target was clearly Sarah Beth. She's wanted Sarah Beth out for weeks, and after she sent Derek X to jury last week, Tiffany wanted it even more. But then Tiffany was dethroned by the twist, and Claire took the reign. Lucky for Tiffany, Claire kept the same nominees and could continue the plan to get Sarah Beth out this week.
What Tiffany didn't take into account, was how hard Kyland would work to get himself off the block so that he could "give SB a sympathy vote." No one fell for that. Everyone saw through Kyland's plan. He wanted himself to come down so Alyssa could go up and then he could work to flip the vote onto Alyssa. But Hannah won the Power of Veto and decided to remove Xavier, the third nominee via veto punishment, from the block instead. And Kyland's target grew. Almost everyone in the house was ready to send him out, but next week. So no matter what went down this week, it seems Sarah Beth's fate has been sealed since the moment she didn't win the Power of Veto.
Kyland wants Tiffany or Xavier to throw Sarah Beth a sympathy vote, and I don't expect that to be Tiffany, so look for Xavier to be the one to make the vote not unanimous. I could see it being unanimous though, because Kyland has come off a bit shady this week, so I wouldn't be surprised if everyone was too worried to play around with the vote this week.
So it's Sarah Beth headed to jury this week, we are pretty sure. And it looks like our readers agree. In our Big Brother 23 Week 8 eviction poll, Sarah Beth had 88.88 percent of the vote at the time of publication.