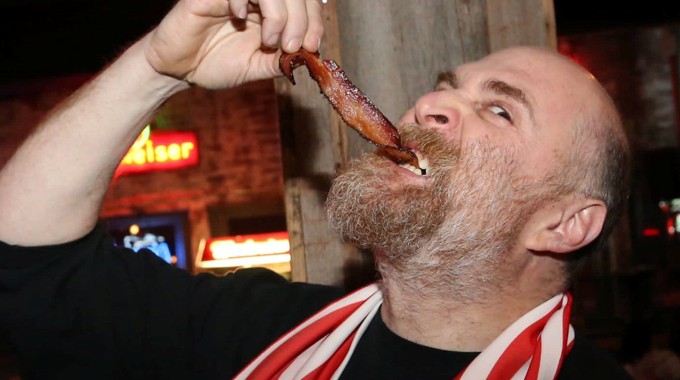 Another hurricane rocked the east coast of the United States this week – but unfortunately, that was more drama than we saw in the Big Brother 23 house this week. The High Rollers Room was ripe for creating some chaos as the winner this week could overthrow the HoH, but with the way the Cookout owns this season, like almost everything else – the Coup d'Etat was more Coup d'Blah! Tonight we go from 9 to 8 – and one of the non-Cookout HG has to throw this HoH – so there is only 1 possible scenario for a Cookout member to go home this week.
But first – let's take a look at the past week of Big Brother and see how everyone's game played out.
Tiffany – 5 strips of Bacon – although she is getting more and more cocky and lippy – Tiffany still runs this season. She was HoH but despite being "overthrown" – her original nominations stuck as her +1 won the Coin of Destiny. Not only will Tiffany's target go home this week, but she gets to compete in the next HoH and could win it again. The only way Tiffany loses this season is if she overplays the next 3 weeks – which is quite possible, but she has so many paths to glory.
Hannah – 4 strips of Bacon – despite being the youngest HG, Hannah is also probably the smartest HG left in the house. This week's Veto catered to her skillset and she killed it. Pre-season, I really expected Hannah to be a hothead – but she is doing an absolutely amazing job of keeping her cool – playing smart & staying under the radar. When the Cookout starts looking at each other to target, Hannah's done nothing to put that target on herself.
Xavier – 3 strips of Bacon – the complete opposite of Tiffany, Xavier is a cool, calm, collected kinda guy. Week after week – he's been the voice of reason. He also does a spectacular job of asking questions to get information, instead of volunteering information that could possibly be used against him later. The only complaint about Xavier is his gameplay may be a little bland, but with this group – it has been a successful journey thus far.
Derek & Azah – 2 strips of Bacon combined – it would be so easy to give one or both of them Tofu for basically doing absolutely nothing this week (last week, the week before, etc…). However – their inclusion in the Cookout has kept them safe and out of harms way all year. Derek was on the block a couple of times, but this week he was spared. Azah has not been on the block at all. But they get a strip of bacon each as they have provided some laughter this week. Have you ever seen anyone so happy for a HoH's music as we saw from Derek? Meanwhile – we have not seen a HG accidentally try to burn the house down like Azah did since… well, me….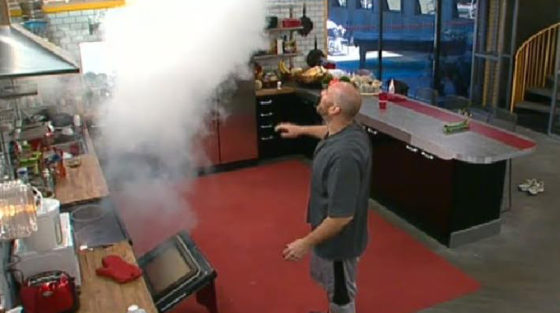 Claire – 1 strip of Bacon & 1 strip of Tofu – congratulations to Claire for winning her first HoH of the season. What a shame that you did what was best for Tiffany and not for your own game. Plus – bowing down to Tiffany to not even take credit for that? If those were not signs to Claire that Tiffany is pulling her strings, well, then, it's on her when she goes home in one of the next 2 weeks. As with everyone else – when Claire looks back at this season, she will see the many opportunities that slipped through her fingers all season long.
Alyssa – 2 strips of Tofu – from the start of the season, Alyssa's social game has been pretty weak. She basically followed Christian around until he left – and then latched on to Xavier ever since. All this has done is delayed the inevitable – as she is the next target of the Cookout. HOWEVER – the only scenario, as mentioned in the opening, of someone from the Cookout going home this week would be if Alyssa wins HoH – and Claire wins the Veto. Then there will be 2 Cookout members on the block. Alyssa has already said her target this week would be Claire, so no one else will take her off if nominated. Of course – Alyssa has to win HoH first. This week is endurance, so she does have a good chance of winning, but it's pretty sad that with 8 people left – we have to root for so many things to go exactly right for there to be any chance of drama this week.
Sarah Beth – 3 strips of Tofu – how many times have we seen in BB history, a HoH pulls off what they think was the biggest move of the season, only to see them go up on the block and out the following week? Answer – MANY MANY times – and SB adds her name to that list. She would be a 2time Tofurkey of the week if not for….
Kyland, yes – Kyland is this week's Tofurkey of the Week. He is getting this dubious honor for a couple of reasons. First, the way he talked, and talked, and talked during his One on Ones when he was HoH was pretty bad, but now that he is on the block and in NO danger – he still had convos with people that lasted way too long and basically said nothing. Next reason, as we saw on the CBS show last night – Kyland wanted to rewrite the basically flawless gameplan the Cookout has established. All this has done was prove to other members of the Cookout that they need to get him out as quickly as possible if/when it comes down to the 6 of them. Yes, it is an individual game at the end of the day – but they all agreed that the cause is more important. This just proves that Greed lives inside those 4 walls. Or…. maybe…. it's just Kyland's way.
The last reason Kyland is the TotW is for something that has surfaced outside the house this week. Apparently, the nicest guy to ever play the game (as I said early on in the season) – is also the biggest "Karen" to play the game. Need proof – just go on Twitter and look up #Kycomplains. You will see all of the complaints over the years – demanding free stuff – and wanting to "talk to the manager." His tweet to McDonald's about the price of an egg was the best!
Ok – there we are – another week in the books aka another Cookout steamroll week – and probably more of the same. I just keep hoping that once the 6 have to turn on each other – that will get this season back to the constant drama we had the first couple of weeks.
For my question of the week – what was your favorite endurance HoH in the history of Big Brother & why? Oh, and to make this a little more difficult – you cannot include the Pressure Cooker from Season 6. That is by far the best competition ever – and the one we all would LOVE to see again. So with that out of the running – what other ones did you love?
Let me know what you think of my rankings and the answer to my question of the week in the comments section below. From outside the Big Brother House, this is Adam Poch reminding you, ignorance is temporary, stupid is forever.
Catch me here every week during the BB season for my rankings. If you want more of my thoughts during the season. follow me on Twitter @HeavyMetalTeddy – and listen to my Podcast – @BigBrothersPod.