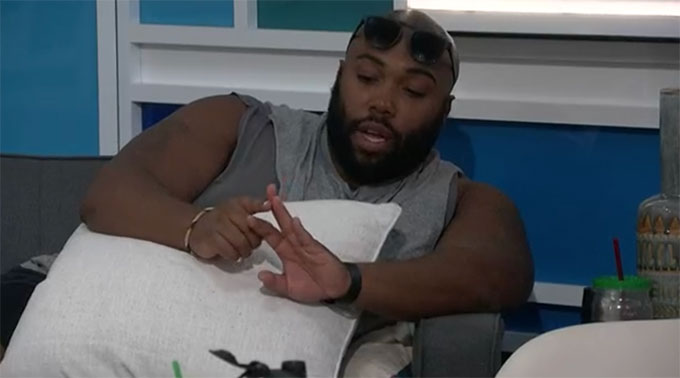 We are just one day away from the next Big Brother 23 eviction, it's going to be one half of the Kyland/Sarah Beth duo heading off to jury.
And if you've paid any attention to the season at all, then it should be pretty apparent how the votes will play out this week. But with Kyland's actions this week, it wouldn't be a complete surprise to see the Cookout turn on him and vote against him.
Kyland spent a lot of hours pushing for Hannah to use the veto on him just so he could "throw Sarah Beth a pity vote." But Tiffany and a few others had a feeling he wanted off the block so Alyssa would go up and he could try to flip the vote onto Alyssa, saving his girl Sarah Beth. But Hannah did not use the veto on Kyland, instead opting to pull Xavier off the block.
Pretty much everyone is over Kyland at this point, including Xavier, who we all just assumed would be paired up with Kyland to at least the Final 3. But even he has mentioned cutting him next week, even before they're down to the six. And that's not too shocking, because that would mean he gets to keep Alyssa around another week. They sure to have some soft spots for their pawns.
So with Kyland still on the block, and the Cookout likely staying true to their plan, Sarah Beth is all but gone this week. But will Kyland convince someone to give her a vote in his honor? Maybe? But probably not.
Let's take a look at how the vote should go.
Votes to Evict Sarah Beth: Tiffany, Hannah, Derek, Azah, Xavier, Alyssa
Votes to Evict Kyland: None (unless Xavier gives her one for Kyland).
Claire won't be voting this week as she is the secret HOH. It'll look like she's voting, but it won't be counted.
So it should be 6-0 or 5-1 with Sarah Beth joining her target last week Derek X in the jury house.
Who do you think will be evicted this week? Let us know in our Big Brother 23 eviction poll below.