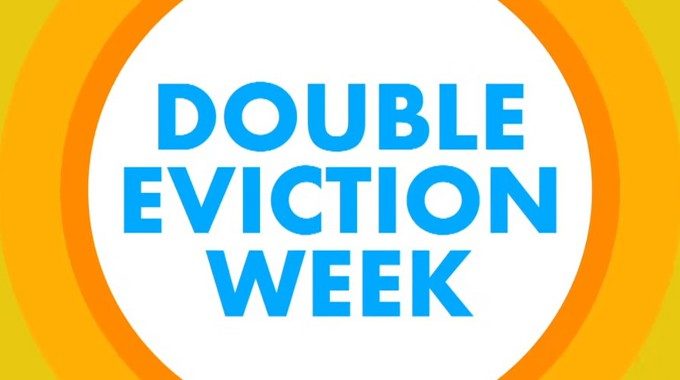 Get ready for the first Double Eviction of Big Brother 23 this Thursday when not one, but TWO Houseguests will be out the door and off to the BB23 Jury. Will this be the end of the Cookout or will the Six stick to the plan, win their way out, and survive to Final 6?
Heading into Thursday's hour-long live eviction show we've got Claire and Xavier on the Block and with Cookout watching his back, Xavier is expected to soundly survive the vote. That means we're a few days away from the Cookout reaching Final 7 with only Alyssa in its way.
Overnight there was some chatter from the always-talking-never-doing-anything Derek with Xavier as DF bemoaned Tiffany's HOH reign and contemplated a situation in the F7 eviction where he'd laugh Tiffany out the door. It could happen, but I'd be shocked if DF actually had anything to do with it.
Tiffany will be vulnerable going into the Double Eviction as the outgoing HOH which means it'll again be Alyssa versus the Cookout in the next Head of Household comp. I won't be surprised to see Tiffany on the Block against Alyssa in the right combination as that could happen with Xavier or DF winning HOH. Maybe even Kyland. I don't think Hannah would put up Tiffany and in that case, with Hanning winning HOH, it'd probably be another Xavier + Alyssa nom pairing I'd guess.
As long as Alyssa doesn't win HOH or Veto then she should be the next one out the door to Jury because as much as the Cookout HGs have been ranting about Tiffany this week I still think they'd prefer to stick to their goal that has driven them this far.
If Alyssa does win HOH then she's obviously going after Tiffany for the easy justification of her nomination this week and if Tiffany is on the Block against another CO I think her allies won't hesitate to cut her. An Alyssa Veto win would again then falls back to who is holding HOH with Tiffany save under Hannah and likely in danger with any of the guys but I'm not so certain about what Azah would do. Hmm.
So who do you think will most likely go second in Thursday's Double Eviction for Big Brother 23? And as a second question, who would you prefer to go second? Do you want to see the Cookout reach their goal or fall short? Lots of action ahead on Thursday night! And don't forget that we'll have yet another Double coming up in the following week with a TWO hour Big Brother episode that many of us thought would be a Triple, which maybe even was the original plan but production thought better of watching us lose three in one night after a season-long build-up to the Cookout turning on itself.
Couple of polls below for you to share your picks. This both assume Claire will be the first eviction of the DE this week.
Click here to refresh if the polls are not viewable.
Poll – Week 9 Double Eviction: Who Will Most Likely Be Evicted Second?
Poll – Week 9 Double Eviction: Who Do You Want To Be Evicted Second?