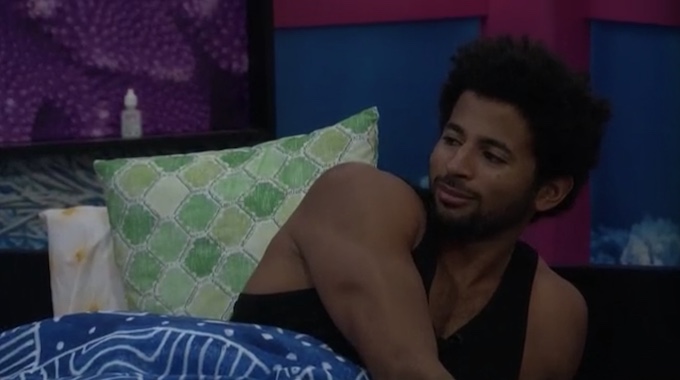 It was a pretty uneventful day inside the Big Brother 23 house with very little game talk going on and a lot of group games happening. Alyssa did get her video message from home in the Diary Room and told all the other Big Brother 2021 houseguests who it was from. Read on to find out what happened on Tuesday's Big Brother live feeds.
If you've got the Live Feeds (Free Trial) then you can watch all of these moments with the Flashback feature to go back and watch those important conversations or funny scenes you may have missed.
Big Brother 23 Live Feed Highlights – Tuesday, September 7, 2021:
10:20 AM BBT – HGs are waking up.

10:25 AM BBT – Kyland and Xavier are talking about how a Double Eviction works inside the house (compared to seeing it on tv).

10:40 AM BBT – Alyssa joins Xavier and Kyland in the Coral Room and they speculate that it has to be a double because the backyard is already closed. They talk about the potential comps if it is.

10:52 AM BBT – Claire asks Tiffany what the odds of her getting Kyland's vote? She tells Tiffany that she had a long conversation with Kyland last night running through scenarios. She wonders if he is including her in his plans that involve Tiffany. Tiffany says yes, she's always included.

10:57 AM BBT – Tiffany tells Claire that she doesn't care what Derek says, he wants her out of this house. She says that Derek, Xavier, Alyssa and even Azah wants her out at some point.

11:15 AM BBT – Azah tells Tiffany that she would like to give Claire a vote with Hannah, but she won't unless she is absolutley positive that Alyssa is voting to keep Xavier.

11:22 AM BBT – Hannah asks Azah what are they going to tell Alyssa about those to votes? She's going to think that one is Kyland, but then what happens if she wins HOH and nominates one of them thinking it was them? Azah says that she feels okay about that because she would have the votes to stay. They agree that Hannah would also be safe if she was up next to Kyland.

11:25 AM BBT – Hannah tells Azah that she has noticed the three guys have been getting together privately in the HN room and the storage room a lot more lately.

11:32 AM BBT – Hannah doesn't think that Xavier will gun for the HOH unless he has to. She wonders if he will gun for the Veto and Azah says that if he does, he won't use it.

12:00 PM BBT – Derek and Tiffany are talking in the HOH room about the finale and what to expect. Derek says that he hopes that they get their phones back quickly so that they can all exchange phone numbers.

12:52 PM BBT – Alyssa tells Derek that she talked to Azah and she thinks that they should let Hannah know about them voting Claire out last minute. That way Hannah can be on the right side of the vote, but Kyland can't know about the flip because they need him to vote Xavier out. That way Kyland and Tiffany will be so blindsided that Kyland won't be able to compete.

1:02 PM BBT – Alyssa tells Derek that if he is sitting next to Tiffany in the end, he's guaranteed to win because she made the biggest mistake of her game this week.

1:07 PM BBT – Alyssa mentions how Tiffany thinks they needs to get all the guys out. Derek says that if anything they need to get all the girls out because if any of the women are sitting next to a guy, they would win because of all the women in the jury.

1:45 PM BBT – The HGs are just hanging around chatting.

1:50 PM BBT – Claire, Azah, and Hannah are talking about what they think each HG does for a job and comparing notes of what they have heard people talk about when it comes to their professions.

1:58 PM BBT – Alyssa comes out of the DR saying she got her video message. It was from her older sister, two nephews and her dog. Feeds cut.

2:00 PM BBT – Xavier and Kyland are attempting to play a really bad prank on the girls. They are dressed alike and both acting like Kyland.

2:30 PM BBT – All the HGs are piled in the Coral Room talking.

2:45 PM BBT – The HGs are talking about what kind of animals they would like to be.

2:55 PM BBT – Derek and Tiffany are in the living room talking about VR while Alyssa is laying on the other end of the couch.
Alyssa remains pretty oblivious to the fact that she didn't actually make this plan happen, it was the plan all along. The HGs are still convinced that a DE is happening this week and they would be right. The Cookout has been preparing by dropping hints to Alyssa to try and get her to target who they want out first in the alliance just in case she wins.
You can watch all of these Big Brother events using the archives Flashback, the DVR-like feature of this year's Live Feeds which means it's always live, even when you missed it! Sign-up now to get the free trial to watch it all live & uncensored.


Gallery: Live Feeds Highlights
Download our Big Brother App, join us on Facebook & Twitter, and get our Email Updates for more!