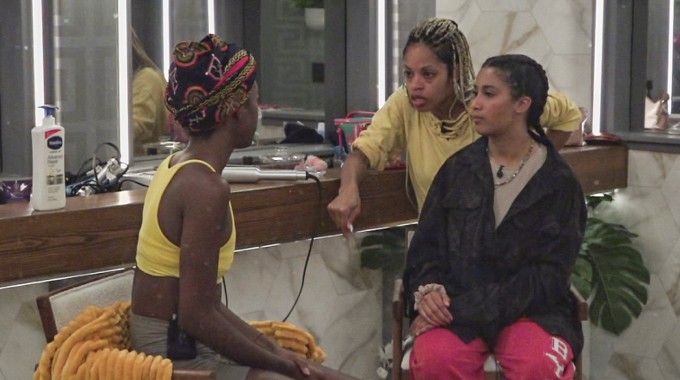 Houseguests are looking ahead this week to the Final 8 on Big Brother 23 and that is about to leave Alyssa and Claire standing next to the season's dominant, secret alliance, The Cookout. And the odds are on the Cookout's side to control the next Head of Household coming up on Thursday.
We're fully expecting Sarah Beth to leave this week over Kyland as the Cookout didn't come this far to get rid of even perhaps one of their less popular members (and he'd like to speak to the manager about that). With Sarah out and Kyland in we'll be looking at eight Houseguests remaining on BB23 and three quarters of that roster being the Cookout. It gets worse for the two outsiders, Alyssa and Claire.
This past week we saw Claire win the High Rollers twist needlessly (we know it was needless, she didn't) which unseated Tiffany and released her from the restrictions of being unable to not compete in the next HOH comp. Claire picked up that mantle instead and will now be blocked from winning the upcoming HOH (since her role is secret we don't know how they'll manage that, but we'll probably see it worked out). That means that Alyssa will be the only non-Cookout member competing to win HOH. Good luck!
Now the backyard has been shutdown for a while so the Houseguests are thinking they may have an endurance battle ahead and as you'll remember, Alyssa did pretty well in that last comp with The Wall where she came in third place behind Xavier and DX (DX won after X threw it to him). So if there is an endurance comp ahead then Alyssa will have a fighting chance, but it won't be easy going against six secretly conspiring opponents. Okay, make that five opponents after DF drops out in the first three minutes.
So just for fun, let's say Alyssa does win the HOH then she'll be safe for the week and Cookout will need to get to work on making Claire her target. As long as Claire stays on the Block come next Thursday then she'll be out, leaving just Alyssa as the outsider to the Cookout. But in the case that Alyssa wins HOH and Claire wins Veto then the jig is up and the Cookout will have narrowly missed its goal. But really, the odds are stacked against this scenario.
Running just on the odds, the Cookout is favored to win this coming HOH over Alyssa, and then even at the worst case for their numbers, they'll be playing 4 vs 2 in the Veto. Xavier would have his hands in the mix for a possible Alyssa HOH just as Tiffany would have with Claire (which can't happen this week anyway). They'll be able to pull all the strings they can and again position themselves for the Final 7. And in that scenario with Alyssa winning the F8 HOH, Alyssa would be the only HG not competing for F7 HOH and will assure the Cookout can make the F6.
It's the Cookout's house right now, the other two are just passing through.
Side note: We're expecting a Triple Eviction to take us from F7 to F4 in one night on Sept 16th. So we're really going to get short-changed on finally seeing the Cookout turn on itself in those few rounds. Just be ready for it.