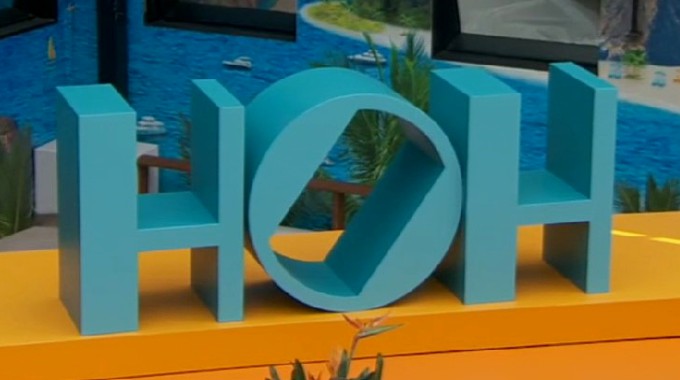 It was the first Big Brother 23 Endurance HOH comp of the season and we've got your Big Brother spoilers to reveal who won HOH last night as it all played out live starting at the end of Week 4's eviction episode before rolling over to the Live Feeds on Paramount+. Read on for the latest spoilers.

This comp has the remaining 11 eligible HGs facing off in an endurance challenge in the backyard with hopes of taking control. So who will win HOH on Big Brother tonight? Read on for our live coverage…
Big Brother 23 Week 5 HoH Comp – "Whale of a Time":
5:55 PM BBT – The Wall Comp is underway
6:06 PM BBT – Feeds are back. All HGs remain.
6:09 PM BBT – Derek F drops & is out.
6:15 PM BBT – Props overhead are 'vomiting' on HGs
6:20 PM BBT – HGs all remain (minus DF)
6:25 PM BBT – HGs were getting slimed/puke'd on
6:27 PM BBT – Brit looks to be struggling
6:28 PM BBT – Claire is down. Nine remain.
6:30 PM BBT – Lots of whimpering out of Sarah
6:35 PM BBT – Nine remain still
6:40 PM BBT – DF laughing about his short stint
6:41 PM BBT – Sarah & Hannah fall at the same time
6:45 PM BBT – Seven remain in the comp
6:50 PM BBT – DF panics the first 4 down will be HNs
6:55 PM BBT – Slime time again.
6:57 PM BBT – Kyland is down
7:00 PM BBT – Six remain
7:04 PM BBT – Britini is down
7:10 PM BBT – Five remain
7:15 PM BBT – Azah is down. Four remain.
7:16 PM BBT – Tiffany is down. Three left.
7:20 PM BBT – Alyssa drops. Xavier & DX remain.
7:23 PM BBT – DX promises X safety this week. Xavier drops.
Derek X is the new Head of Household! Congrats to DX.


Try Live Feeds 1 Week Free! Only $4.99 per month thereafter. Sign-up now.
In case the site becomes overwhelmed I'm going to embed our Twitter feed here for more updates:
Tweets by @bigbrothernet
Nominations should be coming up on Friday so get ready for those spoilers soon, then Power of Veto comp will be held on Saturday. It'll be a very busy weekend! Download our Big Brother App then join us on Facebook & Twitter for the updates.