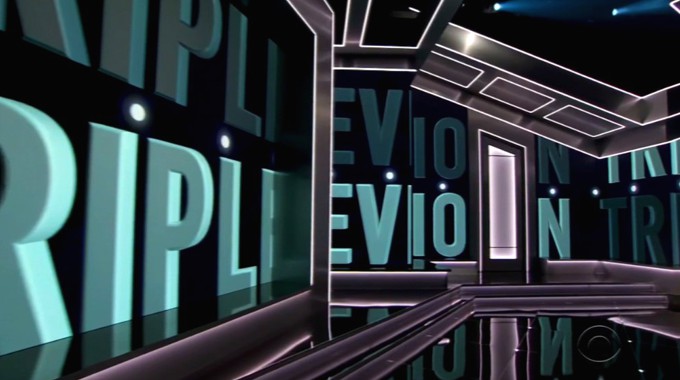 Brace yourselves, Big Brother Houseguests. CBS's schedule for September appears to confirm an anticipated return of the Triple Eviction for Big Brother 23 that could wreck season-long anticipation of the Cookout being forced to turn on each other.
Squeezed into the CBS schedule for September 16th from 8-10PM ET/PT, it looks like we'll get a repeat of last year's attempt at the Triple Eviction with three Houseguests sent off to Jury in one night. Let's just hope they remember not to blast that message across the screen to HGs like they did by accident during BB22 last year. Oops! I'm sure they'll do it right this year as Julie even mentioned in a recent interview that it was definitely a big mistake that they didn't consider until the HGs learned to read the giant screens behind her…
But the real issue here is that Triple event will land right at the F7 eviction and take us down to the Final Four by the end of the night. No problem on that first eviction because if the Cookout hangs tight to their grip on the game then it'll be a non CO off to Jury but dang, I want a good solid week of watching them plan and scheme against each other to see who is the first cut. And not even the first CO cut, but now the first two eliminations from within their alliance. What a mess!
These schedules are set up probably far in advance and there was no way they could have anticipated this but it's going to be really disappointing if after all these weeks of watching the build-up to the Cookout having to cook their own that we don't get a slow boil on the fun. They've done such a good, effective job at taking out the other HGs that it would have been really entertaining to see how they handled it among themselves.
Now production does still have time to make sure we have some balanced comps that night, but with a short timeframe, these are often heavy on the physical/speed side and well I think we all know that'll give the advantage to Kyland and Xavier. The women of the Cookout already seem at a disadvantage of those two guys and this could just make it worse. I could see this shaking out to a Kyland, Xavier, DF, and Azah F4 if those two physical threats dominate the night.
Of course, anything is possible and we could definitely see a competition go to the women and see a balanced evening of knockouts. I mean, heck, DF could even manage to shock us all with a win. I'm mostly just bummed that we'll miss the drawn-out process that the Cookout has earned for us. And this obviously makes the assumption that over the next few weeks we don't see a Cookout eviction in the process which is totally possible and maybe this all becomes moot anyway.
What do you think of the Triple Eviction coming back? Is it best to take the bandaid approach and rip us down from Cookout's F6 to F4 or will we miss out on the potential reward of entertaining Feeds with the Cookout turning on itself?
Side note, the next night, Friday the 17th, will have a substitute episode at 8/7c to make up for the Emmys taking over that coming Sunday slot. Check your DVRs!