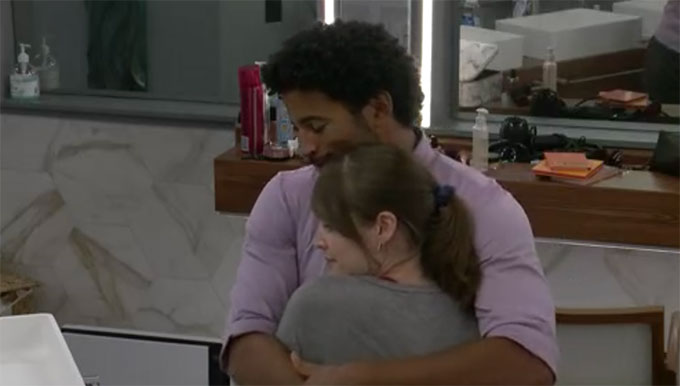 Now that Frenchie is on the outs, the Big Brother 23 alliances look a bit different than they did last week. Let's take a look at the lates alliances and deals going on in the BB23 house.
First off, the teams twist is still in effect, so we have the Queens (Kyland, Tiffany and Claire), the Jokers (Frenchie, Azah, Derek F and Britini), the Kings (Christian, Alyssa, Xaiver and Sarah Beth), and the Aces (Whitney, Brent, Derek X and Hannah). Of course those teams mean very little as far as alliances and allegiances. The houseguests knew all along that the teams twist would eventually end, so they have been thinking outside that box all along. So let's get into the real alliances.
Still going strong is the Cookout, consisting of Tiffany, Kyland, Xaiver, Azah, Derek F and unofficially Hannah. There have been some rumblings here and there about who of that group would need to go first, but it sounds like this group has a strong bond and won't be turning on each other anytime soon. It was Derek F who  mentioned Tiffany and Azah needing to go eventually, so his main three includes himself, Kyland and Xavier.
Now, let's talk about the Slaughterhouse. Since I guess we have to. This is that alliance that happens every season that I hate, even if it has members I like. This one was of course started by Frenchie, but he is now no longer a member of his own founding alliance. But the others are vowing to make it work. But I think a few of the members are more into this idea than the others. The members are Brent, Whitney, Kyland, Xavier, Christian and Alyssa. But Kyland is onto Brent and considered nominating him this week at one point or another.
And this season we have a couple of women's alliances. Not much has gone on with them yet, but here's to hoping. The Kingslayers are Tiffany, Claire, Azah and Britini. I don't Britini can be trusted, so I would say the strongest three in this group doesn't include her. Claire, Tiffany and Sarah Beth also have their own little trio called Jackpot. And Claire and Tiffany have a really strong thing going just between the two of them.
Other than Claire and Tiffany, there are a couple of other duos: Christian and Alyssa are the most obvious one, but Kyland and Sarah Beth have a really solid and secret thing going that I find very old-school intriguing.
And now for the newest sort-of alliance I'm most excited about. This one has been discussed a lot, but nothing totally formal has been formed. And that's the Queens (Kyland, Tiffany and Claire) along with Derek X and Sarah Beth. I would love for this group to really make things happen. I feel like with this group, we could be heading toward a divided house, and that's very exciting.
Which Big Brother 23 alliances or pairs are you most excited about?
Be sure to check out the alliances and deals graphic below by @89razorskate20 on Twitter. And thanks to them for always helping us keep the madness of Big Brother alliances understandable.