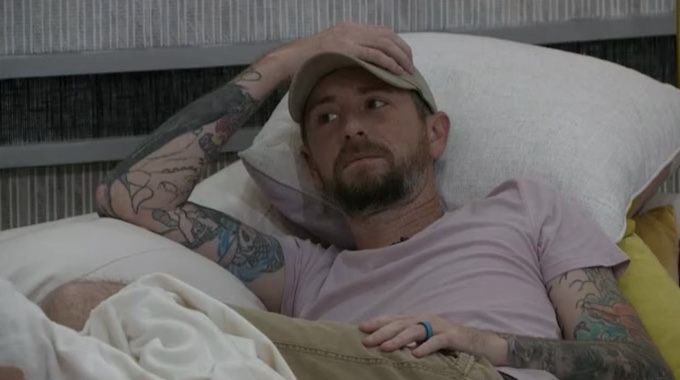 Kyland has a very clear plan for week 2 of Big Brother 23 and after the Veto Ceremony takes place, his plan should be in full swing. Frenchie and Britini have found themselves on the block this week on Big Brother and they will find out if this week's Power of Veto winner will use the veto to save one of them. Read on to find out what the plan is for this week's Veto Ceremony on Big Brother!
Frenchie let his paranoia got the best of him before the Nomination Ceremony took place when he almost blew up the game of every Slaughterhouse alliance member in the Big Brother house. During Kyland's one-on-one conversations with the other houseguests, they all expressed concerns that Frenchie was too unpredictable to keep in the house. Except for Britini who threw out Christian, Alyssa, Whitney, and Brent's names in her one-on-one conversation.
Whitney and Brent were especially concerned because Frenchie mentioned the alliance by name to Brent who was in the kitchen with Derek X. He then went into a room where Whitney was sitting with a group of houseguests and pointed right at her and said "I'm done!" and then stormed out of the room. This left the people in the room wondering what Frenchie was talking about and left Whitney scrambling to come up with something to tell them.
The led Kyland to nominate Frenchie and alongside him would be the one person who didn't throw Frenchie under the bus, Britini. Kyland, Frenchie, Britini, Derek X, Alyssa, and Claire then went on to play in this week's Power of Veto Competition. Derek X came out the winner of this week's POV comp giving him his second POV win of the season. Very early on, Derek X told Kyland that he wasn't going to use the POV and has expressed his concerns about using it to other HGs. He told Azah Sunday night that he would love to use the POV on Britini this week, but he's afraid that someone else from the Jokers will just be put up in her place.
We can expect the Veto to not be used this week and the noms will remain the same with Frenchie being the primary target this week. Make sure you come back for our Veto Meeting spoilers coming up a little later today for confirmation.
Download our Big Brother App, join us on Facebook & Twitter, and get our Email Updates for more!