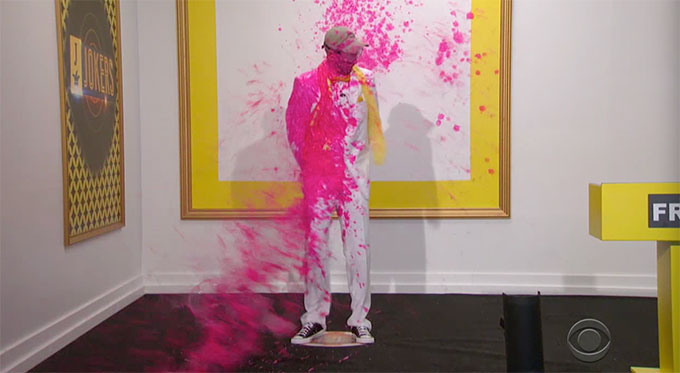 After last week's fiasco of a Head of Household, it came as a shock to no one, not even Frenchie himself, that he would be a target in the Big Brother 23 house this week.
One by one, houseguest after houseguest, threw Frenchie under the bus to Kyland. Even his closest allies went after him because he kind of forced them to when he just assumed they were all coming after him and told them he was quitting the Slaughterhouse alliance. So needless to say, Frenchie is toast. But he brought it on himself.
Sunday night's episode picks up right after the Head of Household competition that found Kyland taking over the power from Frenchie.
And the first thing that comes up are those rogue votes. Kyland tells us via the Diary Room that the vote was supposed to be unanimous so he wants to find out who the two votes were. Alyssa would like to know that as well, since the votes were for her.
As we all know, the votes were Derek F and Tiffany. Derek says he voted Alyssa as a joke, and Tiffany reminds us that she did it because Frenchie asked her to so he could frame Derek X.
And so a witch hunt ensues. Everyone is suspecting everyone and looking hard at Derek X. But it doesn't take long for people to suspect someone was just trying to frame DX, and he probably didn't actually vote for Travis to stay.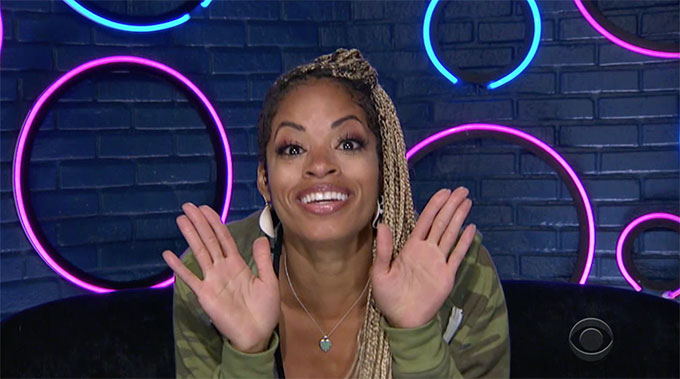 Frenchie lets a few people know that he knows who the rogue votes are, but he won't even tell who they are. And Tiffany asks him why he even said he knows. She said she would rather not have even known he knows.
And of course, that's her way of saying close your lips now. Frenchie promises that no one in the house is going to know who the votes came from.
Tiffany is the first person to go to Kyland to warn him to be careful with Frenchie. She's afraid that Kyland's HOH will be Frenchie's HOH Part 2.
And then Kyland lets us know that before Tiffany warned him about Frenchie, Travis had before his eviction. So Kyland likes Frenchie, but he's hearing a lot of things about Frenchie … so he has to figure out how to process those warnings.
Oh, there's another Wildcard Competition this week. So who is going to compete for safety this week? Frenchie is playing for the Jokers, Brent is going to play for the Aces, and Sarah is playing for the Kings. And the Queens are safe, of course, because Kyland is HOH.
Frenchie is the first to talk to Kyland, and Kyland is not giving him anything back. So Frenchie knows that something is up. He suspects people have been telling him to nominate Frenchie.
So Frenchie freaks a bit and tells Brent that he is out of the Slaughterhouse. Then he moves on to a room full of people to tell Whitney "I'm out." And of course she can't say what he's talking about because not everyone in that room is in the Slaughterhouse.
Brent and Whitey agree that Frenchie is a loose cannon and he's causing so much tension. Whitney goes to find out what's going on, and Frenchie is on the other side of the door listening. She asks what's going on and Frenchie says he's not stupid. But Whitney has no idea what he's talking about. And keep in mind, no one but Tiffany had even mentioned Frenchie's name before this.
And Brent, his one-time ride or die is so annoyed he says he refuses to throw the Wildcard Competition for Frenchie after the way he's been acting.
Now it's time for the Wildcard Competition. And it's a game of memory, basically. The first person to get to 3 points wins.
Sarah Beth gets the first point. Brent scores the second point. Frenchie scores the third point. So it's all tied up.
And Sarah Beth scores her second point. And she gets her third and wins the Wildcard competition! And Frenchie knows he's in trouble.
But what is the reward? Sarah Beth learns she can earn safety for the week, but she has to trade places with someone on the Queens team. And the person she swaps with will no longer be safe this week.
Sarah Beth knows that she is good with Kyland, because they have a secret alliance as a duo, so she turns down the offer. No one earns safety from the Wildcard Competition.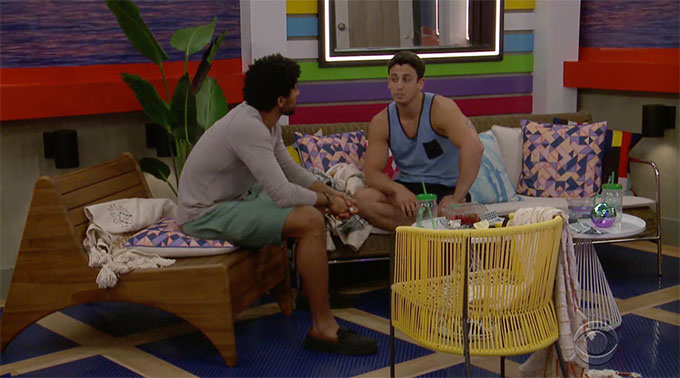 Kyland decides it's time to meet with the HGs to figure out what to do with his nominations. Tiffany tells Kyland that Brent, Whitney and Frenchie are a three-headed snake in the house. And she focuses more on Frenchie, but she's not sure Kyland is ready to go after Frenchie.
And then, one by one, every one he talks to throws Frenchie under the bus. Even Brent and Whitney.
But then there's Britini. She does not throw Frenchie under the bus. Instead she throws out Christian and Alyssa and Whitney and Brent as duos.
So at the nomination ceremony, Kyland puts Frenchie and Britini on the block.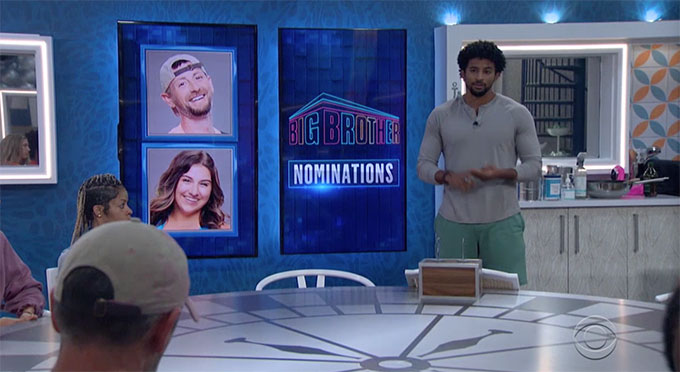 What do you think of Kyland's nominations?