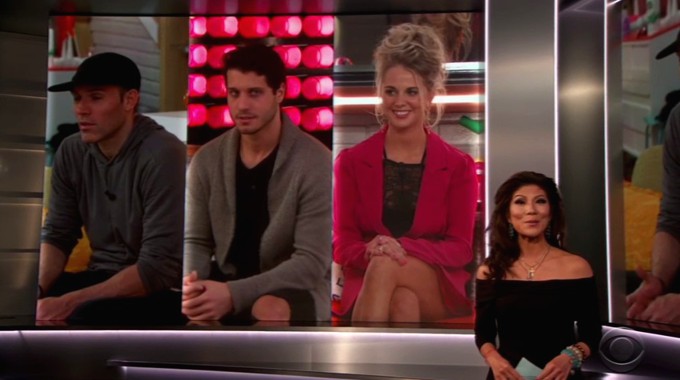 We're here and ready to discover who won Big Brother 22 as the special, defying-all-odds season of All-Stars comes to a close tonight in a very different fashion than we're used to seeing with a crowded audience, full front stage, and confetti falling across a celebration of family and friends. Not this time for all that pomp but tonight at 9/8c the Big Brother 22 winner will be revealed and we're here for it!
The All-Stars Final 3 HGs feature Cody Calafiore, Enzo Palumbo, and Nicole Franzel as they conclude the three-round battle for control over the season Final 2 to stand before the Jury, make their case, and await a half-million dollar decision. Who will be crowned the winner?
"But First," some great news for Big Brother… get ready for more of it! CBS has officially renewed the series for Big Brother 23 in 2021!
Resuming the storyline from Monday's episode, we've got Nicole securing the R1 win and leaving Cody and Enzo to battle it out over R2. The winners of the first two rounds face off in the third round with that winner picking who goes to Jury and who stays to compete for the votes.
Big Brother 22 Final HoH – Round 2: "Camera Hogs"
Enzo and Cody will face off in a race to complete the challenge centered around the season's events. They must set up three HGs to match the question then swing pendulum pigs out of the way to snap a picture. Yeah, it's as bizarre as it sounds.
Enzo took over 37 minutes and Cody finished the comp in 4m49s. Ouch! This wasn't even close. Cody destroyed Enzo in the challenge and Enzo loses it. He's storming around the backyard shouting that he blew it and wants to leave. He's telling Cody he isn't mad at him but he wants them to take each other and forget about him. Enzo is very upset.
These winners will next face off in the live portion of the show as we catch up to what's happening now.
Big Brother 22 Final HoH – Round 3:
This is much different from the usual Juror statement Q&A. They have to watch short videos and figure out the false statements in each round and earn points in the eight questions ahead.
Question 1: Cody gets a point
Question 2: Both get a point
Question 3: Both get a point
Question 4: Both get a point
Question 5: Both get a point
Question 6: Both get a point
Question 7: Both get a point
Question 8: Both get a point
Cody wins Round 3 and is the final HOH! Now he needs to decide who to cut and who goes with him to the F2.
Big Brother 22 – Final Eviction:
One more Houseguest must be evicted to complete the Jury. Who will be our final Juror?
Evicted: Nicole
Final 2: Cody & Enzo
With the two-hour finale this time we're getting a very extended Jury Q&A. This is much more relaxed and interesting. We're getting good questions. Nicole is pissed! Says she can't even look at Cody and suggests his relationships were fake. Come on now, it was okay when he voted out Dani, his closest relationship, but not you that round. Now he clips you and suddenly his relationships are all fake? She's very bitter. Will she be too bitter to vote for him over Enzo as she should?
Winner of Big Brother 22 – Jury Votes
Ian votes: Cody
Da'Vonne votes: Cody
Kevin votes: Cody
David votes: Cody
Dani votes: Cody
That's enough votes.
Tyler votes: Cody
Memphis votes: Cody
Christmas votes: Cody
Nicole votes: Cody
Cody Calafiore wins Big Brother 22 and becomes only the second winner to ever sweep the Jury votes! Dan did it in BB10 with all 7 votes over Memphis.
Big Brother 22 – America's Favorite HG:
One lucky HG will get an extra $25,000 prize based on America's votes…
AFP: Da'Vonne Rogers
Top 2: Tyler & Da'Vonne
AMAZING! What a night! We got a blindside, a unanimous sweep, and a Da'Vonne AFP! Incredible. Congrats to all of tonight's winners.
What do you think of the results? Did the right person win the season? What about that last eviction and even the Fav HG prize? Are you happy with how the season turned out?
Download our Big Brother App, join us on Facebook & Twitter, and get our Email Updates for more!