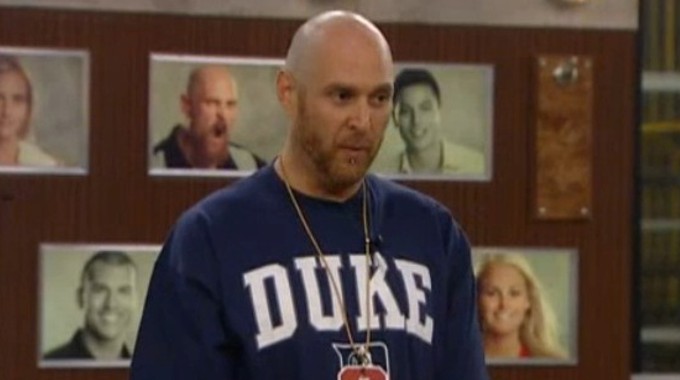 They say the Big Brother game does not officially start until the first person is evicted. So tonight – GAME ON for Big Brother 22! The first week in a normal season is usually quite hectic as the players are all feeling each other out and getting to know one another. This season of All-Stars is a little different as most of these HGs already know each other – or at least know of each other. But this game is always about perception and never about reality. so with all of the preseason chatter about & among these HGs – this was not your typical first week. As we are seeing – elements from outside the house are influencing the decisions inside the house. Strap in folks – this season is gonna be a bumpy ride!!!
For my preseason predictions – I was nice and only handed out Bacon, but now that they are inside playing – some of these people are going to be getting handfuls of Tofu. Let's get right to it!
Enzo Palumbo – 5 strips of Bacon – the Meow Meow is back people – and Enzo 2.0 is not the same player he was on BB12 where he was a casual observer most of the game. Enzo came to play hard this year – and won the first Veto of the season. He also seems to have a strong influence over people this time around as his humor sucks them in, and his instincts have been pretty spot on so far. He has his "root" with Cody – but his branches are seen all over the house. Now that we know he has the ability to win comps too – he's becoming an early power player. How long will this cat be able to sit on the fence singing his song before someone throws a shoe at him?
Cody Calafiore – 4 strips of Bacon – the first HoH is always tricky because you really do not have too much to go on from a game perspective to look for people to nominate. Cody took the easy way out and put up 2 people that were not overly connected – making very little waves. His target has become Keesha and since a lot of the HGs are trying to lay low this week – the blood on Cody's hands is minimal. He has open lines of communication with everyone, so next week when he has to move back downstairs, with Keesha gone, he will be able to wash that blood off and remain good with whoever becomes the next HoH.
Bayleigh Dayton – 3 strips of Bacon – along with her BGMA partner Da'Vonne – Bay has been doing the best thing you can do in the BB house – listen more than talk. It helps that people have been coming to them with ideas – and to lock them in as allies / alliance members. Add to this that Tyler & Bay squashed their beef from 2 seasons ago – and she is sitting in a pretty decent spot.
Da'Vonne Rogers – 3 strips of Bacon – see Bayleigh – + Day has some other little side hustles going on – keeping her covered all over the house including Nicole F's everlasting gratitude
Tyler Crispen – 3 strips of Bacon – it's not Tyler's fault that everyone came to him to try and work together – the exact thing he did not want to do again. When playing Big Brother – you want to align yourself with people that can protect you and bring a skill set that you are lacking. With Tyler being a strong Physical, Social, & Strategic player – he can be an asset to anyone's game. we kept waiting for people to realize it on BB20 and they never did (until finale night). For now – it is working – and as long as he downplays his physical game and does not start winning too many comps forcing him to make tough decisions – he should be golden for a few weeks.
Memphis Garrett – 2 strips of Bacon – as the partner of one of the best BB players of all time – Memphis never got any credit for his game as he was in Dan's shadow. Now without Dan – Memphis had to establish himself & build his own relationships early in the game. For the most part – he's doing a good job. The natural bond with Cody (the other sidekick of a BB legend) is a good thing & that helped him open up communication lines with others in the house. Everyone assumed he would be tight with Keesha, but he seems fine with letting her walk out the door this week. She needs him more than he needs her.
Kayser Ridha – 2 strips of Bacon – a zebra cannot change his stripes – and Kayser cannot change his either. When you are as smart as Kayser – it's sometimes hard to not come off as condescending. We are seeing the same thing out of Kayser as we did the first 2 times he played – and that is why he was in hot water before nominations. He correctly read Cody and felt he was in danger so he went and competed in the Safety Suite challenge. He is trying to be more open and trying to build some allies besides Janelle – but for the most part, it's coming off badly for him. Depending on how the power shifts this week – we could see Kayser in the hot seat without a VIP pass (or anyone with a VIP pass) to save him. He's still in good shape so a Veto win is not out of the question if he does get nominated.
Daniele Donato – 1 strip of Bacon – Dani is doing what she hates to do – lay low and not play hard. For right now – that is the best move for her. However, we are starting to see Dani getting bored and that did not work out well for her last time she played. For her sake – let's hope she can figure out different ways of releasing her boredom.
David Alexander – 1/2 strip of Bacon – I was going to give David Tofu – but since last season he earned 9 strips of Tofu and 0 strips of Bacon – I thought, ok – enjoy this week! Still looking like a deer in headlights – David is doing an ok job making the rounds and getting to know people and letting people get to know him. However – the partial act of "I don't know how Big Brother works" is coming off a little much. He needs to dial that back – but sadly – there is so much of this game that he does not know. Definitely at the biggest disadvantage going into the season, he seems like he'll just end up being someone (or multiple someones) puppets and when his vote is no longer needed, he'll be an easy sacrifice. Hoping he can win an HoH early – however with so many people pulling his strings, he will just get used to do someone else's bidding.
Nicole Franzel – 1/2 strip of Bacon – Nicole has been the center of a lot of the preseason drama that has spilled into the house and become game drama. Keeping it strictly to the game inside the house – her feud with Janelle is growing & her distaste of the other Nicole's podcast partner is putting a bigger target on her back. As one of the only 2 winners back this season, it was smart for her to align with Ian – and she has a strong bond with Cody. But I can see both of them dropping her if it starts to interfere with their games. On the good side – she does have other bonds in the house that should keep her safe for a few weeks.
Christmas Abbott – 1 strip of Tofu – CBS has pretty much ignored Christmas up til now. She has not had a diary room appearance in the past 2 shows – and that is good and bad. Good because she is not playing so hard that people are talking about her. Bad because she is not playing enough for people to be talking to her. Christmas could be an asy nominee for someone at this point because no one really knows "where her head is" – but she could also be an easy one to forget and she's scoot… I mean slide to the top 10 without breaking a sweat.
Ian Terry – 2 strips of Tofu – I am sorry to do this to my preseason pick to win it – but Ian did not have the strongest first week. Perhaps this is partially due to him being on slop right from the start. It has not been an easy week for him physically – and it looks like it took its toll on him socially. Locking into a bond with the other winner Nicole F was a smart move – but he is popping up on people's radars early.
Nicole Anthony – 2 strips of Tofu – uggh – another HG I feel bad giving Tofu to because of our personal relationship – but I have to put that aside when evaluating gameplay. Nicole's downfall last season was being too trusting & being too naive and she is falling into those traps this time around as well. I know she thinks it's very cool to be talking to & perhaps even working with Janelle – but is that the best thing for her game? She was so wishy-washy on who she would rather see gone this week. She finally settled on keeping Kevin – and not just that – but "spilling all the tea" to Kevin about what's going on in the house Nicole has been mentioned by some as an easy nominee in the first few weeks. Let's hope she can right that ship as she did late last season & stick around for a while.
Kevin Campbell – 3 strips of Tofu – I do not remember Kevin being so insecure on BB11. I was thinking we were going to get the funny personable Kevin we did last time, but being a Have Not and getting nominated week 1 really put him in a downward spiral. His feeble attempts to get people to work with him actually helped his cause because he is seen as less intimidating as his nomination partner Keesha. If/when he survives this week's vote – let's see if he can turn his mood around.
Janelle Pierzina – 4 strips of Tofu – man, I really hate to do this to Janelle as she is/was/always will be one of my all-time favs (and I am sure a lot of you feel the same way). Janielle has some bonds inside the house – but is mostly viewed as part of the S6 duo with Kayser. Her overly aggressive campaigning to keep Keesha early this week seems to have slowed down – but the damage was done. The whispers against her har starting to mount – and that could lead into a big blow-up soon – which will divide the house and really get the game kicked into high gear. I guess when you are a legend – it's hard to keep a low profile. I also knocked her down the list because she did not have to waste her Safety Suite VIP Pass. She should have let Kayser be the only one to play and she would have still been safe, and still have a chance to play in the next 2 weeks. If she was trying to shift the focus off her & Kayser being a duo – it did not work.
That brings us to the first All-Star Tofurkey of the Week, and by process of elimination you can figure out that it is Keesha Smith. While Keesha really didn't do anything to get herself nominated – she also did not really do anything to secure the votes she needs to stay. Janelle was campaigning harder for her than she was herself. It was only at the last minute she started by talking to the 2 people that seem to have the most sway – Enzo & Cody – but it was too little too late. Some of these other players could possibly pull the rabbit out of the proverbial magic hat – but Keesha does not seem to possess one of them and should have a socially distant date with Julie tonight.
Ok – there ya go – week 1 in the books. I don't know about you – but I absolutely love this cast. I think we have a pretty good cross-section of players / characters from the BB Player Pool. Some of the questionable choices will always be up for debate – but one thing is for sure – this season will be packed with drama. I feel like this powder keg has a pretty long fuse – but when it does finally explode – it will get downright bloody!!!!
My question of the week – besides the 16 people playing in the house – who would you have liked to see in this cast? Please try and be a little more creative and not go with the obvious choices – dig deep into your fandom – and pull out a name. Answer in the comments section below.
Catch me here every week during the BB season for my rankings. If you want more of my thoughts during the season. follow me on Twitter @HeavyMetalTeddy – and listen to my Podcast – @BigBrothersPod.
From outside the Big Brother House – I am Adam Poch – let's have a great season!