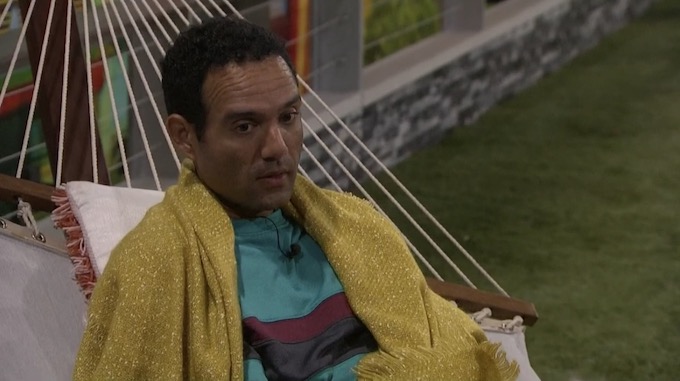 Nicole A was approached by one of the Big Brother 22 HGs and she was handed some information that some HGs would have held close to their chest. However, her being as close to Kevin as she is, she felt the need to talk to him about it after everyone else went to bed.
As a lot of us know, Kevin has been suspecting that Janelle is turning against him in the house. The two of them had an early connection and over the last couple of days, Janelle has taken it upon herself to campaign for Keesha, even though Keesha isn't campaigning for herself.
During Janelle's rounds, she talked to Nicole and gave her a lot of information and proved that she is in fact campaigning not only for Keesha but also against Kevin this week. Nicole told Kevin about this conversation earlier in the day, but last night she told him even more!
It was overnight Tuesday into Wednesday (2:15 AM BBT cams 1 & 2) when Kevin and Nicole A were sitting in the hammock outside talking about everyone in the house. Nicole A tells Kevin that Enzo, Tyler, Dani, and Ian have all said that they want to keep him. Christmas has told her that she likes him and would like for him to stick around but also said that she was going to wait until Thursday night to decide.
At 2:30 AM BBT, Kevin mentions that the whole house seems to be a majority house, not a conflicted and separated house. Nicole A tells Kevin that Janelle is set on there being two sides of the house. Nicole A mentions that they think that Cody, Tyler, and David are together and brought in Nicole F, and others, but she couldn't remember which HGs she mentioned.
She says that she isn't sure if she believes David is in there and thinks that Janelle is just telling her that because they were in the same season. Nicole A also mentions that she thinks that Tyler has a side deal with Janelle and Cody has one with Memphis. She also mentions that Nicole F is always around Memphis so she thinks that they are working together too.
Nicole also tells Kevin that Tyler has side deals with a lot of people in the house. She talks about how David and Tyler are connected because they are both friends with Ovi from Nicole and David's season.
As the conversation continued, Nicole A also told Kevin that he should have conversations with Janelle and Kaysar separately. Nicole A mentions that Janelle's biggest point during her campaign for Keesha was that she didn't know where Kevin's head was at. He needs to convince them that he won't go after them if he wins HOH next week.
Nicole A spilled everything to Kevin about who is working with who, that Janelle is working against him, pretty much every bit of information she has gotten since moving into the house. Do you think that this was a good move? Or is it too early to spill the beans like this?
Download our Big Brother App, join us on Facebook & Twitter, and get our Email Updates for more!