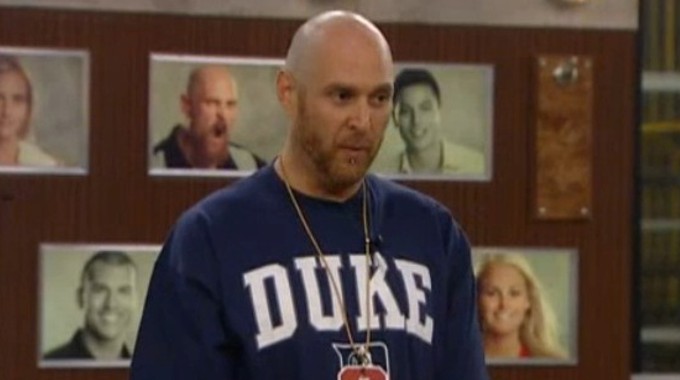 Ya know – we have been hoping, praying, BEGGING for an All-Star season of Big Brother ever since, ummm BB8 – so now we FINALLY have it!!! Sadly – it's coming a little later than normal and under the most peculiar conditions, any of us have ever experienced.
By now we should have already been introduced to the new Big Brother 22 cast, but through a series of events (that we will never know the truth behind) – here we are on the eve of All-Stars 2 and the anticipation is killin me! If you've been following the rumor mill, there have been many different cast leaks & supposed phone calls to production begging to handpick the cast. Through it all – there is a spoilers cast list that seems believable enough for me to tackle my preseason rankings.
For those of you new to this Big Brother 22 Player Rankings column, normally every week I rank HGs with Bacon & Tofu. Up to 5 strips of Bacon if they were good, up to 5 strips of Tofu if they are bad, and if they do something really dumb – they may earn the undesirable award, the Tofurkey of the Week. For All-Stars, I will start off nice – and give them all bacon. Don't worry – by next week, I will have a lot to critique – for now, let's keep it classy.
I will go in reverse order of the season's they were on
Nicole Anthony (3rd place BB21) – 3 strips of Bacon – Nicole was one of those players that transformed not just her game, but her self as the season went along. It was obvious that she was the brightest star to come out of such a mess of a season. Not as naive as she was last time – this could help her blend in with a strong alliance, but she will get cut somewhere mid jury.
David Alexander (16th place BB21) – 1 strip of Bacon – David got a raw deal last season – and was fighting an uphill battle from the start. However, once he was a "spectator" in the house, he quickly caught on to a lot of what was going on around the house. There will be much bigger threats and David can slide through a few weeks but will be a casualty of a renom gone wrong. Pawns sometimes go home!
Kaycee Clark (Winner BB20) – 4 strips of Bacon – to discredit her win due to a bitter jury against Tyler – would be completely wrong. Kaycee had a great social game & was a Veto beast (won 5 out of the last 6 on her season). But people never saw her strategic side. Tyler got a lot of the credit – but it was Kaycee that would hatch the plans with him, and she set him up to look bad and she walked away with the cash. She will do well again – and could get to F6. Will she be able to win the Vetoes to get her to the end??? We shall see.
Tyler Crispen (2nd place BB20) – 1 strip of Bacon – if ever there was someone that will be a target as soon as Julie says "Hello Houseguests" it will be Tyler. Other players will not trust him, and some may not want to be associated with him, but whatever side of the house he falls on, he will be one of the first 4 out of the game.
Bayleigh Dayton (11th place BB20) – 1 strip of Bacon – all of the BB fans know about her classic fight with Tyler, and if you are an MTV Challenge fan – you know about her beef with Kaycee. SO going into the house with a lot of enemies – may not be the recipe for a good game. She quietly could be a force in the competitions, but if the drama followers her in here – she will be an early boot.
Josh Martinez (Winner BB19) – 2 strips of Bacon – Josh was the guy who was one foot out the door and came back to win it all. How did he do it? A little bit of luck, a little bit of skill, and a lot of bit that his name was not Paul. Let's hope he leaves his pots and pans at home this time around. He is a loyal soldier – so someone(s) will take him under their wing to help get themselves further. But somewhere early to mid jury -he will wear out his usefulness and will get tossed to the side.
Christmas Abbott (3rd Place BB19) 1 strip of Bacon – will she be on 2 good legs this time around? As long as they dont bring back Whistlenut – she should be fine. Her social game within this group will be her downfall. I don't really see where she will fit in initially and needs to get in with a majority group or her days will be limited.
Da'Vonne Rogers (16th Place BB17, 11th Place BB18) – 2 strips of Bacon – since her back to back stints on Big Brother a couple years ago, Momma Day has appeared on back to back episodes of MTV The Challenge. This boost to her physical game could propel her into finishing in a singe digit place this time around. I just cant see her getting into the final 6.
Cody Calafiore (2nd Place BB16) – 4 strips of Bacon – everyone thinks that Cody made a $450,000 mistake by taking Derrick to the F2 except Cody. That is the type of guy he is. That type of selflessness will keep him off people's radars early, instead, people will actually want to work with him. I can see him getting into the top 6 – and if given the chance to bring an easy win or possibly lose – this time he'll take the easy win.
Nicole Franzel (7th Place BB16, Winner BB18) – 1 strip of Bacon – we got 2 different Nicole's the 2 times she played. The first one was similar to her name twin Nicole from BB21 – a sweet naive midwest girl. Too trusting which led to her demise. The 2nd time she was a bit bolder and was able to control people to do he dirty work. What are we going to get this time? Who knows, but I dont see her getting to far. Perjury exit.
Amber Borzotra (12th Place BB16) – 3 strips of Bacon – not really sure how she ended up on the potential's lists – but perhaps without Caleb going all Creep Mode Cowboy – we can see if she actually has any game. If she is in the game, she may actually be able to use her beauty & charm to get deep into the game. I see her flying so low on the radar that before you know it she'll be in the top 8. From there – let's see if she can turn it on.
Ian Terry (Winner BB14) – 5 strips of Bacon – yes, calling it now, before I know if he's even on again, I think Ian will be the winner of BB22. The kid is a strategic beast. Well, he's not much of a kid anymore. Ian has come a long way since winning Big Brother 8 years ago. But his mind is always working, and he should be able to play a quiet aggressive game.
Enzo Palumbo (BB12) – 3 strips of Bacon – of everyone rumored to come back – this is the one I hope is really the most. Enzo & I have become good friends, so I will end up giving him the benefit of a doubt up to a point. I hope he can figure out a way to navigate through. He will need to form Brigades II – with Cody, Ian, and Tyler as Hayden, Matt, and Lane if he wants to get far. Expect some great one-liners in the DR – but sorry bro – he will fall outside the top 6.
Kevin Campbell (3rd Place BB11) – 4 strips of Bacon – 3rd place finishers are either slugs dragged to the end (see Victoria BB16, Adam BB13) – or they are the biggest threat to win (see Vanessa BB17, Adam BB13) – Kevin was one of the ones that could have / should have won his season. Jordan just made the smart choice and got rid of him. It has been several years since he played – but he should be able to get himself in & out of jams. If not – he will be packing his bags early. If so – top 6.
Memphis Garrett (2nd Place BB10) – 2 strips of Bacon – a late addition to the rumor mill – Memphis was part of one of the greatest alliances – The Renegades – but that will always be known as Dan heavy and not Memphis. I doubt he has held on to any anger about being considered 2nd fiddle – but if he does – that could be the motivation he uses. I don't see that – and he will probably not want to get in the middle of any drama. Early jury member
Keesha Smith (4th Place BB10) – 1 strip of Bacon – If only this season could have started a few days ago – we ere robbed of Keesha's Birthday Part II. Like most sequels, it probably would not have been as amazing as the original. (who wants cake?). She will not be a leader – so she will not take the fall when whatever group she aligns herself up with fails. She may get to jury.
Daniele Donato-Briones (2nd Place BB8, 8th Place BB13) – 4 strips of Bacon – if anyone still has a Big Brother chip on their shoulder – it's Dani. She was a beast BB8 – but her father got all the credit & confetti. She was setup great BB13 – but just could not wait to start firing at people, and ended up shooting herself in the foot. (if only she was able to get that 3rd vote….). Know this – Daniele loves this game – and will learn from her mistakes. She will be able to glam / mist / whatever you wanna call it and will have an army to help get her to the end. If she does not make a mistake by turning on someone when she does not need to, could be in the Final 3 with a chance at getting herself to F2.
Janelle Pierzina – (3rd Place BB6, 3rd Place BB7, 12th Place BB14) – 2 strips of Bacon – still a legend despite her mediocre game back on BB14. Jedi Jani will still hold her own in the physical comps and will be able to protect herself and whoever she aligns with for a few weeks. She will get to jury but around top 8 will fall out of favor with someone and become the target.
Kayser Ridha BB6 (10th Place BB6,10th Place BB7) – 1 strip of Bacon – ok, let's face it if Kayser does not make jury this time around – can we stop talking about him being a great player? I was a huge fan of his S6 (until he took his hand off the button). so I was glad to see him back on the last All-Stars. This time… not sure. He could easily get into a big alliance and go far or end up out right before jury starts.
Danielle Reyes (2nd Place BB3, 6th Place BB7) – 3 strips of Bacon – having just re-watched BB3 it reminded me the bitter jury is nothing new. Danielle played the hell out of that game but fell just short. He All-Stars stint – she still could not shake the stink of being a snake and ended up leaving at F6. I think she makes it back to F6 using her charm and teaming up with the other Daniele. She will fall short of the money again and will hold the title of the best player to never win.
Phew – as cool as it will be to have all 20 of the above players back unless they do some double evictions the first few weeks – my fingers will be tired from such a long post. All kidding aside – I think we will see something similar to the last All-Stars and not all 20 will be automatically in. Since the premiere is live & 2 hours long, I expect 12 HGs will automatically be in, and some sort of challenge, or America's vote for 4 of the other 8 players. I mean, who knows, maybe they will take the idea I gave them years ago and put these 20 players into groups for smaller challenges to earn their way in. Or… every potential player has to write their best Zing about Zingbot – and the 16 that hurt his feelings the most are in. I don't know – I am just happy that Big Brother is FINALLY back!!!
So that leads me to my question of the week – of all the rumored returnees – who do you want to see the most?
Catch me here every week during the BB season for my rankings. If you want more of my thoughts during the season. follow me on Twitter @HeavyMetalTeddy – and listen to my Podcast – @BigBrothersPod.
From outside the Big Brother House – I am Adam Poch – let's have a great season!