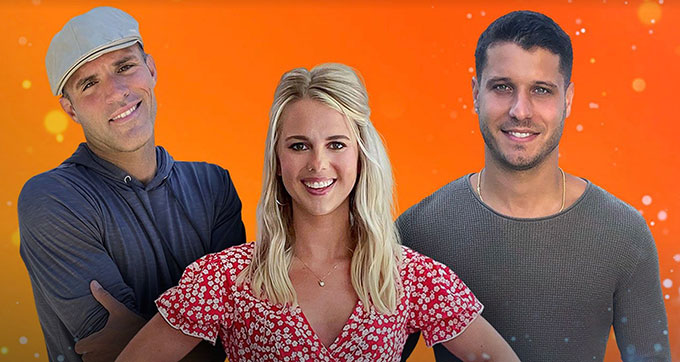 The Big Brother 22 Final 3 are in place, and one of them will become the second Big Brother All-Stars winner. Will it be Nicole Franzel, Cody Califiore or Enzo Palumbo?
I think it's safe to say that the choices will more than likely actually be between Cody and Nicole. If you haven't been following along with our spoilers, then you might not know that Nicole won Part 1 of the Final Head of Household and Cody won Part 2. That means the winner of Part 3 would have to take Enzo to the Final 2 for him to have a shot. And with how close Nicole and Cody have been all season, that probably isn't very likely. Regardless, we are taking a look at all three of the finalists and analyzing their stats and whether or not the could and should win the game.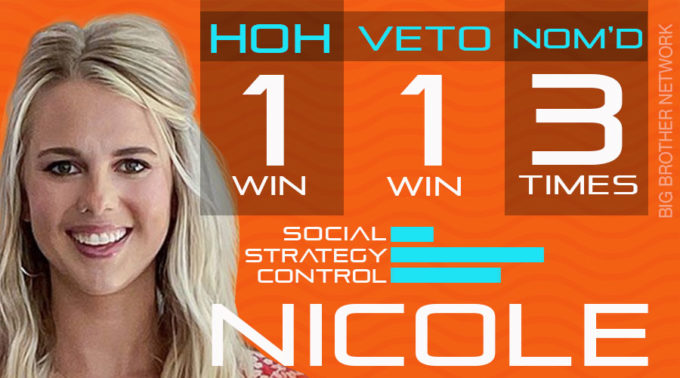 Nicole
Nicole finds herself in the Final 3, and probably the Final 2 once again. As one of only two winners this season, she somehow got to the end. That makes no sense to me, and I'm struggling to be impressed by it. Had I seen a bit more from her, and not heard about all the pre-game alliances, I would probably be giving her a bit more credit.
Does Nicole Deserve to Win Big Brother 22? As I've already mentioned, I'm struggling here. I think If you get to the end, there's always an argument for you to win. And the fact that Nicole should've been out Week 1 or 2 and made it all the way to the end is kind of impressive on paper. But again, knowing what I know, I can't bring myself to say she really deserves to win BB22. Nicole Franzel as the only two-time Big Brother winner? That is just not something I can accept. Dr. Will, yes. Dan, yes. Jun, yes. Even Rachel, yes. But Nicole, can't do it.
I do think she had a better strategic game than Enzo and even Cody. Neither of them did much other than win competitions and rely on their alliance when they didn't. Nicole played the whole "I'm not good at BB and probably shouldn't have won the first time" game pretty well. She also plays like an absolute snake to get what she wants, but I can never appreciate that because she doesn't own that gameplay. But her social game was not good. She backstabbed or gossiped about every single person she claimed to be close with. And again, doesn't own being an actual villain.
Can Nicole Win Big Brother 22? Yes. I think Nicole can beat Enzo. I think the jury is so soured by Enzo always trailing behind Cody that they won't reward him with a win. I think they see that he single-handedly let Nicole get to the end again, and would give her the win over him. But next to Cody, I do not think Nicole can win.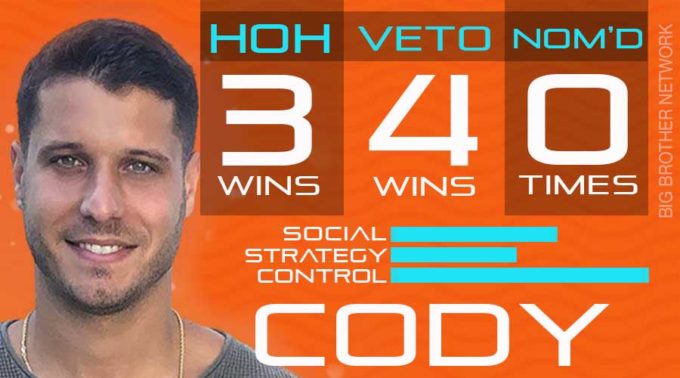 Cody
Cody makes his second trip to the Final 3, and like Nicole, likely the Final 2. This time around Cody is the one who played the game everyone followed, though. So that gives him a better edge than he had in Big Brother 16. He's no Derrick, but he is clearly the best player out of this Final 3.
Does Cody Deserve to Win Big Brother 22? There's a big part of me that wants to say NO! No, Cody doesn't deserve to win because he had to face no adversity and came into the game with a stacked and dedicated team. Of course there's still no physical proof to that, despite almost every houseguest talking about it on the Live Feeds this season. So all that aside, yes, Cody deserves to win BB22. He deserves it over both of the other members of the Final 3, easily.
Can Cody Win Big Brother 22? Absolutely. I think Cody beats either. He said he could make a mistake by taking Nicole to the Final 2, the same mistake he made taking Derrick, but I don't think that's true. Dani has been CHAMPIONING him in the jury, and I think Nicole has made too many people in the jury upset with her. And Enzo has let them all down. So I think Cody could possibly win unanimously. I don't think he played a unanimous-win game, but this cast has been odd, and seemed to be playing for Cody all season, so I wouldn't be at all surprised.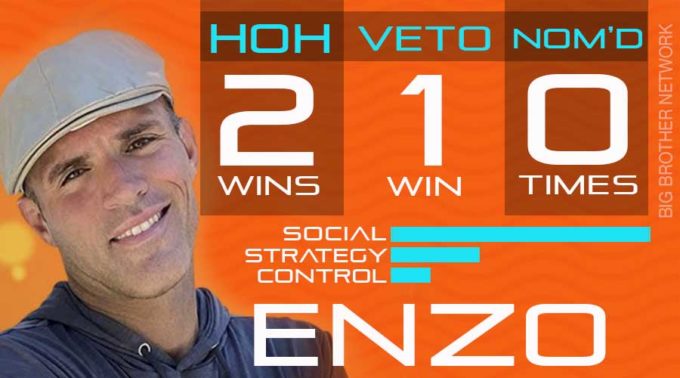 Enzo
For the longest time, many Big Brother 22 fans were in awe of Enzo's social game, and we had hope that he would make that big move he kept touting all season long. And then he just didn't. He made no big moves. And he just looked foolish along the way.
Does Enzo Deserve to win Big Brother 22? That's a tough one. I think if Enzo were to win he'd still be a better winner than some past champions, but out of this Final 3, I'm going to say no. I think I would prefer Enzo to win over Nicole, but that's because I'm having such a hard time respecting Nicole's game this season. But against Cody, Enzo absolutely does not deserve to win.
Can Enzo Win Big Brother 22? I think if Enzo did get taken to the Final 2, he probably wouldn't win. I know Da'Vonne was rooting for him, but he would have to really sell the jury on any more votes. But all of that will be moot when he doesn't even make it to the Final 2. That is unless Cody or Nicole decide to actually stab the other in the back. But I don't see that happening.
Who do you think could and should win Big Brother 22?