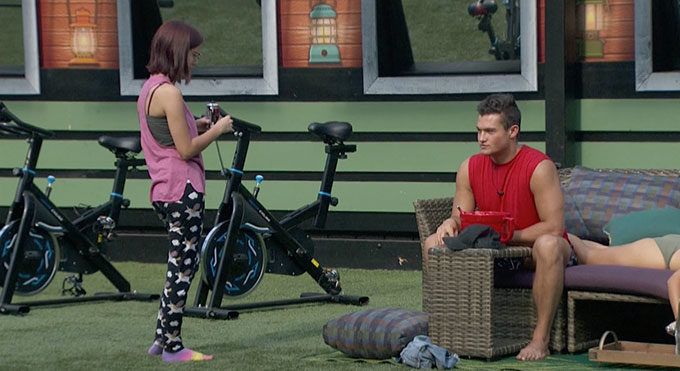 We are only about a week away from the Big Brother 21 season finale and with Cliff headed out the door this week, our Final 3 will be Nicole, Jackson and Holly.
So who should win Big Brother 21? Let's take a look. We will have our in-depth analysis of the Final 3 after it's official, but for now we're just going to take a look at who has earned this win the most. And with a season like this, that is just really hard to say. But I'm going to try, and I'm just going to rank them in order of who deserves it.
1. Nicole. I know there's currently an argument on whether Jackson or Nicole has played the better game. Big Brother 15 winner Andy Herren is swearing by Jackson (but his opinion has changed overtime his favorite got evicted this season). "Jackson deserves to win #BB21," Andy tweeted. "I hate him, but he is such a better player than Nicole. It isn't even close." I don't get that argument. At all. So Jackson told a lie that looked like a good move on TV. But here's the thing: Nicole didn't buy the lie. At all. She only kept Tommy because she trusts Cliff too much and that's what he wanted. So Nicole didn't fall for Jackson's game. That gives her an extra point over Jackson right there.
And let's look at game moves. Nicole let a showmance get to Final 4, but they were allies. She got Christie out, who I thought was a lock to win the season. Who did Jackson get out? Analyse and Jessica. His two HOH reigns completely wasted. And don't even get me started on how great Nicole's social game has been compared to Jackson's. Nicole is clearly the most deserving of this Final 3. No one can change my mind.
2. Jackson. Like I just said, Nicole deserves this win. But Jackson is clearly the next in line. Even though I can't get past his terrible moves as HOH or the fact that he cheated as a Have Not and has been told extra information by the Diary Room this season (proven multiple times on the Live Feeds), I surely can't place Holly above him. I think the hardest part about seeing a Jackson win is that he is just so unlikable. There hasn't been a villain winner in a long time, and those can be fun, but Jackson has just been so icky, it's so hard to root for him.
I'm getting off track with how unlikable he is, so let me get back on. If Nicole goes out in third place, why should he win? Hmm. He has played the game from start to finish. He controlled Holly's HOH reigns, all while explicitly telling her he's not. He's a champion manipulator and gas-lighter. That makes for a terrible boyfriend, but not a bad Big Brother player. And even though that lie he told wasn't purchased by Nicole, he really did sell it. That was the biggest and boldest lie told in the game in years. That's how we like to see Big Brother played. Jackson has also been a target for months. And here he is. His competition wins have also been impressive, and if a jury holds a lot of stock in comp wins (and this one does), then he might have it in the bag.
3. Holly. A few weeks ago, I said Holly was playing the best game. A lot has changed since then. She's shown terrible sportsmanship and has proven that she was playing Jackson's game. And she actually threw that Final 4 HOH because Jackson wanted her to. She claims it's because Nicole "bullied" her into throwing it, but it was Jackson who kept insisting. And he did that because he needed Holly as a shield. He knew that if she was HOH and Nicole or Cliff won veto, Jackson was the only option to evict. So this girlfriend he has protected all game was expendable to him and she doesn't even see it.
At one time, Holly was definitely seen as a threat and a player, but that has all but dropped off. There's a chance she could still win if the jury can't allow themselves to reward Jackson's villainous game, but I just don't see her as deserving over the other two that will likely round out the Final 3.
And even though I'm 99.9999 precent sure Cliff is going this week, I'll go ahead and include where I'd rank him. And that's dead last. In my opinion, Cliff has played a terrible game. His game is even worse than Jessica's. At least Jessica got Jack evicted. Cliff wasted his HOH on Bella and then just did everything Jackson wanted from then on. And him insisting Nicole keep Holly over Tommy is exactly why Cliff is in this position.
This is all just my opinion, so what is yours? How would you rank the Big Brother 21 Final 4/3?