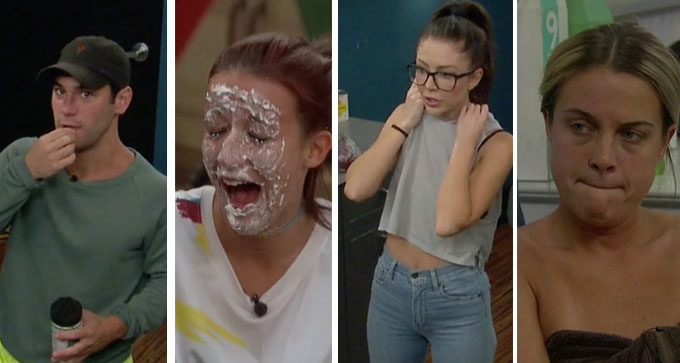 It's Week 9 of Big Brother 21 and I've avoided this question long enough. Who is playing the best game?
I've been avoiding that question because I don't know the answer. I mean compared to most seasons, I'd say no one is really playing the best game. But since even the oddest of seasons have to have a winner, someone has to be playing the best BB21 game. If that makes sense? I think what I'm trying to say is maybe no one is playing BB21 well based on the Big Brother standards we are used to, so I need to just look at it from a new perspective.
When I broke down each player, I found that the eight remaining houseguests all have some good things on their BB resumes. But they all also have a huge blunder or two to balance it out. I just can't recall a more confusing season when it comes to gameplay. So I feel like I need to apologize in advance for who I decide is playing the best game. Just know that it wasn't easy and I will gladly welcome your opinion on why I'm right or wrong.
Anyway, let's take a look at who I think is playing the best game. And since I'm already dreading it, let's just go ahead and rank them.
8. Nick. On paper, it looks like Nick is playing a good game. He was floating back and forth, but it didn't go unnoticed. That's why he's coming in last place on my list. He's a huge target and no one ever believes anything he says other than Nicole. I honestly think Nick is playing so poorly, that he shouldn't even be Holly's target this week. It would be so easy to build a case against Nick in the final 2. He played hard, but as I said, everyone has seen his snakey game. So the fact that people like Christie and Holly think Nick needs to go because he will win in the end is proof we aren't watching a typical season of Big Brother play out.
7. Jessica. I would have listed Jessica as No. 8, but she made the best move of the season when she got Jack out during her HOH. I still don't understand if that was a fluke or what. Maybe I'm underestimating her, but I've just seen her have so many bad takes in the game, that I just can't bring myself to list her any higher. But again, I am definitely giving her credit for making the best move of the season so far.
6. Jackson. Competition wins mean a lot in Big Brother, but they're definitely not everything. Jackson comes in at No. 6 on my list because of him wasting his HOH on Analyse last week. I don't get how people aren't seeing Christie as the biggest target in the game. She was his target, but for some reason he suddenly decided she would be better for his game than Analyse. I'm calling that Jackson's fatal flaw in the game, especially considering Christie has recently said that her contract with Jackson and Holly is null and she would put them up.
5. Nicole. I would love to rank Nicole higher simply for her social game. It's an outstanding social game and could win a Big Brother season easily, if we weren't talking about BB21. As I've said already, these people aren't playing a normal game of Big Brother, so they all look at Nicole as a useless player. They have all talked about how hard she would lose in a the final 2. So that's why I have to rank her lower than I'd like. Apparently none of these people would vote for her because she hasn't won any competitions or been in any eight- 0r nine-person alliances. But I would definitely give her the best social game award. If there was one.
4. Cliff. This is another tough one to rank because the way Cliff has made deals to keep himself safe has been pretty impressive, but usually those kind of deals don't work in Big Brother. But for some reason, this cast thinks they have to honor deals. It's so bizarre. And speaking of honoring deals, Cliff's deal to get out Isabella instead of Christie or one of her allies during his HOH is why I can't rank him higher. He had the power to trick Christie into not using her power and making a huge move, but he didn't take it. Of course that helped him stay in the game, but that move would have been game-winning. Or maybe it wouldn't have. This cast might have seen that as a game-losing deception. See what I mean? This season is so hard to analyze!
3. Tommy. At one point I thought Tommy was playing the best game all-around. His social game was impeccable, he has had power in the game and he's smart. But I think the pre-existing relationship with Christie has clouded his judgment. Because of her, he is being forced to burn people who are on their way to jury and will have the say in who wins the game. And he was also never seen as a target until now because he's being seen as one of Christie's numbers and an easy target to weaken her. Because some reason they are blowing a third chance at getting Christie out but still want to weaken her.
2. Christie. I think Christie has played a very messy game and is a really hard person to watch play because of the crying and the chewing, but for some reason she keeps escaping eviction. To me, and many of us outside that house, we see Christie as a huge threat to win the game, especially based on how jury is shaping up, but people keep voting to keep her in the game. When she made Nick a target during the Taco Tuesday event, a lot of people saw that as her taking control of the game. To me, it was just her buying herself an extra week. It was impressive, I guess, but I'm too distracted over her wasting her HOH on Ovi and how much of the game she played for Jack. And I really can't forget that she and Tommy came into the game knowing each other and that has been an unfair advantage. Maybe I'm wrong and she is playing the best game, but as of now, I can't bring myself to rank her there.
1. Holly. I think without Jackson, Holly would be the clear best player of the season. But since she's been attached to his hip, I've struggled with whether or not she deserves this spot. As the only repeat HOH, she is the only person to successfully get out two of her actual targets (assuming Nick goes this week). I still think Christie should be her target and if that doesn't become apparent to her by Thursday, then I might just have to swap Holly and Christie in this ranking. But overall, Holly has played the most well-rounded game, so far. I'm talking socially, strategically and physically. That's the only reason she's No. 1 ahead of some of the other people that you're going to be screaming at me about. Think about it. Christie has dominated strategy. Nicole, Cliff and Tommy have dominated socially. Jackson as dominated physically. And Jessica made that great move. But only Holly has covered all the bases. And I don't necessarily think this cast would reward her for that, but I'm going to. For now at least.
So I guess I'm saying Holly has played the best overall game. She doesn't have enemies like Christie. She did know Kat, so that should count against her if I'm counting that against Christie and Tommy, but I think that bond isn't quite the same as Christie and Tommy's. So I think I'm good with this list. And honestly, it wasn't until I was writing it that I even knew I would put Christie at No. 2. I'm not a fan of hers, but after this full analysis, I became aware that for this season, her game is working. When I see that she should have been gone weeks ago, but the others don't, then she has to be doing something right. Right?