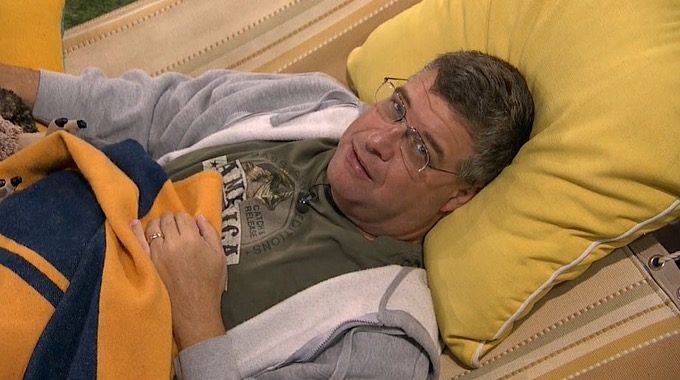 We are down to the final four inside the Big Brother 21 house and with that comes a lot of reflection on the game and what could happen moving forward. Cliff talked to Nicole a lot on Monday about the game, the plans for this week and how he feels about becoming Big Brother 21's next juror. Read on to see what he had to say.
Nicole and Cliff talked for a long time on the hammock Monday evening about the game and how this week is looking. Cliff is bummed because as of now, Jackson plans to vote him out on Thursday. They talked about how the Jury is going to feel when they see Cliff walk in the door and he mentions that they are probably going to assume that Jackson won HOH and took Cliff out. He mentions that he will give them the story and they will all understand what happened.
After this, at about 6:15 PM BBT (cams 3 & 4), Nicole talks about how before they left, everyone in the jury said that if Jackson made it to the end, he would win. Cliff says that if Jackson wins, even if he is upset about what happened, he would be okay with it. He talks about how by the time he gets out of the house, who knows what he will consider, but he doesn't want to be a bitter juror. He says that he has hated seeing bitter jurors as a fan of the show, but because it applies to him, that's why he is taking this so personally.
Going into the next couple of days, Cliff plans to talk to Jackson about a lot of things, but the biggest one is how the Jury might see the betrayal. He also plans to add how Jackson could lose votes because of it if he makes it to F2.
If Cliff does end up evicted on Thursday and becomes the next juror of Big Brother 21, do you think that Cliff will be a bitter juror? Or do you think that he will get over the betrayal and see it as gameplay?
Download our Big Brother App, join us on Facebook & Twitter, and get our Email Updates for lots more Big Brother coverage.
Did you know you can get a Free Trial to check out the Live Feed in-house cameras for Big Brother? Watch any moment from the season both live and in the past with the Flashback feature. If you haven't tried the Feeds yet then this is your week to do it! It's twenty cents a day and the cheapest entertainment you'll find all summer.