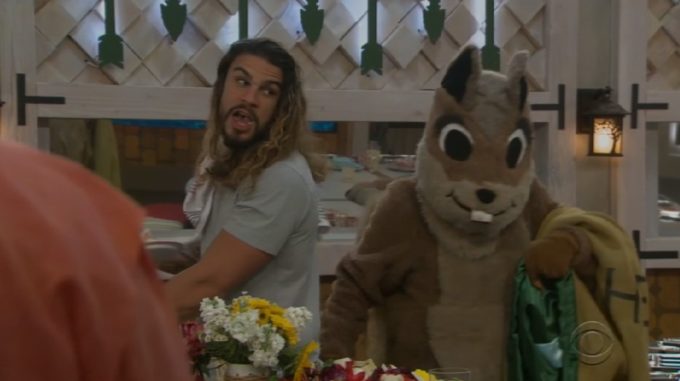 Big Brother 21's two-night season premiere introduced us to Camp BB, the first of several new twists, and already gave us our first casualty of the season. So now it's time to grab some s'mores, sit by the fire and talk about the best and worst moments of the premiere.
The Best and Worst Moments of the two-night Big Brother 21 Season Premiere
Thumbs Up: The Cast. As I mentioned in my First Impressions post Tuesday night, I like the cast overall. I think for a game that follows the same casting formula, this is a solid cast. Of course a lot of things chance as the days and weeks go on, but for now, I'm a fan of them. I partially like Isabella. She has the right kind of Big Brother player attitude I (and a lot of people) crave. Here's to hoping she can make some big moves!
Thumbs Down: The Summer Camp theme. I love this show, you guys. I do. But I am really embarrassed by it sometimes. I mean there's a reason why a show like this is called a guilty pleasure. And this season is a shining example of that. Imagine someone tuning into the the show for the first time and the see a giant squirrel walking around putting people in a literal nut sack. And then grown adults dressed like campers hanging off of giant logs getting doused in slime. I know it's a show that embraces the absurd, but this camp theme might be my least favorite thing ever.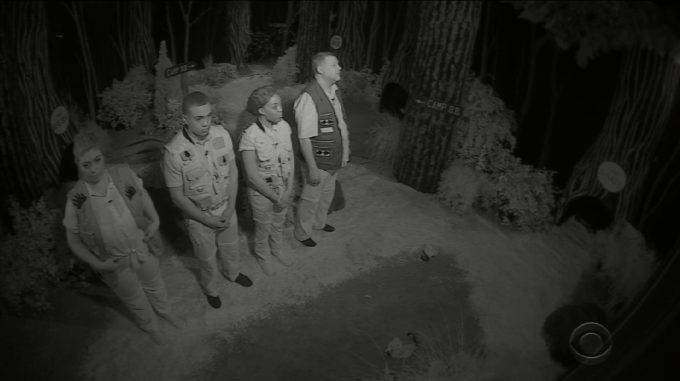 Thumbs Up: The banishment comp. I might hate the twist but I love those black box comps. They're the kind of cheesy I don't mind on Big Brother. I'm glad it's now a staple.
Thumbs Down: David Gets Booted. So Julie let us know that David is gone but maybe not totally out and suggests that something live will go down next Wednesday. So that means there's a chance he's coming back. Regardless of what that next twist is, I hate Night One Evictions. And I think that's the general consensus. Night one evictions are just cruel and I really wish they'd stop doing them. Imagine going through the entire casting process just to get there and have to leave night one. So terrible. Jodi, Glenn, Cameron and David deserve better!
Thumbs Down: Tommy and Christie's Past. OK, we first thought Tommy and Christie knowing each other was a part of some kind of duos twist. But that does not seem to be the case. Basically it is just a casting coincidence and they producers didn't think it would really be a problem. Christie and Tommy have made the right decision to keep this a secret. It would really suck for them to get targeted  because the show was sloppy at casting.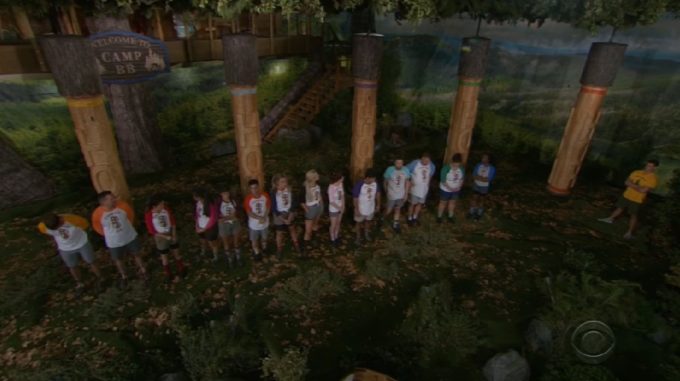 Thumbs Up: Christie Wins HOH. I was happy to see Christie win HOH. She doesn't seem like someone who is going to just play it safe. She know that someone has to go first and she's ready to make a move. At least I hope so.
Thumbs Down: Too Many Twists. Who else would love a "back to basics" season of Big Brother? I don't want a bunch of game-changing twists. And there's another one coming up with the "Whacktivity Comp" Julie announced. And what is with that name? So embarrassing.
Thumbs Up: Big Brother. I know I complained a lot the past two nights, and that's why a lot of people watch this show (so they can hate it and complain!). But I really do love the show and I'm so happy we are all in this together for better or worse. Thanks for reading along with us here!
What did you think of the Big Brother 21 premiere?