Houseguests learned of the new Temptation Competition twist this morning in the Big Brother 19 house and the first round is over as HGs had to decide whether or not they'd take the bait and compete for safety. For those confident in their security there was little benefit, but at the same time those most at risk couldn't decide whether or not to show their hand.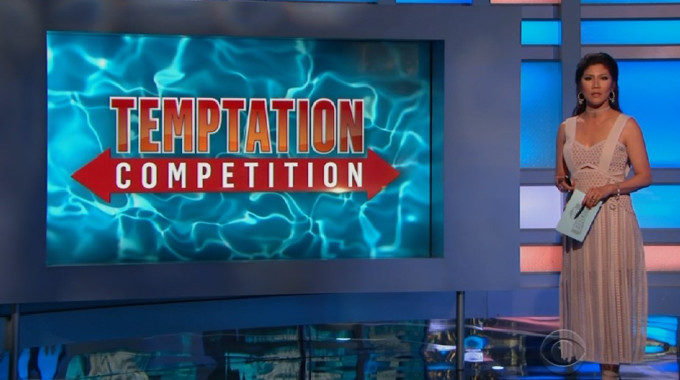 As Julie Chen revealed last night, this three week twist would give HGs the choice and chance to compete for safety but at the risk of coming in last place and becoming the third nominee for the week. Risk and reward here for those daring enough to throw their hat in the ring.
Paul is aiming for Jessica and Cody despite Jessica's bold announcement last night. That left Cody and Jessica trying to decide whether or not they should gamble and go for the win here. Jessica wanted to keep up her lie but Cody didn't think it'd deter Paul so didn't want to pass up this opportunity.
Now the Feeds are back and we've got the results. Read on to find out who competed, who won the Temptation, and who will be heading to the Block as the third nominee.
Spoilers: Temptation Competition – Week 5
Mark won the competition!
Jason came in last. He'll be 3rd Nom.
Gallery: Mark & HGs React To Temptation Results
Mark is now safe for the week, and he was Paul's Plan B. Elena congratulated Mark on making Jury. She doesn't sound too thrilled.
Jason can't be too happy about this. He should be mostly safe, but he could quickly become a big target for enough people to make this a danger for him. Jason thinks Raven definitely wants him out, but Alex promised Jason he has at least 3 votes to keep him.
The more we listen the more we're learning. Jessica's plan to have her and Cody not compete to fool Paul in to not nominating them failed. Cody regrets not competing. Yep, Jessica's idea was bad. If he had won that comp then either he or Jessica won the Veto then they'd both be safe this week and could save her Hex for it's last week, next week. Now it's going to get used.
Paul is still planning to nominate Jessica & Cody. He's got a backup plan of Elena with pawn Alex, but that doesn't matter. The Hex doesn't prevent the nomination. BUT, it'll end up killing off this week's eviction. If either Jessica or Cody remain on the Block after the Veto is done then she's using it. With both going up tonight & Veto only able to save one of them then there's no way around this. Not a total loss for Paul though as he'll have burned off Jessica's special power and both her and Cody will be vulnerable next week.
Nominations are coming up later tonight and we'll have your spoilers then.
Want more? Download our Big Brother App, join us on Facebook & Twitter, and get Email Updates.