Houseguests were gathered for the reveal of this week's "Den of Temptation" and we've got the latest spoilers on which of them landed the power thanks to your votes.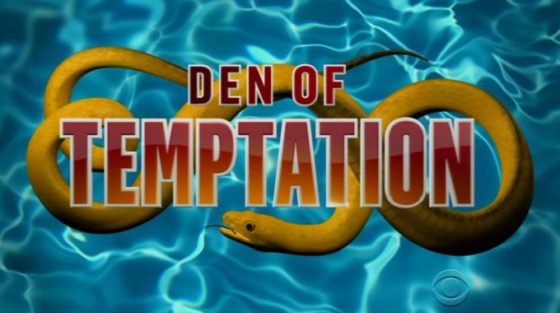 Our own poll showed Christmas at the top of the list to win this one with Alex not far behind her. So how did those results compare to the real spoilers today? Read on to find out who now has the chance to swap themselves out for a chance to play in an upcoming Veto comp.
Spoilers: Den of Temptation – Week 2
Christmas won the Ring of Replacement Temptation!
Flashback to 5:37 PM BBT Cams 3/4 to watch as she makes the secret reveal to Paul in the HoH bathroom. Christmas reveals that not only did she get the reward, Ring of Replacement, but she also got to pick the 3 HGs who would be cursed, though she does not yet know what the curse will be.
Cursed HGs: Cody, Jessica, & Ramses Jason (Seems Ramses couldn't be cursed 2x in a row.)
Update: The curse is for those 3 to be dressed in frog/toad costumes all week as V-Toads.
Gallery: Meet The V-Toads
Christmas says she has only told Paul. No kidding. It took us forever to find out who got it, though based on our poll this is what I expected. Paul advises her not to tell anyone else. She hopes they don't have to use it this week.
Gallery: Christmas Reveals Temptation
As a reminder, here's how the official description of this week's power will work for its holder.
The winning Houseguest will be tempted with the Ring of Replacement, which will give them the power to play in any Veto Competition they want this summer! If they're not one of the six houseguests playing, they can swap places with one of the three players chosen by random draw. The Ring of Replacement can only be used once, but remember, every temptation comes with a consequence.
So Cody is dunzo. If his name is drawn for the Veto comp then Christmas could use her Temptation power and knock him out of the comp. That's probably it for Cody unless there really is a Battle Back in two weeks!
Next week's power is the "Halting Hex" which will cancel an eviction. Now that's powerful stuff!
With Paul's big plan to Backdoor Cody ready to be set in to action this twist had a fun potential to throw a wrench in the works, but do you think that will actually happen now?
Want more? Download our Big Brother App, join us on Facebook & Twitter, and get Email Updates.