Big Brother 19 Houseguests were treated to another Den of Temptation today and we got to spend half the day trying to figure out who might have been tempted. Everyone was doing a great job at being tight-lipped about it, so right now we have nothing but blind speculation.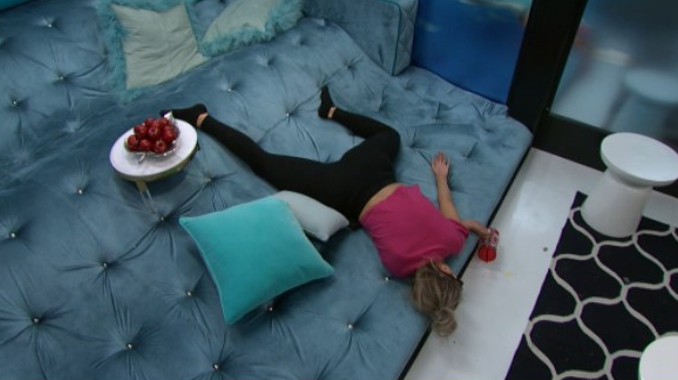 If you've got the Live Feeds (Free Trial) then you can watch all of these moments with the Flashback feature to go back and watch those important conversations or funny scenes you may have missed.
Big Brother 19 Live Feed Highlights – Friday, July 7, 2017:
8:45 AM BBT – HGs up and getting ready for the day.

9:00 AM BBT – Christmas settles down in the Lounge and rests her foot.

9:55 AM BBT – Cody complains to Jason that it is "cruel" for the HGs to target him first and then leave Jessica alone in the game.

10:05 AM BBT – Jessica hopes the next Den of Temptation could be for a second HoH. Cody points out they don't have the votes even with that.

10:15 AM BBT – Paul talks with Ramses that he should think about using his curse nomination this week since Cody is the target.

10:20 AM BBT – Kevin acts like he doesn't know who flipped the vote last night. Jason is sure it's Ramses and Josh.

10:55 AM BBT – Paul lets Alex know he worked on Ramses to use his curse nom so there would be three HGs up this week, part of his BD backup plan.

11:00 AM BBT – Kevin leads story time and he's got the HGs gathered around. Even Cody and Jessica are smiling and laughing with the group.

11:40 AM BBT – Cody tells Jessica that usually he's an optimistic person, but he's being realistic here that this isn't a game he's going to win.

11:55 AM BBT – Jessica mentions the Feedsters probably didn't see her, um well, pleasuring Cody under the sheets.

12:25 PM BBT – Feeds cut for Den of Temptation.

2:53 PM BBT – Feeds finally return. HGs sitting around talking about the Den of Temptation. They say three people are going to be cursed this week, which means someone accepted the temptation.

2:55 PM BBT – Paul wonders if the three people cursed could just be Have-Nots. Elena says that Christmas looked pissed so they don't think she got the temptation. Raven tells Paul that everyone had a voodoo doll representing them. They wonder if the person who got the temptation has to choose the three voodoo dolls to curse.

2:59 PM BBT – Elena, Josh, Alex and Jason say they did not get the temptation.

3:02 PM BBT – Jessica tells Cody the house is taking five years off her life and that she's going to be grey by the time she leaves.

3:03 PM BBT – Elena and Paul tell Raven to eavesdrop on Cody and Jessica. She listens but noting is really being said.

3:11 PM BBT – Paul announces that the "Nominations Today" message is on the screen.

3:14 PM BBT – Ramses is talking to Paul about nominations. Paul says he can't tell him who he is nominating because it's against the rules, but adds that it doesn't matter. He says he's backdooring Jessica and Cody. Paul tells Ramses that this is the week to get Cody out since the entire house wants him out.

3:20 PM BBT –  Paul tells Alex that he thinks Cody got the temptation. Jason and Raven explain to Paul how the voodoo dolls were stabbed. Jason says some were stabbed more than once, some weren't stabbed at all it sounds like. Raven says they were all stabbed.

3:27 PM BBT – HGs speculate what the new curses could be. They say it could be that their votes get canceled or they're have-nots for two weeks.

3:28 PM BBT – Jessica and Cody have a little argument because Cody says he doesn't compromise. Jessica calls him a douche and leaves the room. Cody says to himself "she hates me."

3:29 PM BBT – Cody says he thinks there will be a Battle Back this season.

3:30 PM BBT – Dominique tells Ramses she loves the game is happy she's playing but she does not care enough about the game to lie and cheat. She says she will never play that way because she doesn't want to be known as the girl who lied on Big Brother. She tells him not to think she was whispering about him and if she was she wouldn't be lying to him about it right now.

3:33 PM BBT – Paul asks Cody if he has any sense of what the curses are this week or who got the Den of Temptation. Cody says he doesn't know but thinks people could vote for Raven to get the temptation.

3:35 PM BBT – Kevin promises Paul that he did not get the temptation. They think maybe Christmas or Raven got it.

3:37 PM BBT – Paul thinks that even with the temptation, Cody should still be going home this week.

3:50 PM BBT – Christmas is being very matter-of-fact with Jason. She tells him she feels F'd over by him mentally and physically (the broken foot). She tells him that she's done everything she can to reach out to him and he's screwed her over. He says she's right.

3:53 PM BBT – Paul tells Ramses that Cody is the plan this week and if something happens then Josh would be the next option. He tells Ramses that this is a good week to put himself on the block from the curse he got last week.
We don't know who get the temptation yet, but we should by the end of the night. According to our poll, we can likely expect Christmas or Alex to win. As for the three people cursed, that's going to be "random" but we'll keep you updated.
You can watch all of these Big Brother events using the archives Flashback, the DVR-like feature of this year's Live Feeds which means it's always live, even when you missed it! Sign-up now to get the free trial to watch it all live & uncensored.

Gallery: Live Feeds Highlights