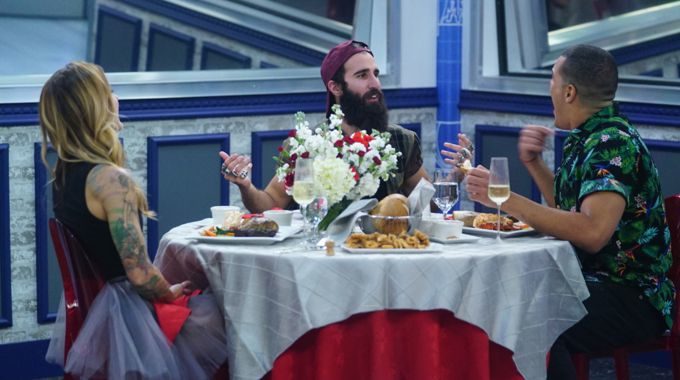 Who will win Big Brother 19? That prediction became a lot easier overnight but it's still worth a discussion and we've got a few more hours before the Jury's decision is revealed in the season finale, so let's get to it.
There are three Houseguests left in the game: Christmas Abbott, Josh Martinez, and Paul Abrahamian. "Deserving" doesn't get you to the F2, but in this case that won't be an issue for the most likely 3rd place finisher tonight, Christmas.
She lost both Round 1 and Round 2 which puts her at the mercy of either Josh or Paul, depending on who wins Round 3 which will be held live later tonight. Christmas has already told the guys to do their own thing and she won't be mad. Good thing, because as of now it sounds like neither will be taking her. Fine by me, but that's a huge mistake for one of them.
Paul revealed awhile back and then confirmed that he wanted to get to the F2 with Josh because he saw it as the easier win. Paul has used Josh all season to be his monster-on-a-leash and it's time to cash in on that strategy. If Paul wins R3 then he will evict Christmas and take Josh to stand before the Jury. I see this as the most likely F2 scenario: Paul wins R3, evicts Christmas, F2 with Josh.
Josh won R2 so he'll have a shot at winning R3 and if he does, well we thought he was going to evict Paul because he's said for weeks that's what needed to be done. Now, as of Tuesday, Josh has decided it's too risky to go against the more likable Christmas. Josh now plans to evict Christmas and face Paul before the Jury. Josh says Paul hasn't made any moves all season, has played a safe game, and the Jury won't want to see a Vet win. Yikes.
With both of the Round 3 players planning to evict Christmas then we can most likely write her out of the F2 scenarios. I am now fully expecting a Josh v. Paul Final 2.
When Josh and Paul arrive at F2 the Jury will have to pick between which HG they hate less, but I don't think that alone will be the deciding factor, it just probably won't help either of them. Instead I expect the Jury to look at game play and personal interactions.
Paul made a huge mistake in lying to the HGs in the goodbye messages. That was stupid. When was he going to stop lying to them? They're off to Jury, they're going to figure it out, and the next time you talk with them will be your only chance to try and recover from that.
Meanwhile Josh played a very smart move in exposing Paul's lies in those same messages. Fantastic move. But will it be enough? I'm extremely doubtful. Josh was an arrogant jerk to the other HGs and it'll come back to bite him. Lacking the likable factor is going to hurt his chances and won't let him differentiate himself from their similar dislike of Paul.
Josh has made some moves and he's played the game, but it won't be enough especially up against the season's mastermind Paul. Paul will likely do a better job of making his case as Josh could struggle staking his claim for the win.
When the votes are revealed I'm still expecting a landslide for Paul over Josh. If Paul wins R3 over Josh then it'll give him a stronger case, but if Josh wins and takes Paul then it might just make Josh look weaker and like a bigger fool for it. Josh winning R3 and evicting Paul would have sealed the deal for Josh's win instead he's running full sprint in the opposite direction.
twitter-tweet" data-lang="en">

Exclusive: Sneak peek at tonight's #BB19 finale right around the time Josh realizes that Paul *did* make game moves this season: pic.twitter.com/XDInPXBlAV

— Big Brother Network (@bigbrothernet) September 20, 2017
At the end of the Big Brother 19 season finale I expect the confetti to fall on Paul Abrahamian with Josh Martinez coming in second. As for Favorite HG? I'd wager it's between Cody and Kevin and would be less surprised to see Cody take the $25K prize.
There are my Big Brother predictions for tonight's show. What do you think will happen? Share your thoughts and predictions below as well then join us back here at 8PM ET to see what happens. We'll be doing live coverage and hope you'll stop by for the fun!