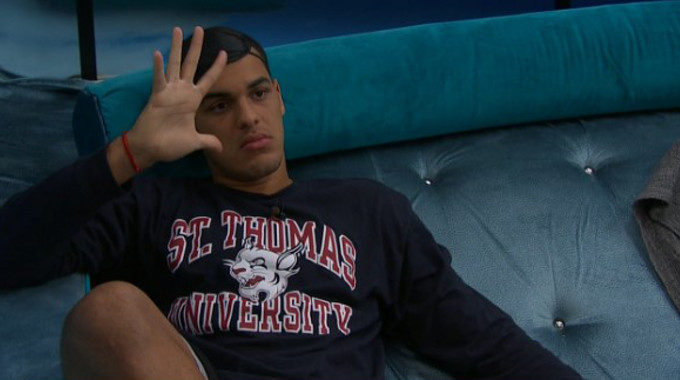 Do you remember Cody Calafiore and Big Brother 16? Well Josh Martinez has a plan to help you forget all about him because apparently Josh already has too.
After listening to weeks of Josh detailing the dangers of Paul Abrahamian for his chances of winning it was all coming down to a last ditch effort to stop Paul in the final hours of Big Brother 19. His earlier strategy was to win R3, evict Paul, and go for the easy win with Christmas Abbott instead. I predicted it'd be an overwhelming sweep for the Jury votes with Josh over Christmas. That's all changed.
First we heard from Josh on Tuesday morning that he was having second thoughts on taking Christmas. So much so that he began asking viewers to vote for Christmas to get AFP so all three of them could walk away with prize money. Then later in the day Josh laid out his detailed thoughts on why he couldn't take Christmas (too likable) and instead how he'd take Paul (because he hasn't made any moves…). It's painful to hear this. After all this time we thought Josh was a contender, but he's not. He's a fool and a blind one at that.
Flashback to 8:25 AM BBT 9/19 Cams 1/2 on your Big Brother Live Feeds:
"Please vote Christmas for America's Favorite. That girl deserves it… I don't think I'll beat her in the end. So I have to go with Paul because he's a Vet and I know the Jury doesn't want to see a Vet win."
Josh resumes his pleading for viewers to vote for Christmas because he wants her to walk out with something too since he's no longer planning to bring her to the end.
Why does he think a jury will hold Vet status against Paul? Does Josh not remember last year? The Jurors seem to forget about Vet status when it comes down to this decision. Maybe someone will decide to weigh this in, but not as many as Josh would need for that to be the deciding factor.
But wait, that's just such a crazy idea, right? Maybe it was just a temporary sleepy morning thought. Oh, nope, here he goes again.
Flashback to 7:10 PM BBT 9/19 Cams 3/4 on your Live Feeds:
"I've been thinking about who to take to the end. To be honest with you, as crazy as this sounds, um, I'm going with Paul to the end because, yeah he's the Vet and played a great game, but I know the Jury and Jury doesn't want to see a Vet win.

I know that Raven doesn't want to see a Vet win. I know Matt doesn't want to see a Vet win. Alex doesn't. Jason doesn't. Christmas doesn't. That's five votes so that's all I need. I just got to articulate my words. Is that the right word? I just got to make sure I break down my game.

[Paul] has played a great game and an aggressive game. He played 24/7 but so did I. I played from Day 1 out when I got off the trapeze and had to give myself safety because it wasn't going to be Cameron's ass, it was going to be me if I was up there. So I've been playing since Day 1 and I went from the Golden Apple to finale, so I've been on my toes the whole time."
Josh continues on and says he thinks it will be decided over who is more liked between Christmas or Paul. He believes Christmas will beat him by having Cody's vote, Raven's, and Mark's. He trails off without naming anymore but says she'd win.
Josh says it comes down to needing to go against Paul as the most hated. He credits Paul for playing an aggressive game, but says it's been a "safe" one and Paul "hasn't made any moves, laid under the radar" and while he thinks it was smart, Josh says "I don't know one game move that he made." Yikes, yikes, yikes.
So Josh doesn't see the game Paul has been playing right in front of his face. The Jury sees it and maybe, just maybe, they'll reward Josh over Paul, but this isn't BB14. Josh isn't Ian Terry and he isn't likable. He was a straight up a-hole to most of the cast day in day out. These votes won't have a "well this HG was at least nice to be" home to settle in because both are disliked.
Those five votes that Josh lists off? He might have one of them, but we already know Raven and Matthew definitely aren't voting against Paul. I don't see crushin'-Christmas doing it either. Cody supporting Josh who he thoroughly disliked? Doubtful. Cody didn't like Paul either, but he's said they could at least respect each other's game.
This is a terrible strategy. This isn't another Hitmen F2 loyalty issue. It's a deeply flawed strategic assessment. But wouldn't it be the cherry on top for Big Brother 19? An entire season of HGs playing the game for Paul only to have the last competition go to one of Paul's minions and then said minion yet again makes a move to benefit Paul? It'd be the most fitting and appropriate end to the season.
I still expect Paul to most likely win Round 3 over Josh, so maybe we won't ever have to see Josh make this terrible move, but if we do, oh if we do, then we might as well end it with a bang and reinforce why Paul deserves this win. He's played them all for the fools they are.