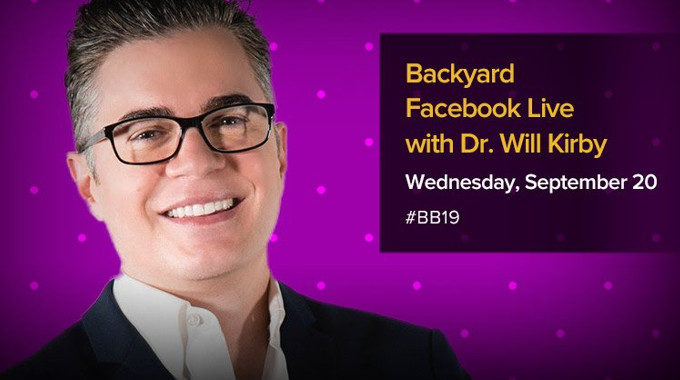 After seasons of Big Brother's Jeff Schroeder wrapping up finale night with a series of backyard interviews the torch has been passed to none other than legend Dr. Will Kirby. Once the season finale ended (find out who won Big Brother 19) the HGs headed outside for one last time in front of the Big Brother cameras.
If you missed the live stream you can still watch them here (video below) and it is worth every bit of your time. Dr. Will was amazing with these and absolutely fantastic. If you never got to see Dr. Will play in Big Brother, you have my sympathies.
Note: If you're not familiar with Dr. Will, then understand that he's teasing nearly all of these HGs. He's playing with them when he says ridiculous things and most of them don't notice. He's doing a mix of upfront and subtle humor and he nails it.
If you're new to the backyard interviews these are live events that take place shortly after the conclusion of the finale show as the season's Houseguests take turns working their way through a field of press including a lot of great outlets. Each HG got a turn with Dr. Will and boy I had a feeling he wouldn't go easy on them either. I'm guessing some of them were wishing they got Jeff's softballs instead by the time Kirby is done, but it's all in good fun at this point.
click images to see full-size
And just as a glimpse of the two hours' fun, here's how Dr. Will ended the night. These were great and I hope you take the time to watch them. More so, I hope CBS brings him back year after year because we needed these laughs after such a rough season.
twitter-tweet" data-lang="en">

Totally my bad. Honest mistake. Super sorry. https://t.co/dGmu2SlkwA

— Dr. WILL KIRBY (@DrWillKirby) September 21, 2017
These interviews are always interesting because you can really see who is going to be bitter for awhile, who has gotten over it, and who is still stunned by what just happened. HGs are ready to let down their guard with the CBS episodes over and many of them tend to speak their mind a little more freely at this point. I highly recommend watching.
Dr. Kirby offered to ask the tough questions and even joked he'd be delivering a "least favorite Houseguest" award so we had to watch and see just how much he was teasing there or not. Either way, it was a fun conclusion to a big night with the Big Brother 19 finale tonight starting at 8PM ET so don't miss all the action. See you then!