Last night on Big Brother 19 we saw Alex Ow take over again as Head of Household and that means she's got to make a couple of picks to head to the Block later today. But with the last week of the Temptation Competition at hand there's still some uncertainty over just how that will come together.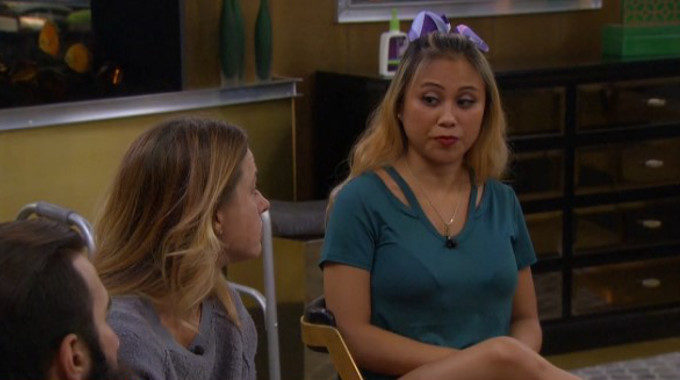 It didn't long before we saw Alex on the Feeds planning her next move as she looked to send Matthew and Elena to the Block, but that didn't last the night. The main target this whole time remains Cody, but there's been some back and forth on how to get to that point.
A few hours after Paul had agreed to Alex's initial suggestion he circled back and warned her that might not be the best idea, or rather he wants her to do what he wants her to do instead. Flashback to 11:00 PM BBT 8/10 to watch.
Paul warns Alex that by putting up a complete showmance couple she could avoid upsetting two different groups. If she's already going to upset one pair by nominating one of them then why do it to two pairs. It's not the most unreasonable idea, but still. Either way, Alex comes around to the idea and agrees to go with Paul's suggestion of Mark and Elena. There's worry that neither will be happy, but it's noted that they're probably already unhappy about having gone up last week anyway so why not.
Later in the night Raven suggests going with an all-guys Block and having Matthew and Mark nominated with Josh designated to throw the Temptation. They don't like that idea though because they're down two votes in that situation. Back to the Paul's plan for Alex instead.
As long as neither Mark nor Elena wins the Temptation battle then watch for them to go up on the Block with Cody set as the target for a Backdoor. If Cody finds his way to safety at some point this week then Mark could be in trouble as Paul has been pushing for him to go. I'm thinking Paul wants his minion Elena all to himself in the game.
Last week the Temptation Competition took nearly ten hours and that was with just one more player than it sounds like we'll have this week since they're all planning to play except Christmas and Alex. We could be in for a heck of a wait if they're doing individual performances. What a disaster. Hopefully production adapts their plan this week and we're back on track with a faster challenge.
We'll have the spoilers as soon as things are revealed on the Feeds. Download our Big Brother App, join us on Facebook & Twitter, and get our Email Updates for lots more Big Brother coverage.
Did you know you can get a Free Trial to check out the Live Feed in-house cameras for Big Brother? Watch any moment from the season both live and in the past with the Flashback feature. If you haven't tried the Feeds yet then this is your week to do it! It's twenty cents a day and the cheapest entertainment you'll find all summer.