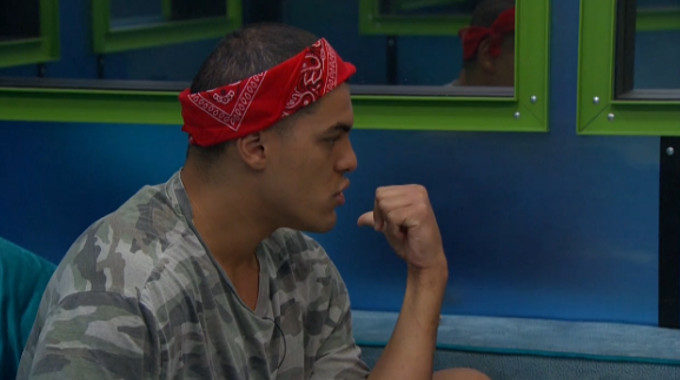 Paul Abrahamian is carefully controlling the Houseguests and it's been so-far-so-good for his game. Frankly, it's gotten to the point where Houseguests' games are being stomped on in front of their eyes and they just stand there smiling at Paul.
With this having gone on for nearly the entire season it seems unlikely for anyone to stop it at this point, but in what might be the first instance of rebellion, one Houseguest is at least starting the dialogue.
Flashback to 1:43 PM BBT 9/2 Cams 1/2 on your Live Feeds. Get your Free Trial now.
Here Josh pulls Christmas in to the Lounge to share some concerns. Christmas tells him they should throw the Veto comp to Paul, but Josh has a warning for her.
Josh says if Paul wins then he'll save "Tiger" (that's Alex's nickname, in case you haven't heard it used). He goes on to explain that by doing so Paul puts the blood on their hands instead. He shows how Paul will save two Jury votes (Alex and Jason) while positioning those two against Josh and Christmas. Instead of hearing him out Christmas is quick to defend Paul, but Josh isn't stopping.
Josh explains that he's been watching Paul's moves and knows what's going on. He says Paul is working Jury votes here and prioritizing his own game over their threesome's own needs. Josh is right, but amazingly Christmas doesn't seem concerned.
This conversation lasts a long time as Josh runs through what's been happening. Christmas tells Josh he needs to be careful with such anti-Paul comments because someone could be listening. It's like "1984" has appropriately come to life here but they're worried about one of the other Houseguests instead of their all-hearing, all-knowing overlords.
Christmas says she doesn't like all these "ripples" in their trio's trust and she wants to work it out. She says they need to talk with Paul, the three of them, and come to a group conclusion on what should be done with this week's targets and eviction plans.
Well obviously Paul isn't going to let either of them stop his plans. He did end up winning the Veto, after Alex threw it to him nonetheless, and now he's going to save her with it. From there he's already convinced Christmas to let him vote to keep Jason so his vote along with Alex's vote will force a tie. He actually got Christmas to agree to this.
Yes, instead of making Paul take some of the blame for Jason's eviction this week Paul is going to put it on the shoulders of Raven, Josh, and Christmas with her tiebreaker vote. When she asks him again to explain why they need to do all that instead of him just voting to evict Jason we get to watch Paul run circles around Christmas until she gets confused, gives up, and gives in.
Jump ahead to 3:50 AM BBT 9/3 overnight as Josh and Christmas rehash his earlier concerns. Josh is still very nervous about Paul's plan to protect himself and put them at risk. Christmas promises Josh that Paul explained everything to her and it all makes perfect sense, so he should just trust Paul.
Christmas tells Josh that everything is going great and he can't risk this for them. Josh eventually changes his tune and says he trusts Paul completely. He promises to keep these concerns quiet now.
Okay, so we've seen some rumblings from one of Paul's closest allies (of course, they all think they are one his closest) but will it actually lead to anything? Doubtful. We've heard camtalks from Josh awhile back where he was catching on to Paul's moves, but he never did anything about it then either.
Say Josh had won HoH this week, which was the backup plan for what they'd do if HoH was physical (oops), then I still don't think we would have seen some shocking twist of Paul going up and out. Paul has his hooks in everyone's game so deep that they fear messing up their chances by turning on him, much less by upsetting him.
Just look how in these past two rounds HGs have marched to the Block as willing pawns only to be backstabbed. Then you've got Christmas who is afraid for Josh to even speak words of unease against Paul. Yikes.
Do you think anyone will even have the slightest inclination to go beyond words and take action against Paul before it's too late? Will they all only see the obvious once they've arrived at the Jury House?
We're down to just over two weeks until the season finale and at this rate it just might take a fireball falling the sky to stop Paul from reaching the end and being crowned the winner of Big Brother 19.