Here we go with last night's Big Brother results for the Double Eviction live event where two Houseguests were voted out after a planned Vote Flip worked its way to the surface. With the Round Trip ticket still out in field we could see a lot of crazy outcomes. Now that's Biiiig Brother!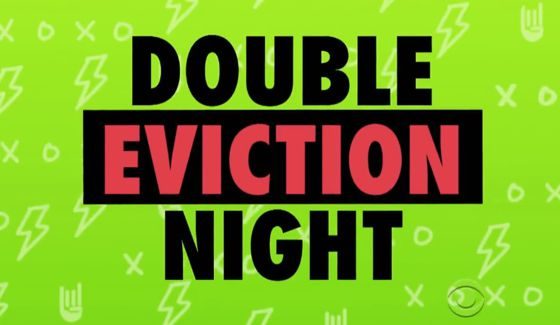 I'm so excited for this week's Big Brother 18 live show because I love Double Eviction episodes more than any other episode nearly all season aside from probably Finale night. This is the one time of the season where we'll truly get a surprise with the eviction since it's all happening before our eyes instead of playing out over a week on the Feeds. It's going to be great and we're here and ready to recap the show!
Ready to find out who was voted out and who takes control next? Here is our live recap for Thursday with the latest BB18 results. You can download our Big Brother App, find us on Facebook & Twitter, and get our Email Updates so you never miss anymore Big Brother spoilers all summer.
Remember that as part of the Double Eviction we'll get an extra round of HoH, nominations, Veto, and eviction voting as the HGs cram an entire week's worth of events in on top of the regular live show. This time around Paulie's close ally Zakiyah is up against Michelle and late night talks look to have flipped the plan on Paulie. Even still this afternoon he didn't believe anyone would go against him, but Zakiyah is preparing to say goodbye after her suspicions were raised so she won't be shocked.
Make sure your Live Feeds are ready so get the Free Trial and watch with us when the show is over because we're expecting a HUGE fallout from the drama ahead. You'll be able to watch all of that soon after the East coast broadcast is over. Feeds let you watch HGs on the in-house cameras & microphones so it's fun.


Once the first eviction is out of the way the gates open and we're off to the races!
America's Care Package Twist Results:
Which votes will James nuke? He's suggested it'll be Corey and Paul as part of his team's efforts to hide the flip, so let's see if he sticks to that.
Those two votes won't be counted in dropping us from seven votes tonight to just five with three votes to evict reaching the threshold for elimination.
Big Brother 18 Week 7 Votes:
Paulie votes to evict: Michelle
Natalie votes to evict: Zakiyah
Nicole votes to evict: Michelle
James votes to evict: Zakiyah
Bridgette votes to evict: Zakiyah
By a vote of 3-2, Zakiyah has been evicted. HGs were tipped off before hand as Nicole revealed she knew in the DR.
Zakiyah might have been voted out, but her game could be revived if she's holding the coveted Round Trip ticket. Julie will open the envelope and reveal the results.
Big Brother 18 – Week 7's Trip Ticket:
Julie reveals this week's ticket is… One-Way. Zakiyah is off to Jury.
Back inside the house the HGs have ventured outside and must now compete to win control of this round's noms and safety from eviction. Remember that Paul, James, Natalie, Bridgette, and Michelle would be competing to target Paulie through Nicole and Corey noms. The rest of the house could be in a scramble to narrow their targets after tonight's planned surprise flip.
Big Brother 18 – Week 7.5 HoH comp:
Round 1: Bridgette & Paulie are out
Round 2: All are wrong BUT Corey. Yikes.
Corey is the new Head of Household.
No time to dally! We need noms now. Julie will put the HoH on the spot as two of the HGs will be put on the hot seat. Results on the next page…