We have your Big Brother spoilers revealing who won Head of Household following this week's Double Eviction episode that ended in a cliffhanger before Feeds answered all our questions on the new HoH.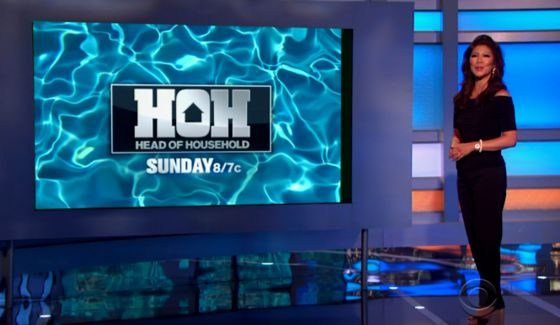 Zakiyah and Bridgette were evicted from the game after Corey pulled out surprising double wins during the show and Michelle survived not one, but two trips to the Block. Now that round is over and we need to get a new one rolling. Can't have a week of Big Brother 18 without an HoH though so a few hours after Feeds returned the comp kicked off in search of a new Head of Household.
So who did win the Big Brother HoH comp tonight?
Big Brother 18 – Week 8 HoH winner:
Victor won Head of Household.
Victor and Paul had been celebrating before the comp that they were playing the middle of the field, didn't trust Paulie anymore, and were going to see who won. Well then Victor went and won! Well this should be interesting. This could be a big week of Backdoor drama! Think Victor would go for it against Paulie?
So far the guys, minus James, are discussing putting up two girls and then using the third as a renom if they need to. Victor already said he'd want to put up Michelle and Natalie, so that's what I'd expect no matter what they end up making the target at the end of the week.
Update: WHOA! Paul just pressed hard on Victor to convince him they needed to get Paulie & Corey up on the Block together. He says this will guarantee one of them will go. Paul pointed out those two would never take them two to the end because they're such strong players. Victor is very hesitant then remembers how Paulie put him up as a renom to BD him. Victor is on board! Paul says he'll go reaffirm votes to support.
What do you think of these results? Jump on the Feeds right now to see what happens next!
Nominations are coming up on Friday already so get ready for those spoilers soon then Power of Veto comp will be held on Saturday. It'll be a very busy weekend! Download our Big Brother App then join us on Facebook & Twitter for the updates.