Fallout from the Double Eviction left both sides of the newly divided house with craters in their ranks and kept the Big Brother 18 Feeds going strong last night with Paulie scrambling for answers.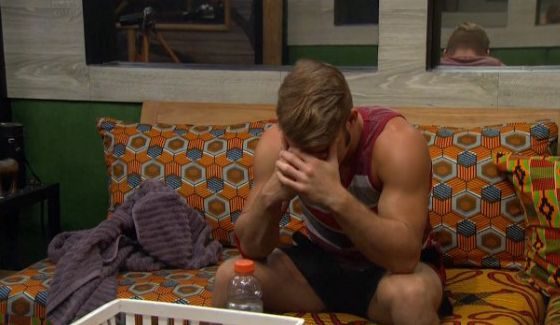 A few hours after the live show ended it was time to find a new Head of Household and no one was going easy in to this after the high stakes comps they had just gone through. Now we're set for another week of Big Brother fun.
If you've got the Live Feeds (Free Trial) then you can watch all of these moments with the Flashback feature to go back and watch those important conversations or funny scenes you may have missed.
Big Brother 18 Live Feed Highlights – Thursday, August 11, 2016:
7:06 PM BBT – Feeds are back from the Double Eviction. Nicole is worked up.

7:08 PM BBT – Paulie says his brother and his boys are going to tear up Natalie back home. Socially, he specifies. Then Paulie also says his cousins and sister "will beat the s**t out of both those two girls [Michelle and Bridgette]."

7:10 PM BBT – Natalie explaining to Michelle she was kept over Bridgette because Bri had more comp wins and was considered more of a threat.

7:15 PM BBT – Michelle and Nicole smoothing things over. Michelle didn't think she was going to stay so now she has to undo those "snake"comments about Nicole.

7:20 PM BBT – Paulie tells Victor that Natalie and James should go up for what James did to him. Victor says he wants Michelle and Natalie up.

7:38 PM BBT – Paulie goes to London room and begins to lecture Natalie about what she did and said. She says it sounds like he's reprimanding her. He scolds her for suggesting that.

7:45 PM BBT – James mentions he pulled Corey aside before the show so it sounds like James ruined this week's blindside.

7:50 PM BBT – James tells Corey he'd never go after Paulie or put him up.

7:57 PM BBT – Michelle is telling Paulie that Zakiyah told her she was just using Paulie as strategy. Paulie gets upset and reveals to everyone in the room (and on the Feeds) that he and Zakiyah had sex in the Tokyo room last night. (The hip thrusts were obvious.) Then he starts counting off the rooms and how many times they had sex. BUT, Paulie says he wouldn't kiss on camera. This guy. He body shames Natalie last night then slut shames Zakiyah tonight.

8:10 PM BBT – Victor talks with Corey and Nicole about next targets. Victor says it'll be Michelle. Nicole and Corey agree with him.

8:15 PM BBT – Corey and Nicole alone discussing if they'll get out Michelle. Corey says Michelle or Paul.

8:35 PM BBT – James and Paulie are hugging and Paulie tells him he was just worked up in the moment but it's okay now. Later Paulie makes comments to undermine that suggestion.

8:35 PM BBT – Paul and Victor celebrate in Storage that they're in a good spot in the middle of the house and can wait to see which side wins power tonight. Both agree that they aren't falling for Paulie's lies again and won't be swayed by him.

9:02 PM BBT – Feeds cut for the HoH competition.

10:09 PM BBT – Feeds have returned. Victor has won HOH. The bros are talking about getting Michelle out this week. Paulie says this should be an easy week and suggests putting her and Natalie up. Nicole's name is also thrown out there.

10:14 PM BBT – Paulie says he's not going to get called out again for making decisions. He's still making decisions.

10:20 PM BBT – Paulie and Corey celebrating Corey winning DE and Victor winning HOH. They feel safe this week. He doesn't think Victor would screw them.

10:26 PM BBT – Paul shows us that Corey and Paulie shouldn't feel so safe. He's telling Victor that this is the week to make the big move. They need to target, Paulie, Corey and Nicole. Victor is reluctant, but Paul promises Victor that he has his back and they need to strike now while they can.

10:29 PM BBT – Victor says he hasn't forgotten that Paulie backdoored him once. Paul tells Victor not to let Paulie get into his head.

10:40 PM BBT – Paul goes to James and Natalie to throw Paulie under the bus some more. Everyone is excited that Victor will be nominating Paulie and Corey.

10:54 PM BBT – Victor comes into the room and Paul tells him that James and Natalie have his back and now is the time to make this move.

10:50 PM BBT – Paul working on Natalie and James to make sure they're all on the same page about going after Paulie and Corey this week.

11:00 PM BBT James says there's no way that Corey or Paulie would take the guys to the end. He says they'd take Natalie or Nicole to the end over them.

11:08 PM BBT – Nicole tells Corey that she didn't know she was in this much trouble. She says she needs a freakin care package from America.

11:10 PM BBT – Victor and Paulie talking. Victor reassuring Paulie that their plan to nominate two girls is a go.

11:16 PM BBT – Paulie tells Corey he told Vic Natalie needs to go on the block every week and she deserves to feel it. Paulie says if Natalie is on the block next to Michelle, he'll try to get her out and not tell James about it. Both are upset James screwed them over this week.
Feed Highlights continue on the next page…