Last night on Big Brother 18 another Houseguest was voted out and one of the remaining thirteen players took control in a pivotal competition that could decide the fate of one of the Vets.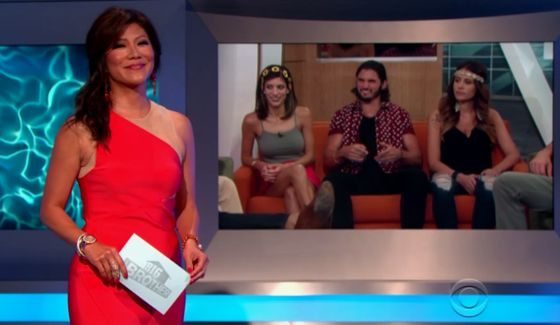 Pressure has been building for Houseguests to target Frank after Da'Vonne sabotaged his game and her alliance. Now it's too late for her regrets as the much of the House is bent on his eviction. Can he stop it with an HoH win?
Ready to find out who was voted out and who took control next? Here is our live recap from last night with the latest BB18 results. You can download our Big Brother App, find us on Facebook & Twitter, and get our Email Updates so you never miss anymore Big Brother spoilers all summer.
Victor, Bronte, and Tiffany all face potential eviction on the Block tonight but the votes look set for just one of them across the ten HGs going inside the DR. Do you think we'll get a landslide or will someone toss out a pity vote?
Big Brother 18 Week 2 Votes:
Natalie votes to evict: Victor
Paul votes to evict: Bronte
Bridgette votes to evict: Victor
Zakiyah votes to evict: Victor
James votes to evict: Victor
Da'Vonne votes to evict: Victor
Frank votes to evict: Victor
That's enough votes. Victor has been evicted.
Michelle votes to evict: Victor
Nicole votes to evict: Victor
Corey votes to evict: Victor
By a vote of 9-1-0, Victor Arroyo has been evicted from Big Brother 18. Now he'll head to the Battle Back arena.
I was expecting a 10-0-0, but Paul bucked the house and did his own thing throwing his vote against Bronte, not that it mattered.
Once the eviction vote is confirmed and one of the nominees heads outside to talk with Julie the rest of the HGs will prepare to go to the backyard and compete for the Head of Household. Michelle has promised to throw the comp against Team Frank while Team James and Team Nicole try to win so they can target Frank with a Backdoor. It's going to be a crazy week!
Big Brother 18 Week 3 HoH comp – "Kiss My Ace":
The comp has a tennis theme with every team having a corner to throw a ball and roll to get the highest number.
Round 1: Bronte is out.
Round 2: Michelle is out.
Round 3: Da'Vonne & Nicole are out.
Round 4: James is out.
Round 5: Frank is out.
Round 6: Corey is out.
Round 7: Zakiyah is out.
Round 8: Tiffany is out.
Round 9: Natalie is out. Leaving only Bridgette & Paul.
Round 10: Paul is out. Bridgette is the new HoH.
Team Frank, ALL of Team Frank, is safe this week. So much for Day's plan to evict Frank this time around, huh? Let's wait for him to discover her plan and come after her. What do you think will happen next?
Lots of big events coming up this weekend with the noms, Roadkill results, and Veto comp so before to check back in with us over the next few days for more spoilers as we go.
When tonight's episode ends we'll be racing back to the Big Brother Feeds to watch tonight's eviction & HoH fallout! Join us on there with the Live Feeds' Free Trial & see what the fuss is all about.