Frank Eudy is in a world of trouble with his Big Brother 18 game and he doesn't even know it as nearly the entire house is poised to strike at him this week. That obviously includes Da'Vonne Rogers who orchestrated his downfall over the past few days, but now even fellow Vets James Huling and Nicole Franzel have a plan in place to take out Frank.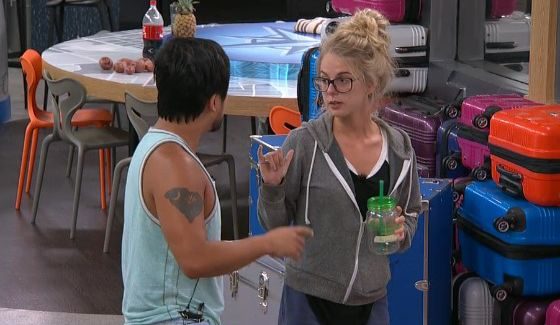 Last last night James and Nicole brainstormed ideas and included allies Corey and Michelle along the way to set up how they could target and eliminate Frank through the upcoming HoH competition this Thursday night.
Flashback on your Live Feeds to 3:50 AM BBT 7/7 to watch along. Get your Free Trial now.
James is sitting with Nicole and Corey in the bathroom planning the best approach to get Frank out the door. Not only do they need to figure out how to get him on the Block they're also worried about what the Veto could mean for their chances once he finds out, given his strong track record in comps.
James wonders if his team should throw the HoH competition so Team Nicole could win it and possibly get Corey in the HoH seat. James shifts quickly and decides that he's not afraid to put Frank up himself and should instead fight to get the win. James and Nicole decide that all the teams should try and win the HoH comp except for Team Frank and that could come down to help from Michelle.
Both of the Vets agree that this is a big deal for them to pursue Frank, but they're confident it needs to be done.
Jump to 3:57 AM BBT as Nicole and James have moved to the kitchen and call over Michelle to explain the importance of what they're going to ask her to do. She's completely okay with throwing the HoH comp as they discuss doing it even if Frank is yelling at her. Michelle jokes about the silly ways she can sabotage Team Frank's game tonight.
One caveat for Michelle though is that she wants Bridgette to go up next to Frank. She says Bridgette acts as Frank's spy, according to what Frank allegedly told her, so if Bridgette is up there then she can't be working on his behalf as well.
James tells Michelle they want to put up Bronte and Bridgette together and Backdoor Frank. Of course to make that work then Team James can't win HoH either or else Bronte would be safe, but they'll have to figure that out later.
Along the way in the Vets' talk with Michelle she mentions Frank allegedly told her he wants James out first, which it's hard for me to verify since everyone seems to be saying Frank told them something different on who he wanted out first. Michelle leaves while James and Nicole stay for a moment.
Nicole reminds James that they'll need to stick together if/when Frank is gone. James suggests Frank's eviction may actually make life easier for them and take the pressure off the remaining Vets since Frank was the biggest threat of the four.
Who knows how tonight is going to go, but it should be a very exciting Head of Household competition. Frank has no idea what's been going on behind the scenes around him, but when he does I expect to find one upset guy in that house.
Don't miss it! Download our Big Brother App, join us on Facebook & Twitter, & get our Email Updates.